Often when we come across a car like this, we're foaming at the mouth to write about how cool it is, how rare it is, and so on. This time around I think I'll take a different approach, because most of our readership already knows what they're looking at. So rather than tell everyone what they already know I'm going to take a Letterman approach to this and offer up…
Top 10 Reasons you should not buy this car:
10.  Nogaro Blue is too bright for you.
9.  The acceleration when you hit boost hurts your neck.
8.  You think that wagons are for soccer moms.
7.  You prefer to get stuck in the snow, so quattro is pointless.
6.  You're a firm believer in speed limits.
5.  That turbo thingy makes too much noise.
4.  The recaro seats are too confining, you prefer to slide around a bit.
3.  Clark Griswolds family truckster is your idea of a dream wagon.
2.  Manual transmissions are way too much work.
1.  You're currently cross shopping this with a Prius.
Year: 1995
Model: RS2 Avant
Engine: 2.2 liter turbocharged inline five
Transmission: 6-speed manual
Mileage: 155,256 miles
Price: £11,995 (~$18,184 USD)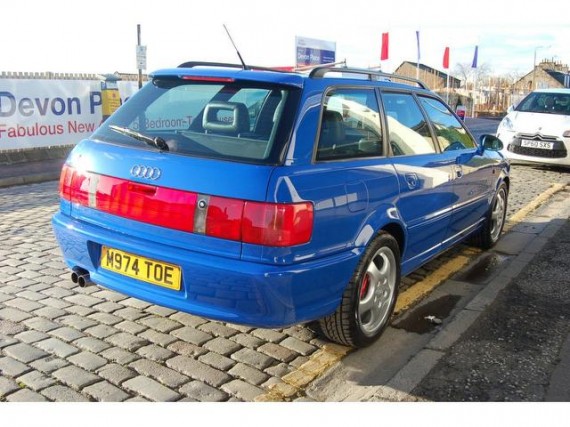 Five doors, manual 6-speed, estate, petrol, 155,256 miles, blue, MOT-10-2013. An outstanding example of these fantastic Audis with a Porsche pedigree. Comprehensive service history, Audi main dealer until 133,000 and specialist thereafter with huge file of invoices and recent timing belt change. Must be viewed. Please call Kenny Dunn for further details 0131 475 9111. £11,995
With all of the reasons not to buy this car, there is only one main reason TO buy it…because it's awesome. These cars are the future collectables from the Audi stable, second only to the UrQuattros, and SWB Sport Quattros. Given that these will be ready for legal import in to the US in 2020, it's a good idea to start saving now, as these will only appreciate in value.
-Brian