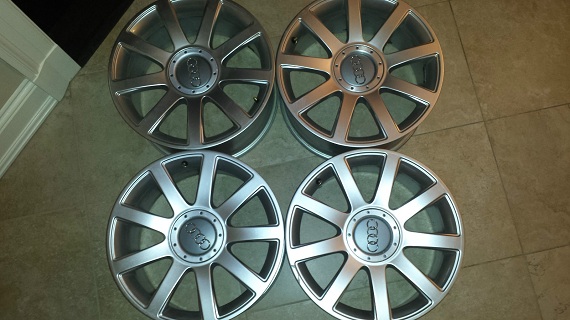 Much like Volkswagen, Audi went from a fairly conservative wheel lineup through 1995 to some of the best looking wheels on the market. Consequently, there have been countless knockoffs that have sprouted up at budget prices; they always look appealing price wise, but never seem to perfectly replicate the original wheels. For my money and car, I'd always choose the OEM options over the replicas, which means looking to the used wheel market instead of brand new wheels – luckily, there are lots of folks who like to remove their high-quality great looking wheels for something…well, not OEM. Take a look at today's offerings from Audi then: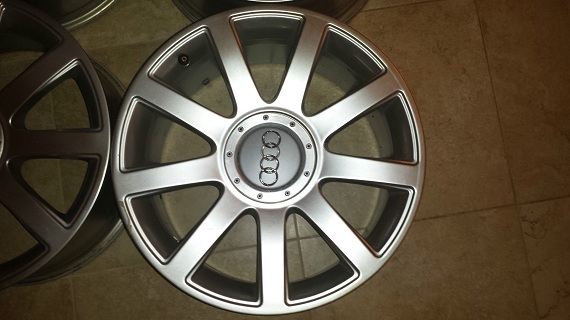 Year: 2002-2003
Model: RS6 Celebration
Diameter: 18″
Width: 8.5″
Bolt Pattern: 5 x 112
Offset: ET 30
Condition: Used
Tires: Not Included
Price: $1,099 Buy It Now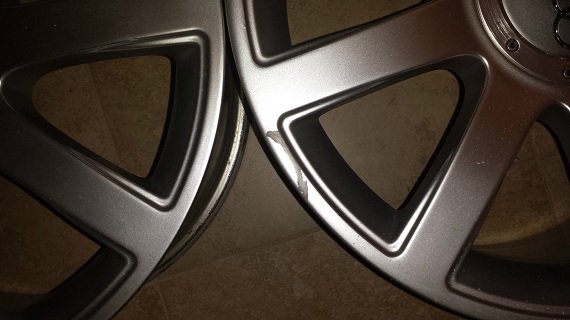 4 Genuine OEM Audi RS6 wheels off of my Black RS6 (I am riding on black Aftermarket wheels).

All Center caps are included (normally $70 each at Audi Dealership – I had to buy one for this listing)

These must go – I need to pay a bill or two.

TO CHECK PRICING – LOOK AT THIS AUCTION FOR 1 WHEEL – http://www.ebay.com/itm/Genuine-OEM-Audi-RS4-2003-RS6-18-18×85-ET30-Wheel-Rim-4B3601025R-/161064533900

YOU CAN HAVE A MATCHING SET FOR A GREAT DISCOUNT!!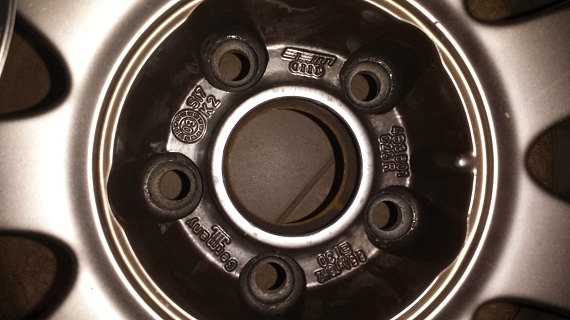 The RS4 and RS6 wheels are undoubtedly one of the most knocked-off designs, and poor quality versions adorn everything from budget beater A4s to Golfs. Audi even knocked off it's own wheel, with the "Celebration" wheel that appeared on both the A4 and S8, but the real deal big-offset wheels are the ones to get if you can fit them. These are great looking wheels with only a light amount of damage at a great price. Looking for something a little better and more cutting edge? How about these S5/RS4 wheels: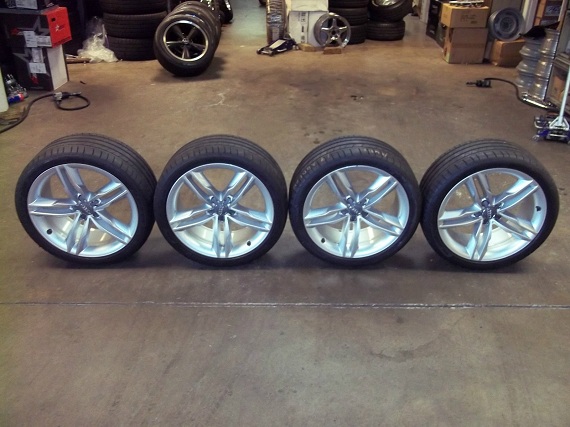 Year: 2009+
Model: S5/RS4
Diameter: 19″
Width: 8.5″
Bolt Pattern: 5 x 112
Offset: ET 32
Condition: Used
Tires: Included Dunlop Sport Maxx GT 255-35-19
Price: $2,995 Buy It Now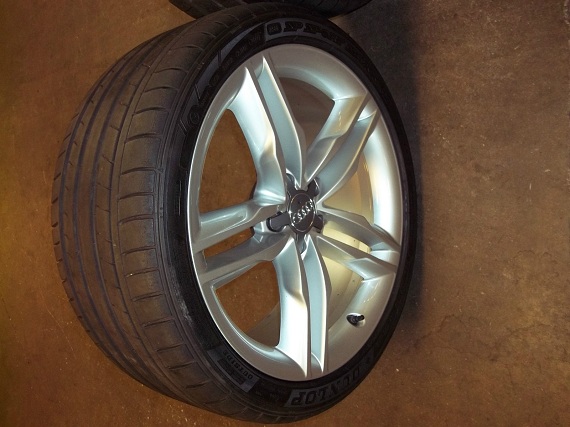 OEM 19×8.5 INCH RIMS WITH 32 OFFSET
WHEELS ARE IN VERY GOOD CONDITION
NO CURB RASH ON THESE WHEELS!
ABSOLUTELY NO DINGS SCRAPES ETC.
THESE WHEELS ARE IN BEAUTIFUL CONDITION! DO NOT SETTLE FOR LESS! THESE RIMS ARE A+
COMES WITH OEM AUDI CENTER CAPS AS PICTURED
COMES WITH FACTORY TPMS SENSORS (TIRE PRESSURE MONITORING SYSTEM)
TIRES ARE 255/35/19 DUNLOP SP SPORT MAXX GT. 2 TIRES HAVE ABOUT 90% TREAD REMAINING AND 2 HAVE ABOUT 75% TREAD REMAINING
SHIPPING: FEDEX GROUND
NO INTERNATIONAL, ALASKA, HAWAII, OR P.O. BOX SHIPPING.. 48 STATES ONLY
MONEY-BACK QUALITY GARAUNTEE* *MINUS RE-STOCKING FEE IF RETURNED AND BUYER PAYS RETURN SHIPPING
ANY QUESTIONS, JUST ASK!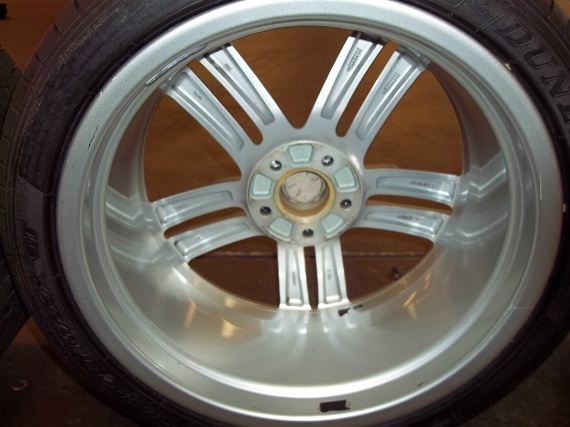 Big, big, big. These wheels are aggressive and great looking. They really help to set the S5 apart from the competition, and look fantastic dressing up earlier S models. Speedline manufactured these wheels so they're assured to be high quality. A bit too aggressive? How about a set of the popular S4 and S5 "Peelers":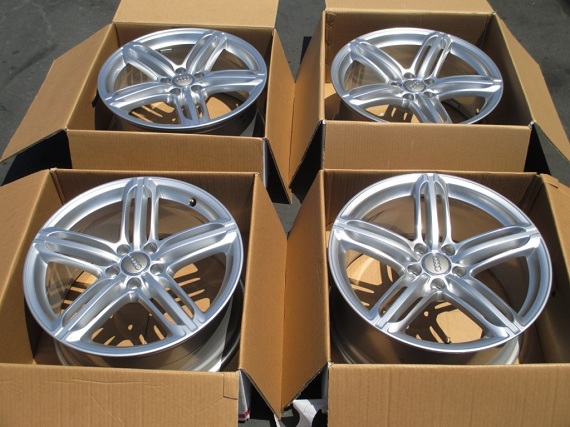 Year: 2012
Model: S5 S-line "Peelers"
Diameter: 19″
Width: 9″
Bolt Pattern: 5 x 112
Offset: ET 33
Condition: Used
Tires: Not Included
Price: No Reserve Auction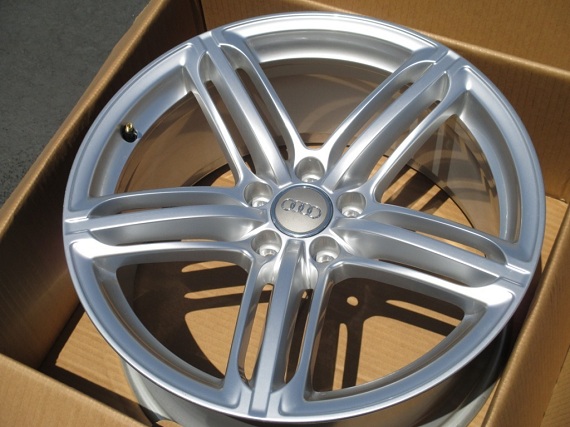 I have a nearly brand new set of 19″ OEM Audi factory SLINE speedline wheels for sale that were recently removed from a Audi S5. The 2008 forward A5 and S5 vehicles use a lower offset (33mm) hence these wheels will fit the RS4 and RS6 vehicles as well. Additionally the Q5 uses a 33mm offset so these are perfect for Q5 as well. These wheels are a great way to update/upgrade your car while improving the appearance and increasing the value of your car. OEM Audi center caps will be included.

Wheels: 9X19, offset is 33mm

The wheels are in excellent condition with no curb scrapes. They have the original OEM factory "hyper-silver" finish and have not been refinished. There are a few tiny little marks simply from moving/storing them but they are near mint. Bolt pattern is 5X112 and the offset is 33mm. I receive a substantial fedex shipping discount which I pass onto you so shipping will be between $30 -$35 per wheel within the U.S. and if outside the U.S. please contact me. If you need the wheels sooner don't hesitate to contact me. If you have any questions don't hesitate to contact me. If you want to see them in Newport Beach, CA please contact me. Free local pickup.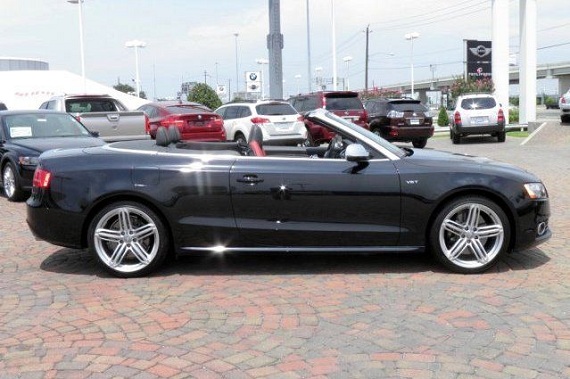 These wheels are also pretty aggressive but a tad more understated than the split RS wheels. The "Peeler" design has appeared now on all of the S and RS variants, and even has been slightly modified and reborn on the Golf R in the "Talledega". Honestly, they all look great. Like the last set, they are Speedline made so high quality. These appear to be as close to new as possble, so it'll be interesting to see where they end up. Too big for your roads? How about some evergreen Avus wheels: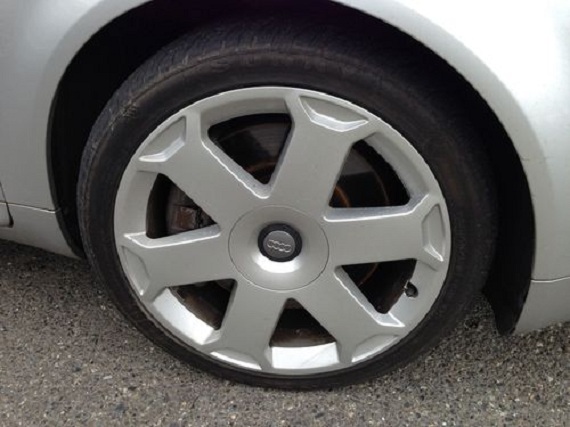 Year: 2005-2007
Model: S4 "Avus"
Diameter: 18″
Width: 8″
Bolt Pattern: 5 x 112
Offset: ET 45
Condition: Used
Tires: Included, Worn
Price: $1,000 Buy It Now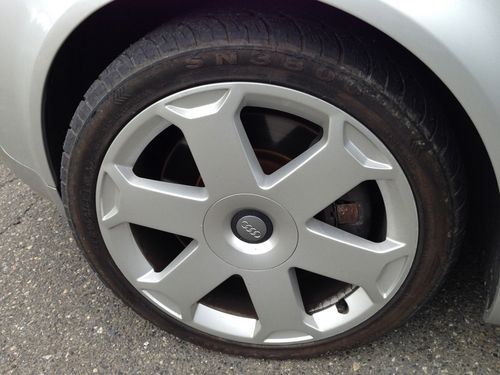 For Sale: OEM Avus Wheels

In great condition.
Tires will be included for free for shipping. Cannot guarantee tread condition.

Fits: 2004-2005 Audi A4 S4
Fits other 5:112 Audi's and VW's.
Confirm Offset with your dealer.

Additional Parts available, please contact for details.

Please follow us online or Like Us on Facebook at Rennhart Auto.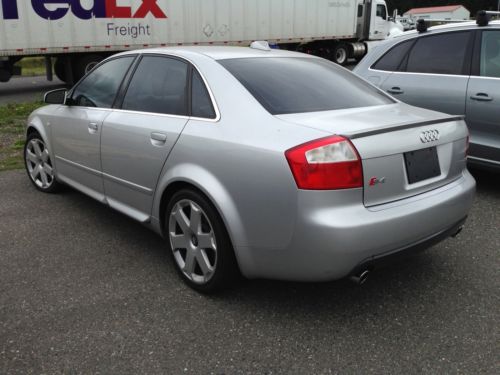 These are a perrenial favorite amongst Audi folks, and appear on many earlier models. There are several different versions of the Avus wheel (I count 6, I believe) but they're all great in their own ways. They'll dress them up any older big-body Audi you can fit them on, and even some Volkswagens. Tonal manufactured these wheels and they're fairly high quality. These appear to be in pretty good condition overall but are a tad bit pricey honestly, I'd hold out for a set for a few hundred dollars less.
Which are your favorites?
-Carter