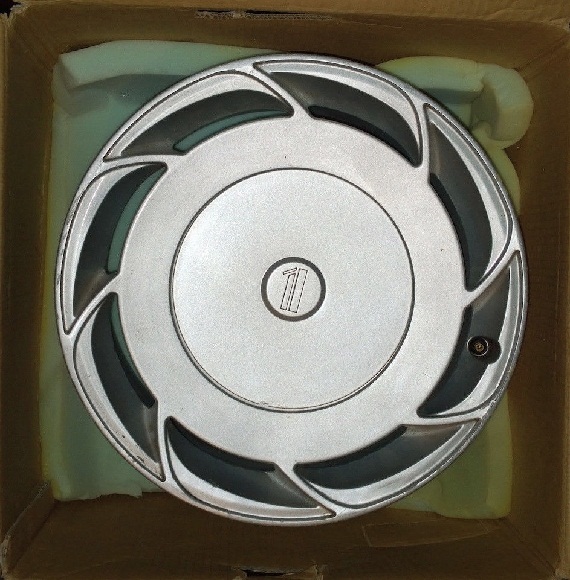 I think it's quite fair to say that vintage Audi parts are quite hard to come by and they're probably the least supported aftermarket manufacturer in the realm of German cars. Compared to the amount of vintage Volkswagen, Porsche, Mercedes-Benz and BMW parts floating around, it's just downright rare to come across period correct vintage Audi pieces. Today I've assembled a few rare to see bits, plus a neat and inexpensive wheel set if you've got a Q7. The Treser wheels are just mega-cool; directionally veined, they where cutting edge back in the early 1980s and the signature of the aftermarket tuner. Unfortunately, they're metric sized only – so you're going to have to pay a lot of tires, but they're available at least. The seller's claim that they never come up for sale is a bit off base as we typically see them about every six months, and the condition of these wheels isn't the best – so the asking price is well out of line. However, they're always neat to see. I'm not a fan of the styling of the Treser steering wheel but it's period correct and different from the typical Momo or Nardi wheels. The middle wheel I've never seen and can't identify; do you know the model? The Votex Q7 wheels are a twist on the normal wheels but very neat – and in this case quite cheap for a 19″ OEM wheel set. And finally, the Nardi Audi Sport wheel is one of my favorite. They're always expensive but very cool to see and set off early B2 Audis well. Which is your favorite?
Price: $1,950 Buy It Now
Unobtainable Audi Ur Quattro Treser Wheels. Came on both the Treser Quattro and Treser Roadster Quattro..Probably some of the rarest Wheels in existence for these cars. Made by Ronal and are basically a 16×8 Wheel. These are directional wheels and are designed to force air into the braking area to cool rotors faster. Kinda like a Zender wheel but better. I have never seen a set for sale anywhere in the USA. They are perfectly true and straight. some minor rash and scratches as shown in pictures. They are 5 x 112 and made to fit Ur Quattro specifically, but will fit any 5 x 112 Audi such as 5000, urs4, V8, 200, etc. Offset is 26.
The covers are in great shape but for some reason do not have a way to attach to the wheel. will need to be figured out with out too much hassle. I would love to keep them, but money is needed elsewhere. s/h is $100 anywhere in the USA.
Price: $499 Buy It Now
Almost new Sports Steering Wheel for all VW/Audi with 17mm steering core (-87). Diameter 37 cm.

Made in Germany by Treser. Very hard to find in this very good condition.

Was only 2 weeks on my car, hence the almost new conditon. Without box.

Fast shipping with DHL/Deutsche Post following payment.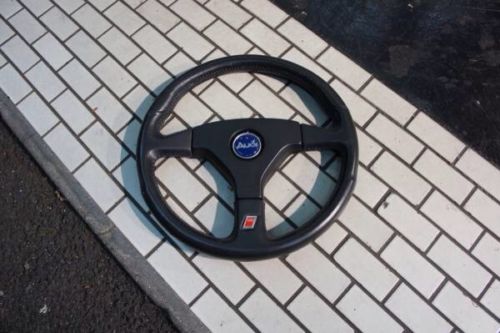 Price: $ Buy It Now
Great condition as you can see in the pictures. This will go quick. Please send a quick email before purchasing as this item is posted for private sale.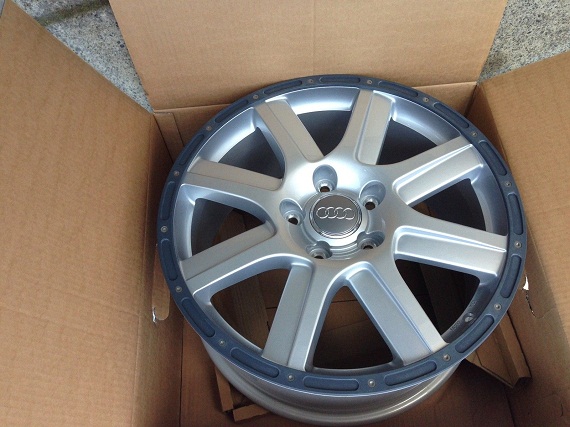 Price: $798.94 Buy It Now
$550 off our normal cost of $1350 for our last 2 sets – when they're gone they're gone for good (well, they will be $2000/set to resupply)…

These brand new 19″ wheels are available practically nowhere else, and where they are you'll be paying anywhere from $2800-3700 a set. They were designed specifically for AUDI Q7, but will of course fit any vehicle with the proper bolt pattern (5×130). These magnesium alloy wheels are the perfect mix of strength and durability.

AUDI demands extremely high quality in all their OE equipment, but especially their wheels, and these are no exception. Add to that the fact that we are selling them for less than half of what you would pay anywhere else, and you'll be happy that you decided to pick them up from us!

Domestic Shipping: These are very large and together weigh about 120 lbs with packaging. Due to the size of the package the shipping rates are calculated as if they weighed almost 150 lbs (volume pricing). We do not add a handling surcharge – often the displayed rate is less than what we actually pay. Please give us a commercial shipping address (such as work) or we might elect to send these to the nearest FedEx office (if 5 miles or less) to save on shipping costs. Note that there will be higher rates for anything outside the continental US. Also, if you want to get a set for yourself and a friend then we offer discounted rates for more than one kit. Give us a ring and we can give you a custom quote!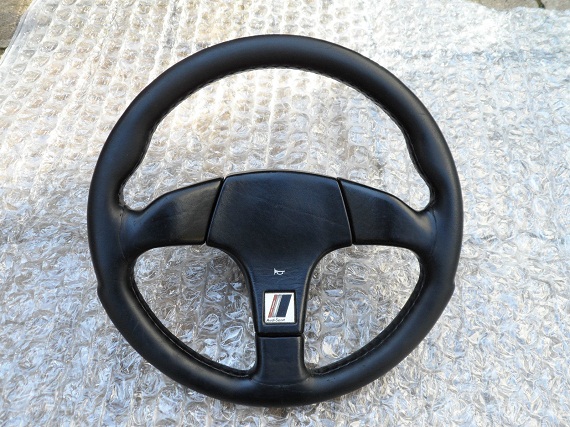 Price: $400 Buy It Now
Vintage Audi-Sport/ Steering Wheel. Condition see photos,missing one screw for cover,will be very well packed,add tracking number.
-Carter