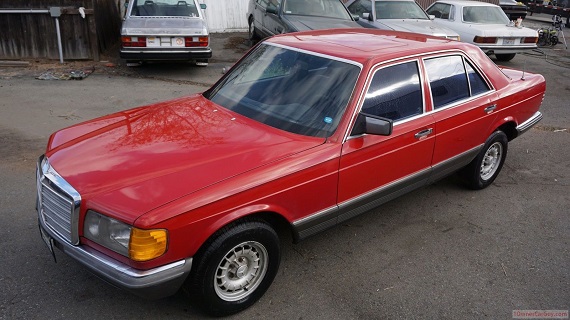 While Andrew and Craig have been the typical purveyors of all-things Mercedes-Benz over the past few months, I'm always drawn to the clean, simple and classic look of the 70s and 80s MB products offered in the rest of the world. Today's 1982 280SE is a perfect example of this. A W126.026, this European specification S-Class is powered by the M110 double-overhead cam inline-6 which was never offered to U.S. customers. Admittedly, the engine looks a bit lost in the bay you're used to seeing V8s in, but it's a proven unit with adequate power – 185 raging ponies, to be exact. However, the 280SE is the short wheelbase model and with European bumpers and missing some of the heavy luxuries, performance should be on par with some of the U.S. spec early V8s, if not better. Even if buying the short wheel base, six-cylinder model may sound a bit ego-deflating, these Euro-spec cars always get my attention: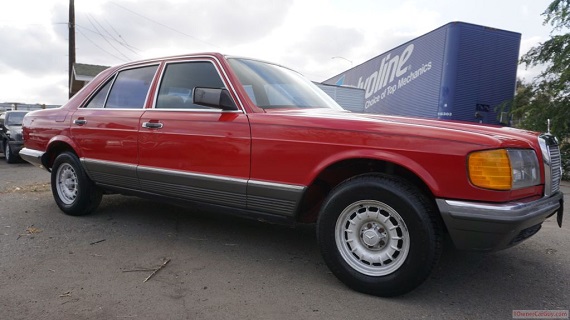 Year: 1982
Model: 280SE
Engine: 2.8 liter inline-6
Transmission: 4-speed automatic
Mileage: 110,034 mi
Price: $2,350 Buy It Now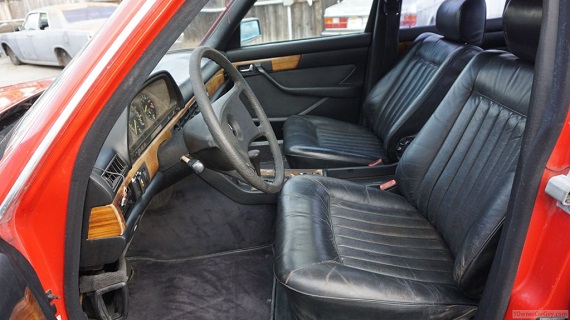 Here is a Beautiful Euro Model 1982 Mercedes Benz 280SE that is clean as can be and very well taken car of over the years.

Check out my store for more great Unique and Classic Cars.

Make sure and check out the Video below.

This is a Really Cool & Rare Euro Spec Gray Market Mercedes Benz 280SE in Red. Super Low Miles and in GREAT shape! its a light project car that just wont take much. It is a 1982, but since it is a Gray Market Car the VIN does not come up like regular VIN's do. That is why it is listed as a 1980 and why there is No Autocheck or Carfax for it. It is titled as a 1982 and the title is Stamped Non- USA, because it was imported from Germany.

This is a Light Project car that needs a few things to be a driver. The Exterior of this Mercedes is Clean and Straight as can be. You will see a few small dings and chips, but they are small and hard to see like I show in the Video below. I do believe that it has the Original Paint, it is faded in a few spots but still looks good with a Buff and Polish. The bottom Gray Cladding looks Great! The Chrome Trim and Euro Bumpers are in Great Shape and Shine beautifully in the sun.
Only 110K Original Miles

It has a Nice Set of Factory Bundt Wheels.
Make sure and check out the Video blow. I will give you a complete walkaround, show you any damage or flaws that it may have. Then we will hope inside and I will show you how clean this Mercedes is.

Options:

Automatic Transmission

Power Windows

Power Locks

Air Conditioning

Sun Roof

The Interior is Clean as can be. The front seats do show a little wear but there are no rips, tears or holes in it. The carpet is clean and could probably use a shampooing at some point. I really like the Black Seats and Dash with the Woodgrain Accents. Make sure and check out the Video below, to see how clean this Mercedes is.

The car is a light Project car and as you will see in the video etc it is in need of Plugs wires and some misc work under the hood NO it will not drive cross country this is a CLEAN car and Ready to be restored to its Former Glory Check out the Video and Call anytime Nathan 406 546 8748

I took pictures of every detail of this car so you can see everything there is to see about this beautiful car and know exactly what to expect when you get your new car…..;-) If you have any questions please give us a call.

Call anytime with questions…. Nathan 406-544-6919

Current Mileage: 110,034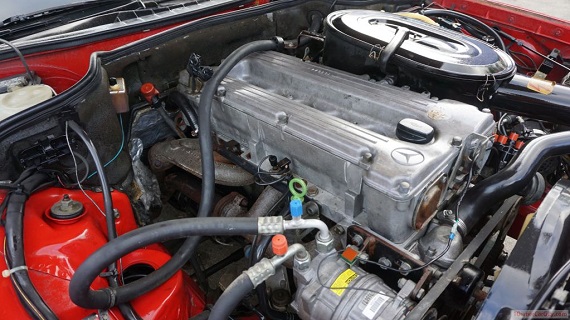 A few interesting things struck me about this car. First was the color, which I think is Signal Red. It's always a bit unusual to see on the large Mercedes that usually stick to the gray scale. Second was the model designation missing, which had me initially thinking that the car had been repainted. However, in the option codes, the car appears to have 260 selected – model designation delete. Next was the Bundt alloys, as a fair amount of the time these Euro spec 280s – the most prolific of the W126 line, I believe, have wheel covers. Yet option 656 was selected for 10-hole light alloys. Next was the interior; again, rare to find in this case is the 231A1/2 Black Nappa Leather. Coupled with the sunroof, this made for an interestingly equipped early European car. Now, admittedly, it's not perfect – the seller discloses the paint has imperfections, the dash is cracked, and there is undisclosed work which need to be completed before it's a solid runner. But, look, it's a soon to be 35 year old car, and then there's the price – at below $2,500, I've seen part-out S-Class models for more. To me, this makes the perfect DIY winter project for someone who wants a very unique Euro-spec sedan.
Plus, it comes with a free bag of marshmallows!
-Carter