Every year for the past decade I've headed towards the colder climates to enjoy some time exploring the limits of winter driving in schools put on by the Audi Club. Held on frozen lakes or in specific dedicated facilities, these schools allow you to do what's simply not safe or legal on the regular roads; to get the car out of shape and beyond the limit of grip and learn to get back under control. Predictably every year there's a crop of the newest and greatest from Audi, Subaru and even BMW. But around the ice, the best performers are still the old ladies; Audi 4000, 80 and 90 quattros comprise a small minority but generally blow right by all the "faster" cars once the grip declines. But while examples of the early quattros are never particularly expensive compared to new cars, finding the right one to buy and turn into a "winter beater" is a bit harder since they're few and far between. So when this complete and solid but slightly weathered 1990 80 quattro turned up, my thoughts immediately turned towards the ice: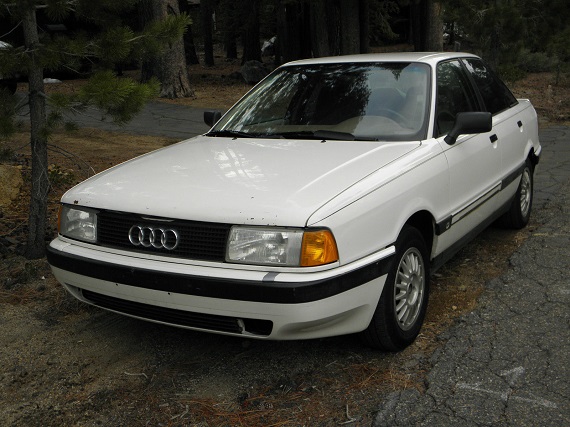 Year: 1990
Model: 80 quattro
Engine: 2.3 liter inline-5
Transmission: 5-speed manual
Mileage: 167,000 mi
Price: Reserve Auction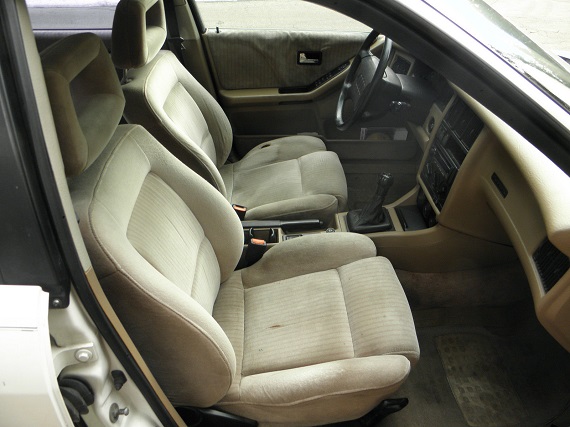 1990 Audi 80 Quattro. 5 speed. 2.3l straight 5 cylinder engine. Great shape for its age. Same key all locks.

Nice cloth interior. Door panels perfect. All windows function. Rear door glass tinted. Sunroof works great, manual crank. No leaks, lifts and slides. Ceiling clean and no sags. Power locks. Power windows. A/C. All other electronics work. New Kenwood cd and new rear separate speakers. Tweeters installed into tweeter housings. 6 1/2″ mid subs in rear deck.

Drivers seat bottom has a worn bolster. Rear seat bottom has a burn hole. Have original front floor mats, but drivers side is worn through at heal.

Instrument cluster has trip computer and auto check. Trip computer and auto check flakey. Tachometer not working but speedo is fine. CC not functioning.

Great heater. Cooling system flushed and clean.

Hood has dents. Front bumper has cut. Dent over left rear wheel well. Rear bumper has scrape. Cracked right rear corner lens. Drivers trim was removed to be straightened and reinstalled.

The rest of the car is perfectly straight and clean. Maybe 4 minor door dings on the entire car. Clean body. Paint is good.

New t-belt, water pump, idler, drive belts. New oxygen sensor. New distributor and coil. New struts. Newer tires. Brakes in great shape. Non abs car.

Shifts very nice. Clutch is strong.

Overall it's an amazing example of an older Audi. I drove it for 4 days from Tahoe to San Francisco. +-28 mpg over all. Great steering radius. Makes city parking a breeze.

Odometer reads about 167K. Low miles for its age. Title states mileage is exempt, but the car is clean and looks to be well maintained.

Please don't hesitate to ask questions. I will answer to my best ability.

Audios!
This car is presented in the classic Audi Alpine White – a color featured on many earlier models, but inside the 80 received a new line of "Serret Velour" interiors with a new color lineup. This one appears to have the almond beige coupled with the tan dashboard. This 80 was also equipped with the trip computer, usually an indication that it was well equipped – but it's hard to tell if this car also has ABS and the "manual crank" sunroof probably is a broken electric one that's now utilizing the manual override. The wording of the sale seems to indicate that the odometer might be broken, but miles on these cars are relatively irrelevant as long as they've been reasonably maintained. The 80 moved to a galvanized body, so rust shouldn't be as much of an issue as it was on the earlier 4000s. Most of the electronic items working on an early 90s Audi is about all that you can expect and probably more than you need for a solid winter beater. While the NG/NF 2.3 inline-5 motor won't thrill you with massive acceleration, it's a good performer, smooth and with a great soundtrack – and importantly, quite reliable if properly cared for. Throw on a set of studded snow tires and this car would be virtually unstoppable on the ice. Overall this car looks like one that you could have a lot of winter fun in, cheaply!
-Carter