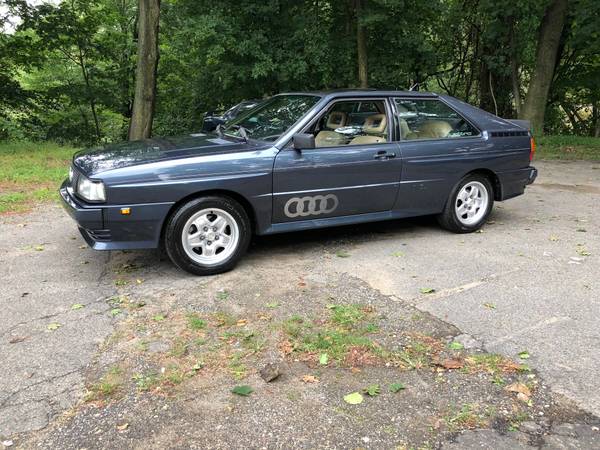 Another day, another Quattro! I've been able to cover several that have come to market over the last few months, and today's offers us a fifth color. LY5Y Amazon Blue Metallic was offered alongside the Helios Blue Metallic we recently saw in 1983, but for 1984 it became the sole dark blue offered. It's a very pretty color, and is coupled were with some nice and common upgrades to the early cars. '84s introduced the 8″ Ronal as the signature look and as mentioned there were some changes in colors offered from the '82-'83s, but otherwise the major revisions would wait for the 1985 model year. The 8″ Ronals here are replaced by the 7″ but forged Fuchs wheels, and this chassis wears the common tucked bumper ends and European H1/H4 headlights. Outside of exhaust and suspension upgrades and a few other minor mods, it's claimed to be mostly original though it's been restored – so that would be configuration rather than pure originality. Out of the five we've looked at recently, this one is certainly priced towards the top of the market. Is it worth it?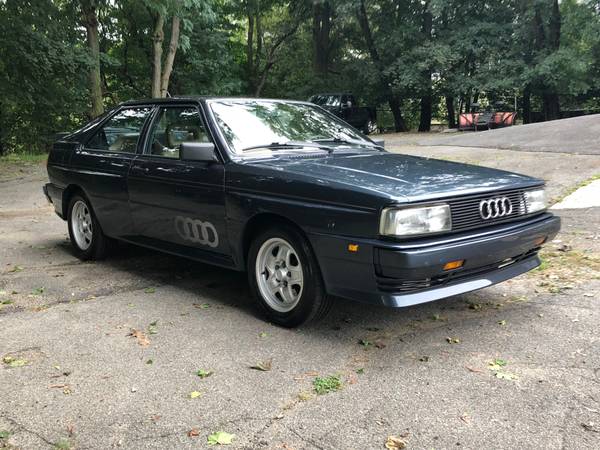 Year: 1984
Model: Quattro
VIN: WAUDC0859EA900919
Engine: 2.1 liter turbocharged inline-5
Transmission: 5-speed manual
Mileage: 102,156 mi
Price: $54,995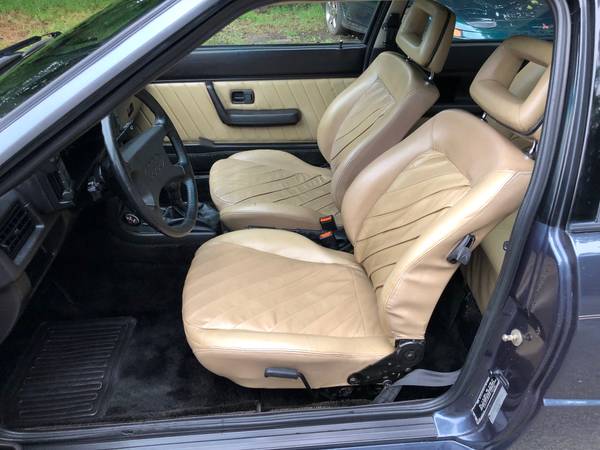 This is one rare vehicle with only 65 being imported to the USA in 1984! Amazon Blue paint over Sierra Beige leather. Originally purchased by the owner of the Porsche+Audi Dealership Autohaus in Rochester, NY this '84 ur-Quattro has had only three owners since new, with the 2nd owner being in possession of the car since 1986. This ur-Quattro has received numerous upgrades and regular maintenance, some of which include: newly upgraded suspension with Bilstein HD shocks, RS2 upper strut brace, all new brakes, and Mintex pads, Hella European Rallye 1000 lights, and much more. Retains original drivetrain with a fresh engine out rebuild this Ur-Quattro has a 5-speed manual transmission that makes this rally car a blast to drive.

Please contact us with any further questions or shipping quotes.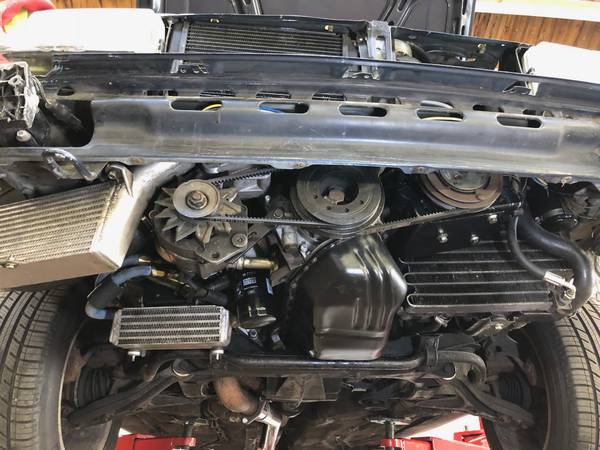 The answer is probably that it's ahead of the market, but the condition does look pretty great. This car features a late dash/wheel upgrade and someone has drilled an antenna into the roof. The bumper tuck and Euro lights make it look a bit more slick, and the mechanical restoration looks nicely done. The paint gleams, as do the wheels. This car is much better presented with apparently extensive documentation than we usually see on these cars. Is it worth $20,000 more than the '83 we just saw? That seems hard to conceptualize. The documentation and restoration over the original '83 might be desirable, but aren't likely worth that amount on their own, nor is the color really much more desirable than Mars Red. As a result, it seems unlikely this one will trade hands again soon. But it's always nice to see these original Quattros pop up, and this is definitely one of the better ones out there.
Thanks to the Small Chassis Audi Facebook group and our reader Mike for the tip!
-Carter