Last week I wondered what kind of W126 S-class you could buy if you had an unlimited budget and wanted one in practically brand new condition. That search yielded a gorgeous, pearl black on black, ultra-low mileage '89 560SEL, which ultimately sold for a very respectable $21k. I thought I'd play the same game this week, only this time I went on the hunt for a coupe. The SEC (or "C126"), designed by legendary Bruno Sacco, was based on a slightly shortened version of the sedan chassis. While the car retains many of the same graceful and elegant lines of its four door sibling, the coupe sports a sexy, pillarless profile that changes the character of the car. If the 80s stock broker was chauffeured to Wall Street in the SEL during the week, he drove the SEC to wild parties in the Hamptons on the weekends.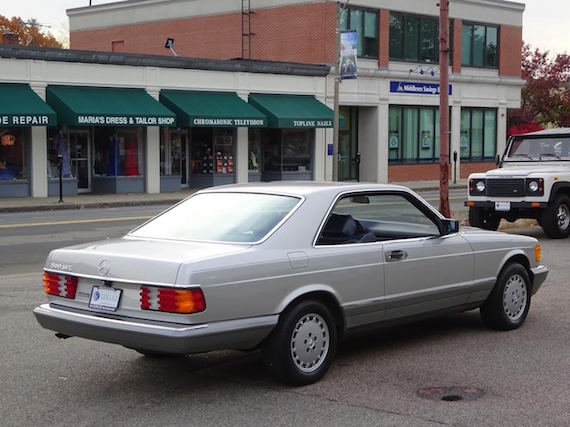 Year: 1985
Model: 500SEC
Engine: 5.0 liter V8
Transmission: 4-speed automatic
Mileage: 17,700 mi
Price: $45,000 Buy It Now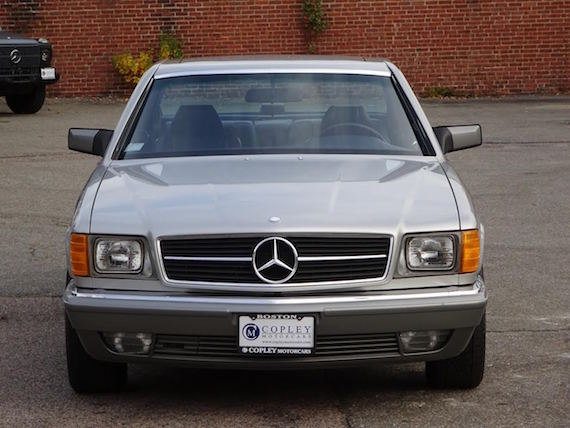 1985 Mercedes Benz 500SEC, USA example, 126C S-class chassis, S/N WDBCA44D1FA183036, 735 Astral Silver with blue leather, 5.0 litre fuel injected V8 engine, 4 speed automatic transmission, disc brakes, factory steel sunroof, Becker radio, heated front seats, 4 place seating, delivered new by Mercedes Benz Manhattan March 12, 1986, original sales invoice, window sticker, owner's manuals, pouch, hang tags, and even the original bank finance agreement, shown with later style 126 wheels – original style alloy wheels easily attainable, just completed major servicing at Mercedes/Ferrari specialist Boston Sportscar, one owner from new and a remarkable 17,700 miles. To see additional photos, please send us a note and we'll send a link to the complete photo file. Nationwide and international delivery arranged from our suburban Boston showroom. We reserve the right to end the auction early. For more information about Copley Motorcars, please refer to the "About Me" button in this listing. Telephone: 781.444.4646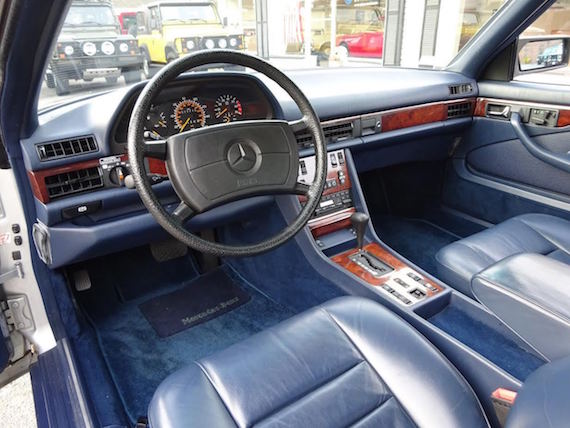 This 500SEC dates from 1985, the final year this particular model would be offered before being replaced by the 560SEC. As a result, it's powered by the 5.0 liter iteration of the M117 V8 engine, which in U.S. guise put out a relatively modest 184 hp (considerably down on power in comparison with Euro-market engines, sadly). These are not light cars – curb weight is about 3,500 lbs – so as you can imagine, performance won't be blistering. But that's sort of beside the point and performance isn't the mission of the C126. The SEC, particularly in this specification, is not a race car. It's a grand tourer designed to lope across vast stretches of interstate while allowing those on board to look and feel a million dollars.
Despite being a first generation car it's surprisingly well equipped, with heated front seats, driver's airbag and ABS brakes. The Astral Silver paint looks fantastic over a blue leather interior, and both the interior and exterior look immaculate. As they should, frankly, because this 32-year old car has traveled an astonishingly low 17k miles since new. Despite the low mileage, at this age many seals and gaskets will have perished simply with time, so it's reassuring to learn that the car just received a "major servicing" from an indie Mercedes/Ferrari tech. Potential buyers would want to find out exactly what that involved.
Unfortunately, the asking price is the very opposite of astonishingly low. The seller wants an incredible $45k for this gorgeous piece of 80s German metal. That seems way too high, even considering the condition and miles. Paul wrote up a very similar car last year, and that sold for just over $20k. True, it had more miles, but it was also in an arguably better color combination and was a Euro-spec model with more power. I suspect this is worth closer to $25k. It'll be interesting to see what it sells for.
– Craig