Pablo from flüssig magazine has checked in with us once again, evaluating this 1980 Porsche 924 Turbo for sale in Denver that was sent to us from our reader Duncan.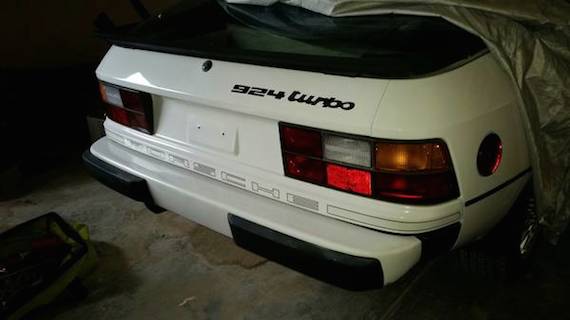 Porsche's plan in 1980 was to keep the 924 Turbo's price under twenty grand. Now if I were to tell you that in the face of a weakening dollar against a strong Deutsch Mark that USD $20,000 has the same buying power today as USD $57,115, you'd not only have to pick your jaw up off the floor, you'd wonder why the hell Stuttgart decided it a savvy move to wipe the 5-stud hubs and rear disc brakes clean off the build sheet replacing them with four lugs and a pair of drums for Turbos destined to the US to stay under that price. Let me explain.
Porsche was still a small company 35 years ago compared to, say, their neighbors at Daimler–Benz. And when you're a David, you do what have to in order to keep that needle millimeters away from the red lest A: you get consumed by Goliath, or B: you close up shop. Simple as that. So in order for Stuttgart to continue selling its relatively new entry level product at a far from entry level price in a market that was allotted 50% of its Fahrzeug (incoming CEO Peter Schutz would change that in 1981 to lessen dependence on the US market), costs had to be cut somewhere. Unfortunately, the rear binders were it. The way they saw it, if the 50 states version was detuned to put out 143bhp @5500 RPM and 147 lb-ft of torque at 3000 RPM further crippled by a smaller turbo, catalytic converter, and oxygen sensors, a front disc/rear drum set-up like that found on the normally aspirated 924 would be more than adequate.
The 924 Turbo made its appearance on our shores in July of 1979 as a 1980 model (easily distinguished by an exposed fuel filler cap) in a limited batch of 600 cars in an effort to keep dealers and journalists from screaming like spoiled little brats since Porsche had already started production of the 1979 model year in the summer of '78. When you figure in that the European/ROW version got 170bhp, 180 lb-ft of torque, a larger KKK K26 turbocharger with a wastegate, and disc brakes all around, who can blame anyone for throwing a tantrum? Matter of course.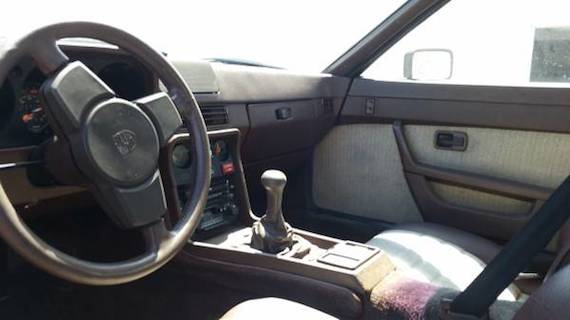 Let's shift the subject to a more positive note and discuss more noteworthy attributes of the US spec 931. Labeled engine version M31.02, these lumps were built in Zuffenhausen and not at VW's Salzgitter plant sporting a completely redesigned head with inlet valves that were 3mm larger (36mm) than the 924 normal allowing the engine to suck a combustible mixture of larger volume while platinum tipped spark plugs were moved closer to the inlet valves as opposed to the exhaust valves as in the 924 normal. It must noted that the normally aspirated 924 used a head of Heron design meaning that the underside of cylinder head was machined flat since the combustion chamber was recessed in the piston crown providing a "swirl effect" to the fuel/air mixture on the upstroke whereas the turbo would have the combustion chamber in the head itself. Compression ratio remained the same on all versions at 7,5:1 that increased geometrically to 10,8:1 when the turbo was spooled up to full song at 0,7 bar (9.87 lbs) beginning at around 2800 RPM. The bottom end remained the same for both the blown and unblown version, save for the new Mahle pistons, as it was robust enough to cope with the power increase.
The clutch size increased from 215mm to 225mm control hydraulically this time, cable operation was left to the normally aspirated group. Power went through a larger 25mm diameter driveshaft spinning on three bearings mating to a Porsche designed G31.02 gearbox with a revised final drive ratio of 4,71:1 used in the normally aspirated European 924 while the 0,706 5th gear was swapped out for 0,60:1, this in the name of better compatibility for our roads. While all of this may not matter one whit to one of little technical aptitude, the driver will most certainly find the Turbo's appeal a fortiori when engaging the dog-leg first borne of racing pedigree.
Now that I've lain before your feet a small primer on what the 924 Turbo was about, I'd like focus your attention to this superb little brick draped in L90E Alpinweiß. The toolkit, that's when I knew this 931 would be worth a bother…perhaps a flight in from somewhere farther. Universal pliers, rim wrench, spark plug wrench, operating rod for rim wrench, operating lever for spark plug wrench, handle and Philips/Flat head insert, and a double-ended 10mm/13mm spanner in the original tool roll pouch speaks volumes of what to expect in terms of completeness and originality with this example.