Speaking as a former Mercedes-Benz owner, the styling direction that the house of the Three Pointed Star has taken as of late leaves a bit to be desired. One particular disappointment I had was when the current E class coupe returned, replacing the CLK coupe. It is no longer a true pillarless coupe. True, both front and rear windows roll down without and the car is sans B pillar, but there is a small, fixed pane of glass at the rear that just looks like it doesn't belong. The new C class coupe isn't any better, as it has a fixed B pillar and resembles the Honda Accord coupe just a bit too much. As sad and retrograde as it may seem, I long for the old Mercedes-Benz, specifically cars like this W124 E320 Coupe. Simple in design yet elegant, it harkens back to a time when Mercedes-Benzes were engineered to a fault and were produced in much smaller numbers.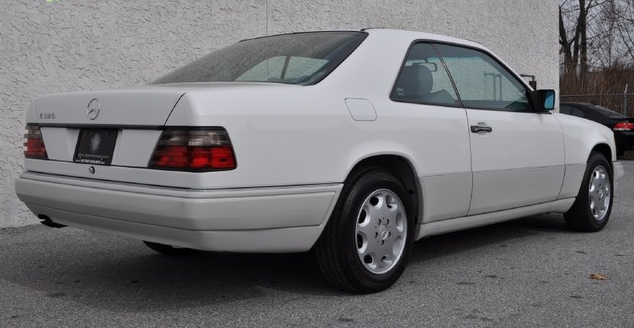 1994 Mercedes-Benz E320 Coupe. Only 44,427 miles. Heated front seats, sunroof. Rare, one owner white over gray coupe. This E320 comes with a complete service history performed by a local Mercedes-Benz dealer.

Highlights Include:

A new engine wiring harness at 44,413 miles ($2,200)
A new mass airflow sensor @ 44,373
A new timing cover seal, valve cover gasket and head gasket @ 39,820 miles ($1430)
A new front cam cover seal @ 37,602 miles ($663)

The pictures do not do this car justice! We encourage you to come see it in person if you are serious about a purchase. It is immaculate! Please note there are many shadows cast on the vehicle due to the conditions in which the photos were taken. If you are unclear of anything please contact us PRIOR to placing a bid!
This car has resided in Bucks County, Pennsylvania, which is the northern suburbs of Philadelphia. It's a rather wealthy area with roads and traffic conditions that wouldn't be too harsh on a vehicle. Looking at the service records and the service advisor's name, I can tell this car was serviced where I bought my last Mercedes-Benz, Keenan Motors. I never had a complaint about that dealer, as they were attentive to maintenance issues I might need to address in the near future and wouldn't go out of their way to gouge me on repair costs. The mass air flow sensor and engine seals are rather common repairs, but I would inquire with the dealer regarding the wiring harness issue and if they have further information as to why this fix was carried out. I would say this car is about $4,000 to $5,000 overpriced, as you can get newer CLK coupes for similar money. Then again, the CLK is no W124. The color is a bit pedestrian but I'm a fan of this car, if not for its rarity, then for its stoic charm.
-Paul