Until this January, I had been a Mercedes-Benz owner for the past 10 years. I have to say, as a consumer loyal to the marque, I'm not too pleased with the styling direction Mercedes has been taking the last several years. Where to start? Well, the new C class coupe can't help but make me think Honda Accord Coupe, many models suffer from too much needless chrome in an effort to up the bling factor and the SUV offerings I feel have watered down the bread and butter sedans and wagons.
This, however, doesn't stop me from loving the classics, though. After growing up with a 1992 400E in the household, I have been quite the fan of the W124, especially the 500E/E500. I'm always on the lookout for clean examples of any variant, and here is a well cared for late model E320 for sale down in Texas.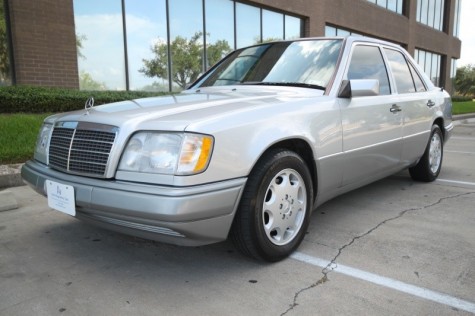 One owner from Houston and has been pampered and garaged! This was an extra vehicle for the previous owner and the mileage is consistent with its limited use. The paint is in excellent condition and it is apparent that this car was garaged and meticulously-maintained. The tires on the vehicle appear to have been recently replaced. The interior of this vehicle is virtually flawless. All interior functions have been tested and the only thing I could find that does not operate is the drivers seat forward/backward motion (tilt seat/back position work fine) This vehicle runs like it has 10,000 miles on it. The owners manual has been kept up to date with service records/dealer stamps.
As of writing this, there is a little over four days left in the auction and it hasn't met the reserve. I'm guessing the seller has the reserve set around $5,000 to $6,000, which is about what average examples of this E class sell for.…