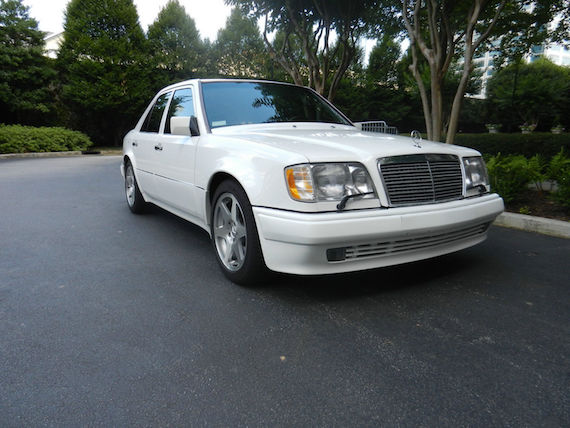 The Mercedes-Benz W124 500E/E500 is one of those cars that we hadn't quite seen from Mercedes-Benz and probably won't see ever again. A product of cooperation between Porsche and Mercedes-Benz before AMG was absorbed as an in-house tuning arm, this sedan packed a powerful V8, suspension enhancements and subtle styling tweaks to be one of the most potent four-doors of its day. Now that AMG is responsible for all go fast Mercedes-Benzes, I look back on this outlier, what some consider the first true four-door Porsche. This final year E500 for sale in Atlanta is one of only seven 1994 E500s painted in Polar White. Given this is such a popular hue these days, this one is bound to catch some attention, as pedestrian as it might seem on the surface.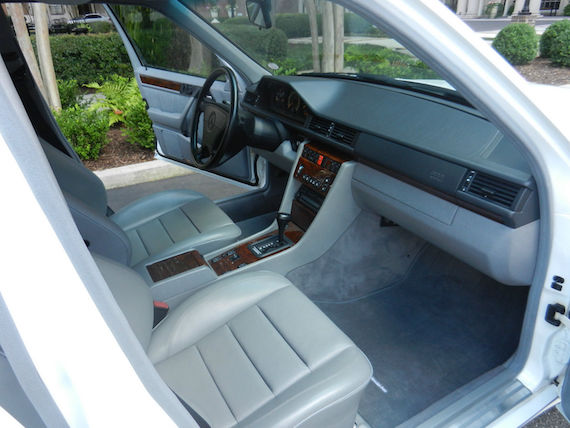 Year: 1994
Model: E500
Engine: 5.0 liter V8
Transmission: 4-speed automatic
Mileage: 48,500 mi
Price: $38,500 Buy It Now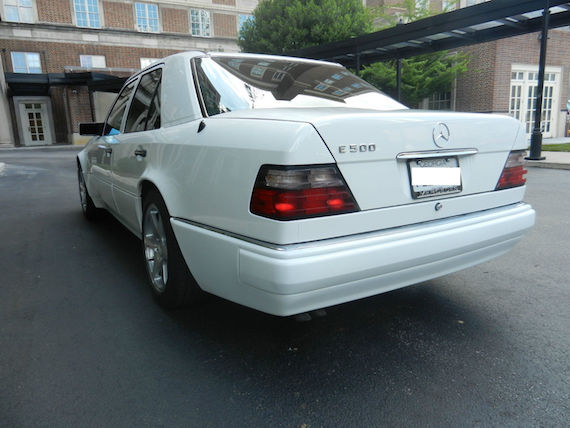 Mercedes-Benz W124.036 E500
48,500 Miles
DB149 Polar White over Grey

I am not going to bore you with the history of the Mercedes/Porsche super sedan. If you are looking at this auction, you probably already know this chassis.

These cars are known for their incredible build quality from the 18-days it took the Porsche technicians to build these cars at the Porsche 959 super-car assembly plant in Zuffenhausen. Of the 10,479 total worldwide 500E/E500's built, 15 were DB149 Polar White. Of the 1,505 imported to the US, only 7 were Polar White. In 1994, Mercedes shipped only 374 cars to the US market. Rare car and rare color combination.

The car is in excellent overall condition. It spent its first 20 years in Arizona with 2 owners. The 2nd owner was an ex-PGA pro who played in 27 Major championships (US Open/Masters/PGA Championship). I have owned the car 1 year in Georgia. Note that the car history shows Oregon registration – the 2nd owner had a summer house in Oregon (where all of his vehicles were registered) but the car never left Arizona and never left the garage! Always maintained at the Scottsdale dealer. I do have the limited VMI from Mercedes that shows limited service records – the biggest was a replacement of the water pump.

Since I have owned the car, here is what was done mechanically/maintenance:

Upper wiring harness
Lower wiring harness
Rebuilt ETA wiring
Correct "high sheen" EVO II 8.25 x 17 wheels (rare and the perfect wheels for this car)
Correct and no-longer-available W124 lug bolts – I polished the end caps
Michelin Pilot Sport A/S tires
MB rotors – all 4 corners
Akebono Euro ceramic pads – all 4 corners
Rebuilt the original antenna
Replaced the stock stereo head-unit (will go with the car) with a Becker 4602 Mercedes head unit (rare head unit purchased directly from Becker North America)
3.5mm stereo jack installed with Becker 4602 for iPod/MP3 connectivity
Fluids – brake fluid, Brad Penn 20w-50 oil x2
Lamin-x headlight and foglight clear protective film
Windshield washer bottle, grommets and pumps
Replaced the front license plate frame/adapter with the "blank" piece painted Polar White – original plate bracket goes with the car
Swapped the late E500 LH module with a correct early WOT LH module (7HP gain to 322HP). Original LH module goes with the car

I have sourced/purchased many parts for this E500 that will be available for sale:

Correct E500 headlights
2nd set of Lamin-X
Motor mounts, bolts
Tranny mount
Outside mirror boots
Set of metal oiler tubes and o-rings
Valve cover gaskets
MB spark plugs
Extra oil filter
2nd set of NLA lug bolts
Other parts

Above parts are about $1,500 in cost

Car runs and drives as you would expect a W124.036 with 48k miles. Paint is in excellent condition. Zero door dings or dents. Zero rust (of course). Typical stone chips on front bumper cover and a couple on the hood. Interior is excellent. Wood has zero cracks and shows full luster. Everything works, including the rear sun-shade. New style floor mats. Carpets excellent. Headliner is original with zero sagging. Very slight driver seat bolster wear. Windows are tinted with high quality tint. Trunk has had a protective pad to protect the trunk carpets. Original spare, jack and tools. I do drive the car – it has 48,3xx miles on it now, so expect that to increase over the auction duration. Note that a couple of the pics show the original head unit (just installed the Becker 4602 in December).

Emissions testing in 2015:
2,500 RPM tests:
HC ppm 1 (220 allowed)
CO % 0 (1.20 allowed)
CO + CO2 % 15.0 (min 6.0)

You are welcome and encouraged to have the car inspected (your cost). I can be reached at ramblinwreck1983 (at) gmail (dot) com to discuss the car. Deposit of $1,000 at auction end, balance in cash or verified bank funds or wire. I have the Georgia title (clear) in hand.

*****NO RESERVE (car only – parts are extra)******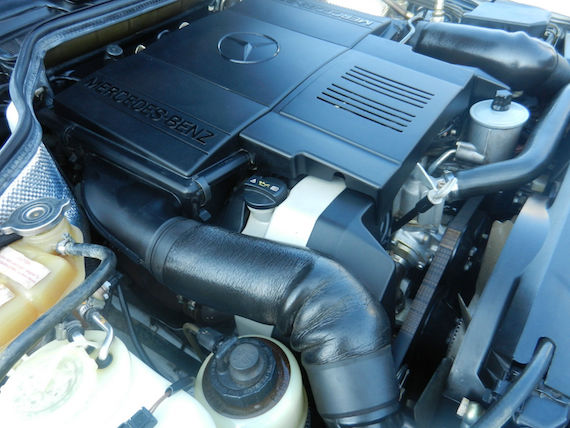 What makes this car is the Evo II wheels. The lend a much more aggressive look than the standard 16″ eight hole alloys that Mercedes equipped these cars with. Back in June, we saw a Black Pearl 1994 E500 with 142k miles sell for $23,600. Considering the rare color on this one and the lower mileage, the asking price isn't too off the mark, as very good examples of these late model super sedans have been ranging in the mid to high $30,000 range, if not passing the $40,000 mark. In my opinion, it's a lot of car for the money. Sure, it might not have the latest gadgets and some modern day mid-sized luxury cars verge on matching its power, but for those who appreciate the engineering and durability of Mercedes past with lots of power but sans the outlandish nature of some recent styling trends, there are few better options than this one.
-Paul