What is rarer than a clean low mileage MK1?  A clean low mileage "swallowtail." The term "swallowtail" is a term for early Volkswagen Rabbits built with a unique body line in between the taillights. They are extremely rare, as they were only made for model year 1975.  All model year 1975s and some early model year 1976 Rabbits had "swallowtails."
Viewed as one of the most desirable MK1s, this beautiful 62,034 mile Lofoten Green swallowtail for sale in New Jersey is an early VW lovers dream.
1975 VW Rabbit on vwvortex.com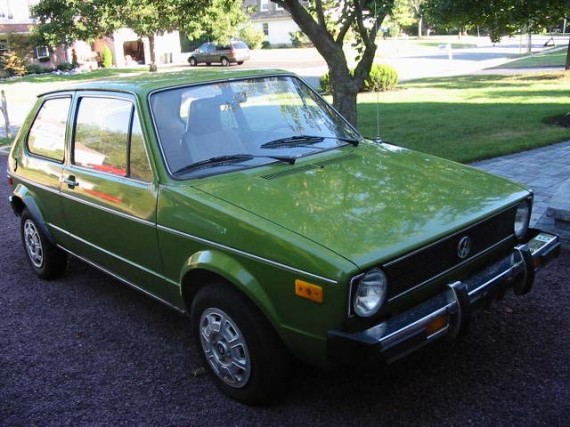 1975 Lofoten Green Swallowtail Rabbit. Its a survivor in great condition! It is a perfect project for someone to finish up. I am the second registered owner with 62034 miles. It is a carbureted 1.6L engine that runs strong. The carb does need to be adjusted. Has a 4 speed manual transmission. It has a 100% original stock interior! In a 90% perfect condition. There is a rip in the drivers seat and the dash is cracked. But considering it's age it is very clean and all together! Has immaculate headliner, carpet and door cards!

I started the body restoration. The rear lower corner rust has been fixed and sealed. I have before and after pictures of that area if you are interested. The rear under body and wheel arch have been cleaned and sealed. The gas tank has been POR 15ed. Thanks to Paintscratch for sending the mismatched touch-up paint as seen in the pictures but that is an easy fix. There are a few other places of rust I was planing on fixing but never got around to. I have tried to picture those areas. This is a very solid car though. Clean floors and strut towers.

The brakes, suspension and tires are original to the car! The brakes need to be replaced – they work but not very strongly – and the tires are dry rot – 2 of them don't hold air.
…