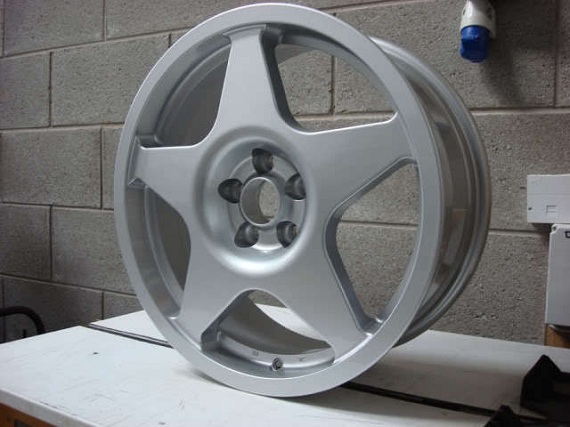 There aren't many times that I'd seriously consider buying a set of wheels and building a car around them, but this may be one of those times. One of the best looking wheel designs in Volkswagen history was certainly when they handed the reigns over to Speedline to make the Corrado VR6 wheels. Unlike the typical BBS mesh wheels we had gotten on performance Volkswagens for some time, Speedline made a race-inspired chunky 5 spoke that was just perfect. Every time I see a Corrado, like yesterday's Supercharged VR6 Corrado, I always miss the Speedline wheels when they've been replaced. Of course, they were only 15″ wheels, and the Corrado does look better with slightly larger designs. Some enterprising individuals therefore took it upon themselves to commission Speedline to do a special build of a 17″ version of the Corrado wheels. Sound crazy? Crazy wonderful!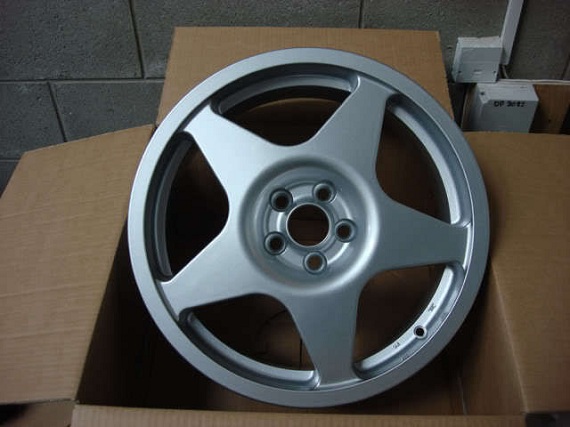 Year: 1992-1995
Model: Corrado
Diameter: 17″
Width: 7″
Bolt Pattern: 5x100mm
Condition: New
Tires: Not Included
Price: $3,500 Buy It Now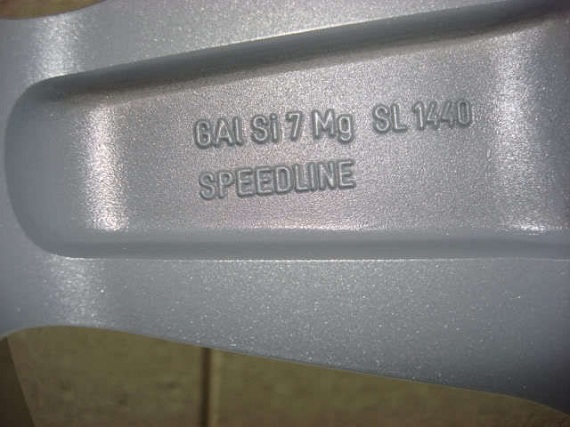 Those looking for Rarity & Exclusivity, l@@k no further…

You are looking at a set of 5 brand new, never mounted, Speedline wheels. There have only ever been a handful of these wheels imported into the United States of America.

I am the founder of an old VW Enthusiast "group-buy" whereby nearly 2 years of my free time was spent coordinating a bespoke, limited re-issue run of wheels, from Speedline SRL, Italy. Feel free to look at this group-buy link ( http://forums.vwvortex.com/showthread.php?3741669-GB-16"-SPEEDLINE-Wheels-Only-made-in-1994-for-Europe-Until-NOW…-(Sponsored-by-BmFTechnik) which yielded over 1,000 replies and nearly 62,000 views http://www.vwvortex.com/Anthony/Smilies/rolleyes.gif. Only a handful of members ultimately participated in these purchases, culminating in wheels that were 16″ & 17″ in diameter, in Silver & Bronze.

I have been holding onto a set of each series of wheels, but have recently decided (I think!) to part with my prized possessions http://www.vwvortex.com/Anthony/Smilies/confused.gif

Up for Sale: 5 (five) New In Box. Sold AS A SET OF FIVE (5)

Specifications

* $700.00ea. Considered as one (1) unit for sale via eBay.
* New in Boxes: never mounted
* Sold as a complete set: all 5 (five)
* 17" Diameter
* 7″ Width
* 5 x 100 bolt pattern
* ET 35 (offset)
* Silver Finish
* Made in Italy
* All mounting hardware included
–All lug nuts
–All Center Caps
–All Manuals
–All original boxes from Italy
–All original packaging

*NOTE: additional sets of new tapered lugs, manuals & centercaps can be purchased for additional. The bag of centercaps shown in the pic is the surplus available for purchase. These additional sets are not included in the winning bid price.

Shipping & Handling: Proper shipping is Critical: no expense spared. I personally oversee the local UPS Store in their double boxing/padding of the OEM boxes. You can factor approximately $35-70 per wheel (based on your US destination). eBay's displayed Shipping price on this Auction is INCORRECT. The amount of monies Paid for Shipping will be applied Towards the Actual Shipping & Handling fees. Also, please note that I will need up to 5 days to process your shipment, as my full-time obligations are demanding. International Bidders, please email me prior for discussion and feasibility. Local pickup (Southern California) can be arranged. Local Sales Tax will be added to order.

Bidders: Any bidders with any of the following qualities must email me prior to bidding, otherwise your bid will be ignored & deleted:
* those with less than 1 year registered on eBay
* those with less than 10 registered feedback scores
* those with less than 95% positive feedback

Payment: Payments must be received within 72 hours via PayPal only. Shipping quotes will be provided, at which point (a) subsequent PayPal payment(s) will be made prior to shipping.

I'm not in a rush to sell the wheels, so please know that I'll be patient to sell to the right buyer for the right price. These wheels are more sentimental to me second only to my VW Corrado itself.

Thanks for looking.

Cheers,

-Adam

———–

10/9/13: Price increase from $550.00 to $650.00/each. Due to: underpriced. Sold my other 2 sets too quickly. This is my last set…

11/9/13: Price increase from $650.00 to $675.00/each. Due to: reluctance to sell them at all… Pricing will continue to increase until I talk myself out of selling them altogether…

12/13/13: Price Increase from $675/each to $700/each.

Posted with eBay Mobile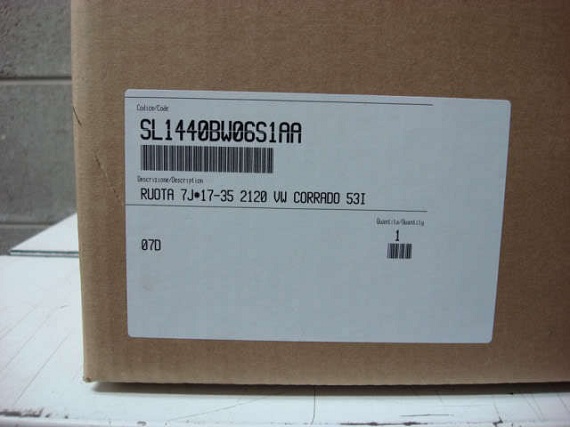 Seriously, I wish someone would do this for my old Audi Coupe; I'd love to get a group together to make a 16×7 or 7.5″ version of the R8 wheels, and I bet I'm not alone. Of course, that requires a tremendous amount of time in coordinating, gathering money, dealing with people backing in and backing out and so on. Frankly, it's amazing that this was done at all – almost as amazing as the asking price for this set of wheels, which is similar to the asking price for many worse off Corrados in their entirety. But what you get is a unique set of wheels that, when you consider what they are, aren't really very overpriced. Plus, look at them. Wow. Well done, people with more time on their hands and more motivation than most of us!
-Carter