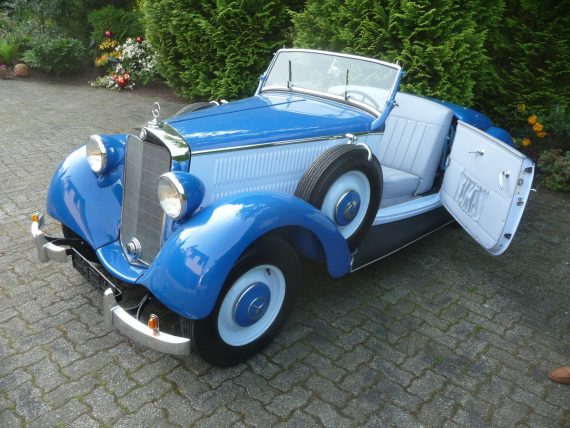 Update 1/17/19: After not selling in 2016 for $199,000, this rare 230 Cabriolet B has been correctly relisted as a 1937 model for $189,000.
I don't usually look at a lot of pre-war Mercedes for a number of reasons. A few of them are they are very rare (and expensive), it's tough to find solid information on them that's not in German and lastly I'm not expert on them. So naturally when I see them and start digging into the specifics, I get lost and confused which leads me back to a W126 or R129 where I'm much more comfortable. Today's car is no different. A 1936 230 Cabriolet "B" that has a bunch of things that I try to make sense of but just end up asking more questions. So let's take a look at this blue cabriolet that's on its way to California.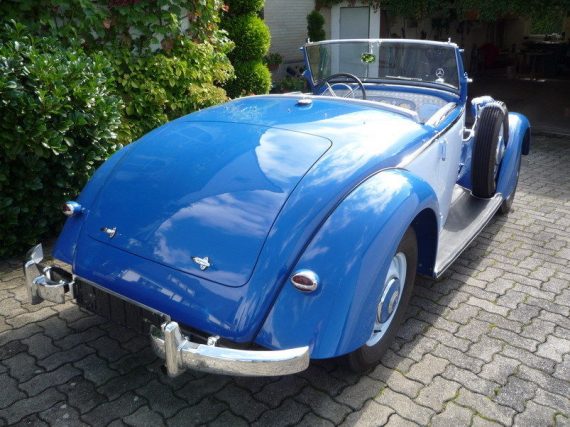 Year: 1936
Model: 230 Cabriolet "B"
Engine: 2.2 liter inline-6
Transmission: 4-speed manual
Mileage: 56,000 mi
Price: $189,000 Buy It Now
1936 Mercedes benz 230 Roadster W 143 ,ordered from the ,, Reichs Postministerium in Berlin " with proof from Mercedes benz . only 38 build and 6 Cars left in the world .royal blue over light blue / light gray Leather , nut and bolt Restoration done in Germany with a cost from over Euro 250.000,- New wood Frame made of Esch wood ,mlg after Restauration 5 mls , all Restauration work documented ,Classic Data appraisal Euro 230.000,- General Condition No one .
Car is in Transit to California . arrival first week November 2016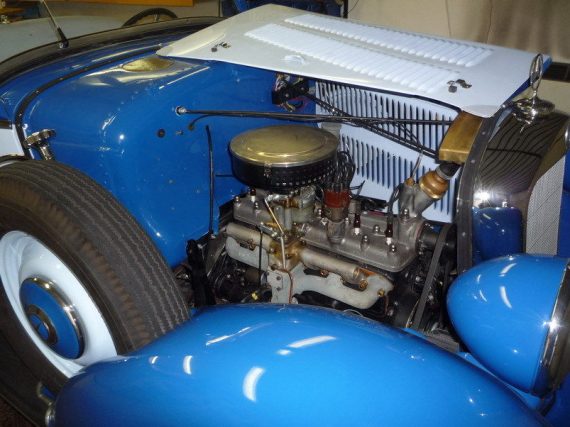 The seller lists this car as a 1936 230 Cabriolet "B" which is the chassis code W143. My understanding is that the W143 production didn't start until 1937 which means a 1936 Cabriolet would be a W21 that ran from 1933-1937. But this car clearly looks like a W143 because the W21 were much longer cars that would be tough to confuse. You can see why I don't like pre-War cars.
Anyways, this 193X 230 Cabriolet "B" was restored to the level of "let's throw everything out the window and rebuild it how we want." This of course drives the purists absolutely insane because this is a very rare car that the seller says "only 38 build (sic) and 6 Cars left in the world" which I don't really believe. Maybe for that year, but there is a 1938 230 Cabriolet "B" in New York that you can easily buy for a fraction of the price as well. Back to the restoration, this car looks nothing like its pre-restoration form judging by the photos. For the amount of time and money you usually would put back to factory spec, but this seller went with colors and even the majority of the materials that weren't even available at that time. The dash is brushed metal that looks great, but you'd give someone a heart attack on the 17th green if you took this car to a Concours event. They even went to the level of wiring up tiny little turn signals on the front bumpers. My guess is that this car was built to be a driver since it can easily do 70 mph, but I'm surprised they didn't add a flip up navigation screen in the middle of the dash while they were at it.
The price is $199,000 and I guess you can justify it. The market on pre-War Mercedes is pretty strong because once you get into these cars you are usually on another level of wealth where market fluctuation really doesn't make anyone blink. Like I mentioned in the paragraph above, you can buy a 1938 that has been fully restored for $135,000. So pick your poison with this car and I hope the buyer can enjoy it for what it is.
– Andrew