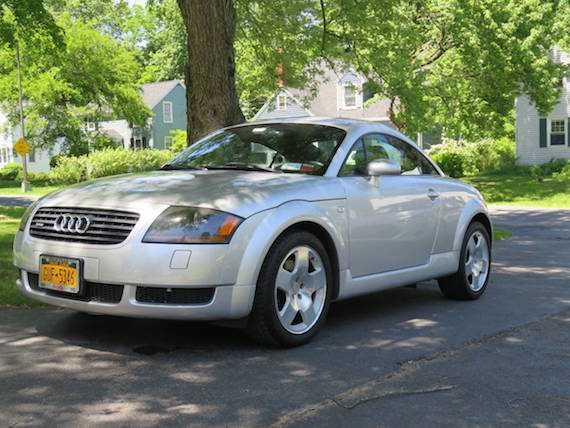 I went to college in London in 2000, about the same time that the first generation TT started to appear on British roads. Because my dorms were in a posh part of town, there were always a few of these parked nearby. The car's styling struck me as extraordinary. It captured something of the millennial zeitgeist: a minimalist, Bauhaus-esque design that artfully blended lines and curves on the outside, with a bespoke-feeling cockpit on the inside featuring splashes of brushed aluminum and baseball-glove stitching on the leather seats. Back then, I had ambitions to become a lawyer, and this was the perfect car, I thought, for a young single man about town. The perfect yuppie's car.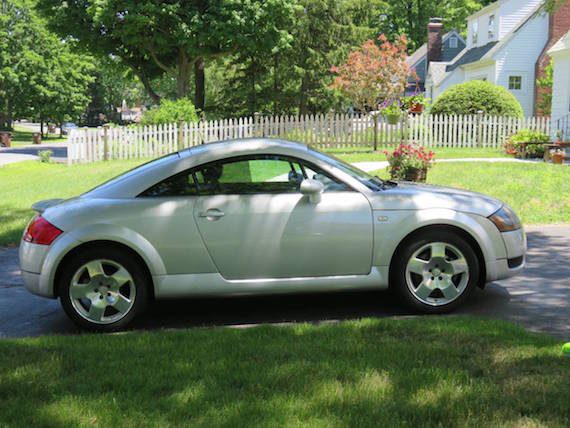 Year: 2001
Model: TT 225 quattro
Engine: 1.8 liter inline-4 turbo
Transmission: 6-speed manual
Mileage: 59,415 mi
Price: $7,000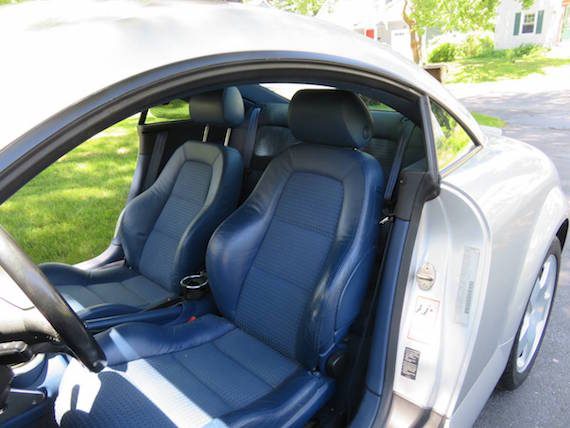 For sale is my 2001 Audi TT 225 Quattro Coupe.

I have owned the car since August of 2012, when I purchased the car in mint condition with 25k miles. The car had one previous owner. I primarily used the car for commuting, but have made several long trips in the car as well. The car has been meticulously maintained, and many if not all of the service records, original manual, and original sales brochure come with the car. This car has been my baby, but now I have a child and it's time for a real back seat.

About the car:
Lake Silver Metallic Paint
Denim Blue Leather interior
Heated Front Seats
6 speed manual gearbox
Haldex AWD system
Just under 60k miles
Adult owned and driven

INCREDIBLE IN SNOW! Drive it all year round without a problem.

Everything is completely factory with the exception of:
APR 93 octane engine reprogram (263hp/267ft-lbs)
'Blue' Haldex AWD controller (improves engagement of AWD)
Continental Extreme Contact DWS all-season tires ~50% tread

Major Maintenance:
Timing Belt / water pump / tensioner – 25k miles
Brake Rotors – 25k miles
CV boots – 25k miles
Radiator fan -25k miles
AWD controller ~35k miles
MAF sensor ~35k miles
Air Bag Controller ~35k miles
Front suspension rebuild ~50k miles
Rear springs replaced ~50k miles
NGK platinum spark plugs ~50k miles

Regular Maintenance:
Always 93 octane
Always full synthetic 5w40, every 5k miles or 6 months or less

Condition:
Minor scratches, one or two small dings (typical parking lot stuff)
Interior is in great condition, no tears in leather or headliner.
Comes with factory rubber floor mats as well as original Denim Blue carpeted mats.

1 minor accident from previous owner. Carfax available for review. Clean title in hand.

Asking $7000. All reasonable offers considered.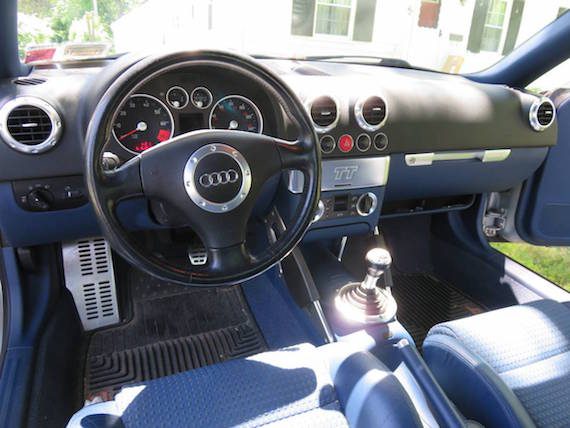 Well, some (questionable) career decisions – grad school, academia – put paid to all that, so I never became a lawyer, and nor did I buy a TT. But every now and again the sight of one of these cars puts a smile on my face, reminding me of my 18 year-old self. With the benefit of hindsight, we now know that the first-gen TT was never quite the driver's car it could have been. Essentially a Golf wearing fancy clothes, it was neither particularly quick nor particularly involving to drive (defects the second generation would go a long way toward remedying). Still, the design has aged well and used examples are surprisingly cheap and plentiful.
This particular car has modest miles on the odometer, a fetching blue denim interior and appears to be in excellent, almost stock condition (upgrades are limited to some ECU reprogramming). It's powered by the VAG-group's familiar 1.8 liter four cylinder unit which here, combined with the larger of the two turbo's offered in the TT, produces a reasonable if not spectacular 225 hp. The silver exterior may be a little plain for some. But I always thought it was excellently suited to the body shape, adding to the TT's car-of-the-future-by-way-of-the-early-00s look. Given the condition on show here, I think the $7k asking price is very reasonable.
– Craig