Warning!
This post is in our archives. Links in this post may have been updated to point to similar cars available to bid on eBay.
Military machines are always a bit of interest to some, and the ones that draw the most attention in the German car scene are without a doubt the 1930s and 1940s German military vehicles. Key in German troop movement were the Kubelwagen and Schwimmewagen, two versitle and simple vehicles that were mass produced but few survived the destruction of the war in good shape. Consequently, interest in them has spawned recreations. Today we have a bit of an interesting face off then, between a replica Kublewagen and a military-inspired Thing that looks straight from the set of Mad Max. Let's start with the Kubelwagen: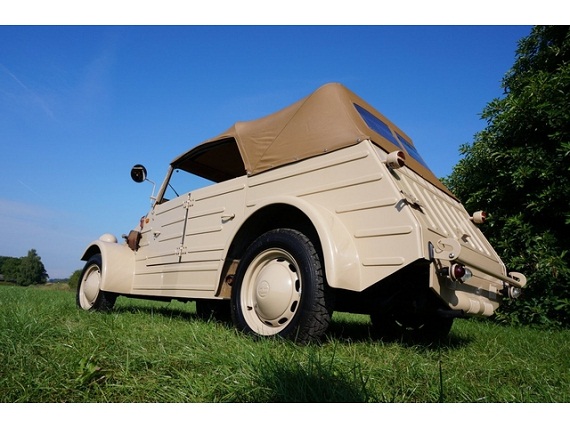 Year: 1940
Model: Kubelwagen
Engine: 1.3 liter flat-4
Transmission: 4-speed manual
Mileage: 132 mi
Price: $44,900 Buy It Now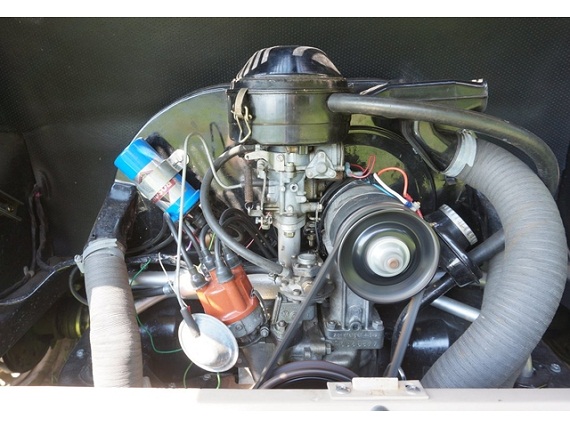 Excellent reproduction of the famous German WWII jeep designed by Dr. Porsche and built by VW. This Kubelwagen features Intermeccanica in-house designed and built tubular steel perimeter tube chassis and has a Canadian made one-piece composite body. Build in 2006 with only new parts at Intermeccanica and been in a private collection since then, only done 00132 km !!!

Issued with a Intermeccanica VIN, therefor less than 17 digits.

All 5 tyres are Vredestein SnowPlus 15 inch tyres and are as good as new. There are no damages and the interior is spotless. The engine and transmission work perfectly, the vehicle has front brake disks and rear drum brakes.

Orignal design with front "suicide" doors
Fold down windshield
Original inspired soft top with fully articulated tube steel frame
Original inspired side curtains with padded storage bag
Orignal inspired dash panel with reverse running VDO speedometer
Safety door locks
High luster ISO polyester gel
Color matched powder coated metal interior and exterior trim
All stainless steel body hardware
Front bucket seats to original design with adjustable headrest
Built in retractable seat belt system
Cast alloy original style 3 spoke steering wheel
High efficiency heating and defrosting, incorporating 3 speed booster fan

Prices at Intermeccanica start at $ 34500 for a rolling kit and turn key vehicles start at $ 43200. Only a handfull of these Kubels were ever produced, original WWII Kubelwagens fetch well over $ 70.000

Please understand you bid to own this vehicle.

It is currently located in our workshop in the Netherlands, we can ship and deliver worldwide. Ocean freight by RORO ferry to the East Coast US will be around $ 950 and takes about 3 weeks.

The vehicle will come with Manufacturer Statement of Origin by Intermeccanica.

If bought for use in Europe then we can supply a German Brief and Schein for $ 2500 extra.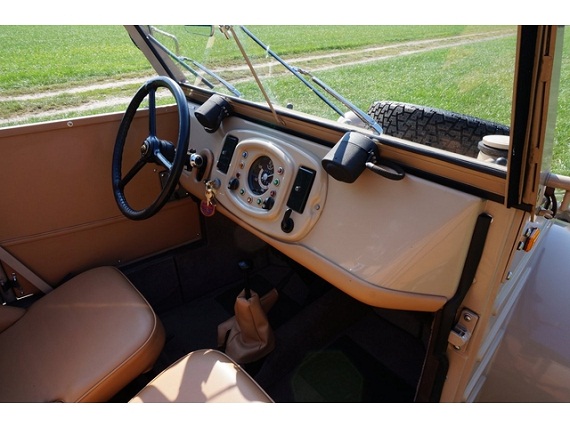 Built by Intermeccanica, this is a fairly true to the original replica of a Kubelwagen. It looks neat adorned in Desert colors, and certainly looks fresh and relatively new. If you want an interesting alternative to the VW Thing or to really set yourself apart at a Volkswagen meet, this car can do it in strides. The downside is that it's quite expensive; at $45,000 plus shipping, it's pushing classic VW Bus prices. Is it a better value than those Bus examples? I guess it depends on what king of message you're trying to send and if you really want to take a different path than most. Speaking of different paths…: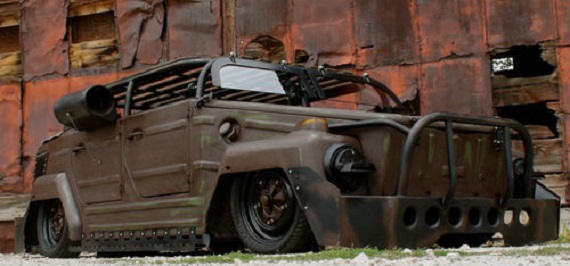 "Different" is a pretty good way to start to describe this Thing. At first, I thought "Wow, that's horrible"; but the more I looked at it, the more I thought that this example was pretty interesting. So the "stance" crowd isn't your thing – no problem, you don't have to roll with this so low, because it has an adjustable air suspension. While air suspensions have a reputation for being for looks only, they are actually a pretty good solution to several problems – crank up the ride height and you've got ground clearance galore. This thing further benefits from some modern water-cooled flat four action in the form of a Subaru Legacy 2.5 liter powerplant – a healthy increase in power over the original: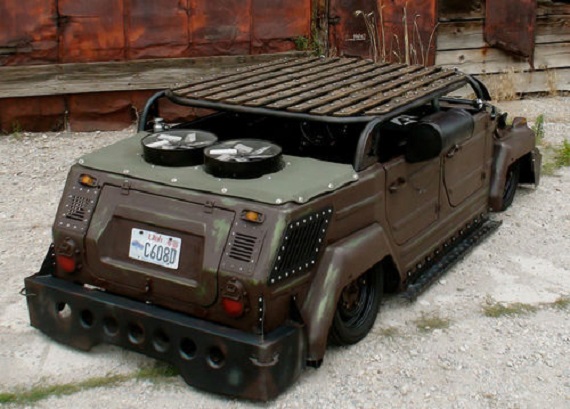 Year: 1974
Model: Thing
Engine: 2.5 liter flat-4
Transmission: 4-speed manual
Mileage: 30,000 mi
Price: $17,500 Buy It Now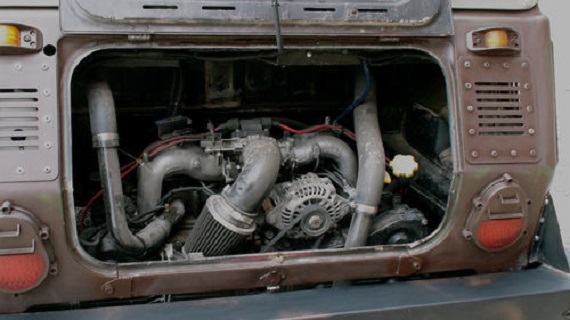 1974 Volkswagen Thing that lived its life in Arizona and Nevada. This Car is fast and runs great. It was built to its current form about a year and a half ago and it has had about 7000 miles put on it since then. I'm not sure how many miles the car had originally but it was in really good shape. The engine is a normally aspirated 2.5 liter 4 cylinder from a 2006 Subaru legacy with 37,000 miles on it .This car rides great and the air suspension allows the car to go from 0-8″ of ground clearance. The nice thing about air suspension is that you can raise it up to get into bad areas and lower it down to cruise. I have taken this car on a couple long road trips and it does great. The car averages about 27 MPG. It is quite roomy inside and can fit a 6′ 5″ person with good leg and head room. I will now list the features and components below.

DRIVETRAIN

-All new tires with 3000 miles on them

– Brakes redone with all new wheel cylinders and Shoes

– Freeway Flier IRS transmission

– Kennedy stage III clutch and pressure plate

– 220 HP fuel injected 2.5 Subaru Boxer engine

– Out Front Motorsports tuned Stinger standalone engine management and wiring harness

– Aluminum radiator with dual aluminum blade fans

– Adjustable front suspension beam

– Type 1 spindles and arms

– Air Kewld air shocks in front and Slam specialties airbags in the rear

– Dual Viar 480C air compressors

– 7 gallon air tank

– (8) 3/8 SMC Gold air valves (4 wheel independent control)

BODY

– Custom tubular roof rack with oak slats and stainless steel hardware

– Custom safari adjustable dual windshields with laminated safety glass

– Custom rubbed out paint job

– Custom Canvas rear tonneau cover with twist fasteners

– Custom dash parcel tray with rope weave bottom

– Custom seat frames with woven rope faces

– Seat belts

– Stock Vw thing speedo and Autometer gauges

– Genuine Russian headlight blackout covers with HID headlights

– Custom bumpers front and rear (lightweight but made to look heavy and menacing)

– Military LED tail lights

The body and floorpans are in really good shape and the car runs great.

Video of the build

PLEASE DON'T MAKE A OFFER IF YOU CAN'T PAY

ALSO SOLD WITH A TITLE NOT JUST A BILL OF SALE

PLEASE CALL IF YOU HAVE ANY QUESTIONS

JASON

1-678-758-1652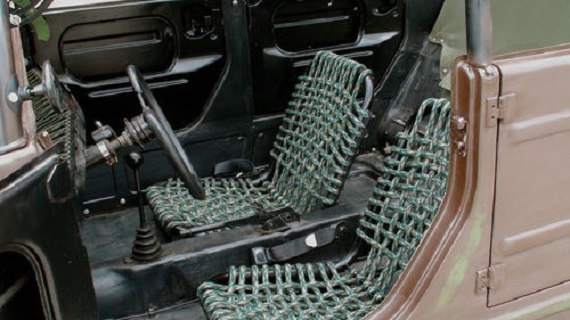 With a claimed 220 horsepower, that Subaru mill must be a turbo unit, because the normally aspirated version was only rated in the 170hp range. Either way it's a great motor and while this isn't built for speed, the additional power and refinement of the Subaru unit sure adds some driving comfort on the highway. That comfort, however, is not matched by the interior, which is stripped to bare bones – though one would never say that the Thing was luxuriously equipped. While this car isn't for everyone – or even for most – it may be just the thing if you really want some attention at your local Cars and Coffee meet or if you're really into the VW scene.
Which is a better deal? Well, these are both pretty specialized vehicles, and I think which is a better deal really depends on what you're hoping to do with them. I think you could make some light modifications to the Thing to make it a little less extreme and have a pretty neat occasional vehicle; but if you really want the real WW2 experience, you'd have to get into the Intermecannica replica because it's much less expensive than what a real Kubel would set you back.
Which is your weapon of choice?
-Carter