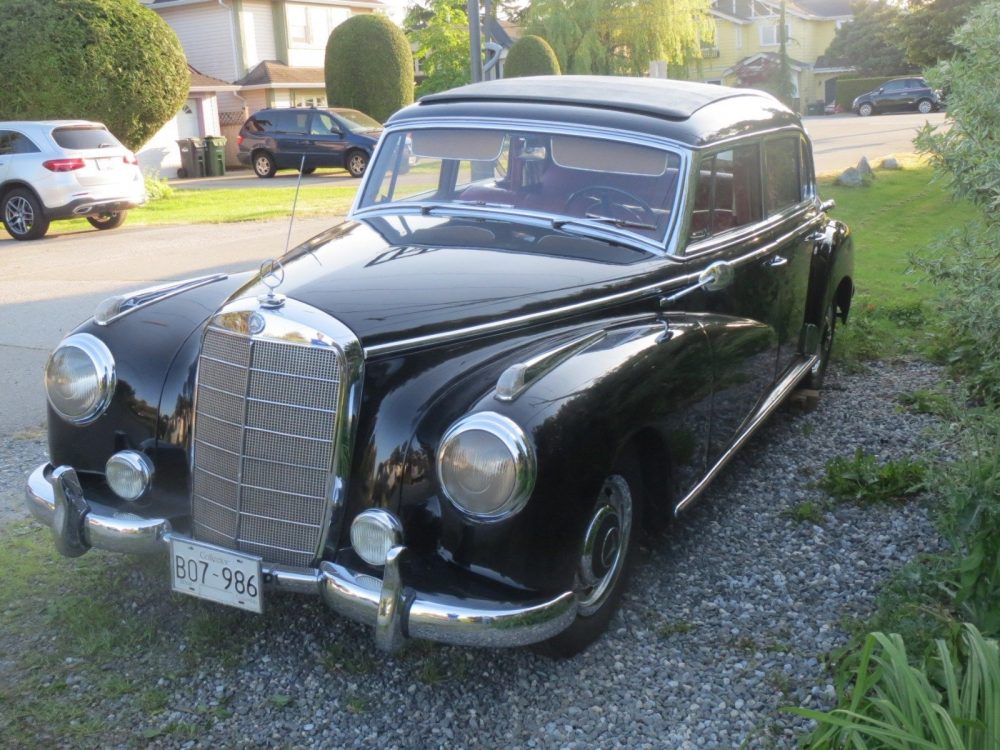 About a month ago I looked at a unique 1961 Mercedes-Benz 300d Adenauer in beige over green leather interior. It wasn't perfect, nor advertised to be, but looked great and came in at a fair price. I went on about how these Adenauers are overlooked in the grand scheme of classic Mercedes and undervalued for what they actually are. Even compared to the Rolls-Royce Silver Cloud, you aren't giving up anything in terms of styling and certainly not reliability. Today, I came across a 1955 300b up for sale in Vancouver, British Columbia that looks just as good with an even better price.
Year: 1961
Model: 300b Adenauer
Engine: 3.0 liter inline-6
Transmission: 4-speed manual
Mileage: 65,820 km (40,898 mi)
Price: $35,000 Buy It Now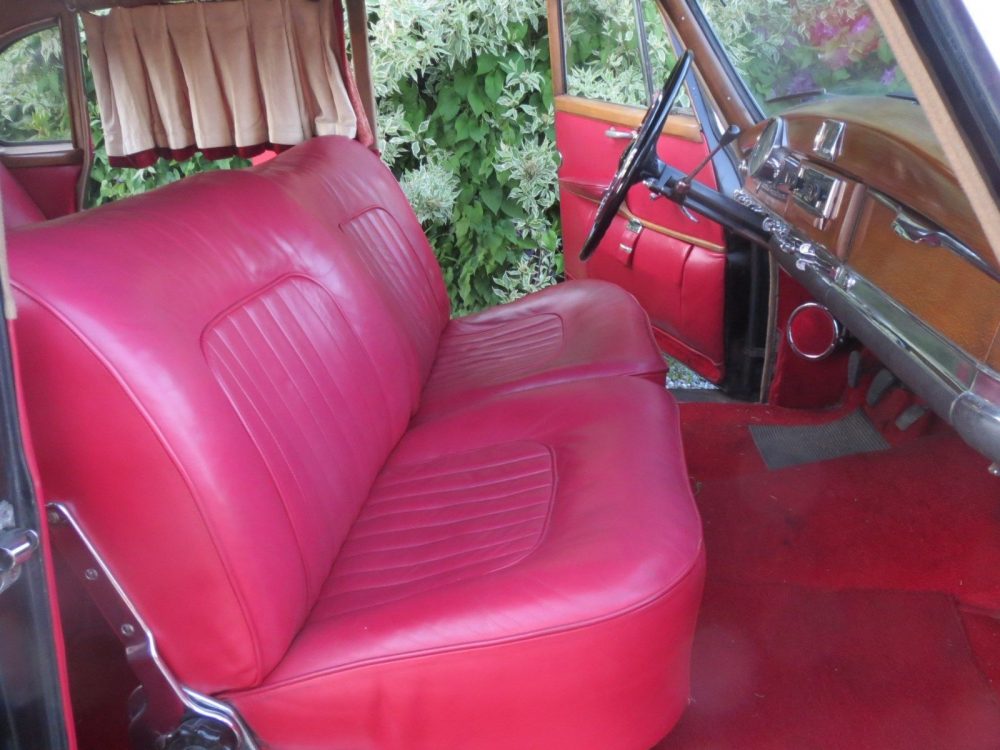 For sale is 1955 Mercedes Benz 300B W186 (Adenauer) with 65820 actual Kilometers.

Chassis No: 186 920-10-5500448

'55 Mercedes Benz 300B black with red interior. Rare car.
Excellent color combination. Low kilometers. Beautiful, matching, complete and original car with lots of potential.
Very collectible. Absolutely unique piece of automobile art.

Daimler-Benz's flagship in the 1950s was the 300 series, favored by Heads of State and Captains of Industry alike. The first luxury Mercedes, a coveted model among Mercedes-Benz collectors. It combines the typical German engineering, build quality, and performance of their cars with the luxury and comfort made exclusively for dignitaries. The 300B was not inexpensive by any standards, as it cost way more than any of the new Cadillac at that time, but superior in performance to the rival Rolls-Royce Silver Cloud, so it's beauty and well rounded performance made it the car to have in 1955 for a person of global influence. Its high cost also contributed to its low production numbers with only limited numbers of units being produced and many of those cars being lost to use, and the elements over the years. Of those cars produced, only fraction of them made it to the North America. That make them ultra rare collectors. The 300 was considered to be one of the most sophisticated cars of its time, and still today it has a devoted following in the automotive collector car world. It is the perfect combination of performance and luxury.

Arguably one of most sought after classic vehicles.

Description:

Everything works.

Starts immediately and every time on first touch of the pushbutton.

This vehicle's original and powerful engine runs extremely nice and smooth. It was always professionally maintained and looked after, regardless of expenses, from day one until present day. Over the time any worn parts were replaced with genuine Mercedes-Benz parts. So this original, low mileage engine is as good as new, bulletproof and can last forever.

The interior is in immaculate condition. All the wood in unbelievable condition.

All chrome on this vehicle is in absolutely top shape.

All complete and original, great condition! A very good example of this rare model, which is very hard to find. The only attention is required for a few spots that started to show surface bubbling that do not prevent this Mercedes to be driven to any type of social gatherings. The biggest one located on the side of the front right fender, (see picture). It can be efficiently and expressly repaired, as with this car fenders easily come off the chassis, to be fixed and than easily put back again. Regardless, this Mercedes at its current condition is beautiful, presentable and it can be proudly driven to any car show or field meet, where It usually attracts the biggest crowd. Especially with its immaculate interior, with amazing red leather seats as well as rear bench showing almost no signs of wear, all door wood and door panels that are as new, beautiful red carpet all around, with perfect headliner and Webasto sunroof, flawless dash with nice wood, perfect steering wheel, with perfect gauges, lovely dash chrome knobs and controls, working clock and Becker "Grand Prix" stereo (owner upgraded the original radio to Becker Grand Prix stereo back in 1969, but this car's original radio from 1955, Becker Nurnberg, rare worth $2k alone, still operational, is included with this sale). This car has Extremely Rare Options: Curtains, Webasto Sun Roof and Bosh Exterior Horn. Additionally, this Mercedes is so good mechanically, with beautifully running engine. The transmission shifts through all the gears nice and proper. Pleasure to drive and enjoy cruising, ready for short or long distance trip . The trunk area is nice and clean. Overall, this vehicle's exterior is very clean with that Mercedes beautiful and shiny quality Schwartz black paint.

Sun Roof

The sun roof slides towards the back to open a large and amazing view. While designed with parades and waving to throngs of adoring fans in mind, one could also picture a bevy of Bridesmaids and Groomsmen standing in the opening with the happy couple should this Adenauer become an interesting alternative to a Lincoln Town Car stretch.

Warranty:
As a rule, the car is being sold on AS IS and WHERE IS basis without any implied or expressed guarantee or assurance of any kind. If possible, we encourage and welcome full inspection and road test of the car.

Car is located in Vancouver, BC.

This car is for sale locally and I do reserve the right to end the auction.

Thank you for watching and reading the above details. If you have any specific question, please feel free to ask.

Payment

Please, be ready to buy when you click. A $1000 non refundable deposit by PayPall is due when the auction ends. The final payment is due within 7 days after the auction ends. Balance is to be paid via bank wire, cash in person or a certified bank cashier's check. Check will need to clear before the vehicle is released and the title is sent. The winning bidder needs to contact me within 24 hours of auction end to make payment arrangements. Please, arrange all financing prior to bidding. If you are not sure about anything, please don't assume – just ask. I'm very easy going and will help in any way I can, but, please, be absolutely sure that you are ready to buy when you bid. All non-paying bidders will be reported to eBay.

The buyer will be responsible for the transportation and/or shipping of this vehicle. I can assist.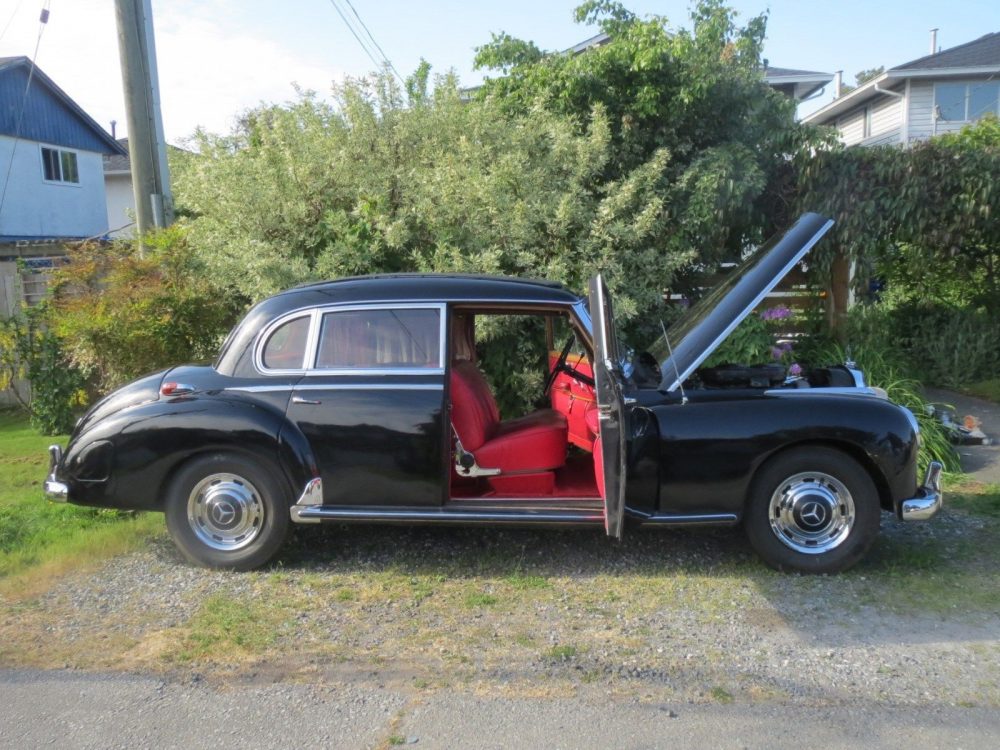 This one looks like a really nice example of the 300b Audenauers that don't come up for sale all that often. It is a great color combination of black with red leather that is in above average condition for its age and the fact that this is a sunroof car so naturally is exposed to more light and heat. Black paint hides the lines of this car some, but I still think it looks great in any color. I'm surprised to see how clean this car actually is for being a Canadian car but I suppose if you have an Adenauer, you aren't driving it in the cold months to begin with. This being a 300b, it has a 4-speed manual on the steering column as opposed to a 3-speed automatic in the later 300d. The seller says that everything is working on this car as well so if that is the case, I don't see a lot to dislike with this one.
At $35,000, I think this one is a real deal. Normally, these hang around that $50,000 range for running, driving cars with the expectation that it will need something or other. Maybe this car is slightly cheaper because it is located in Canada, but that shouldn't stop anyone from pursuing it. I can't see losing any money on this car if you bought it, enjoyed it for some time and then wanted to move onto something else. I do think that you might be looking for a buyer for a while with these cars simply because of what they are as opposed to any other classic car. It isn't like you can just slide this one in your normal sized garage. Nevertheless, a nice example for a really good price.
– Andrew