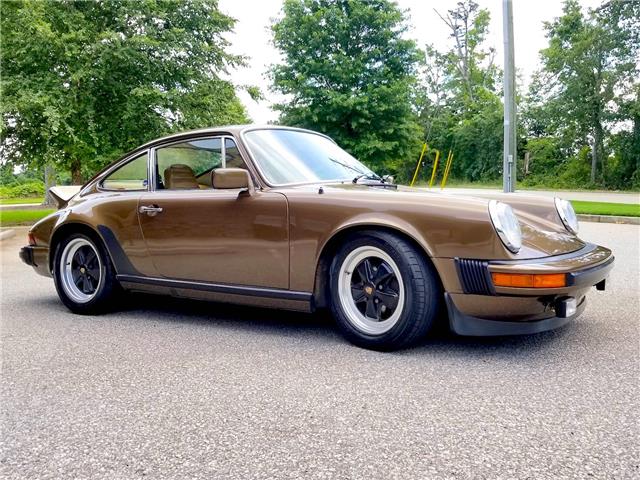 Last week in my write up of an Ipanema Blue Metallic 911 C4 GTS I mentioned the way certain colors can come in and out of style rendering previously undesirable colors desirable, or vice versa. I wasn't sure whether that would apply to Ipanema Blue, but I do think it applies to the car we see here: a Tobacco Metallic 1979 Porsche 911SC Coupe, located in Georgia, with a Brown leatherette interior – it looks like Cork and the seller has referred to it as cork-like so perhaps it is Cork – and 144,639 miles on it.
Brown cars were not uncommon during the late-70s, but it seems they quickly went out of favor because we almost never see them from any marque once we're well into the 80s. A few automakers have tried to resuscitate the color, especially with much darker metallic browns that in most lighting appear black, but in general the public isn't clamoring for a brown car. That, of course, can hurt an older car like this one, but any time I've come across a 911 like this I wonder whether we're missing out on something unique. It's not bright and vibrant; these are colors with a natural earthiness that doesn't necessarily suit a performance car. Yet, they can be very good looking under the right lighting and I really like Tobacco Metallic on a 911. I previously featured one that remains one of my favorite 911s I've come across. They're a little unusual, but quite captivating.
Year: 1979
Model: 911SC
Engine: 3.0 liter flat-6
Transmission: 5-speed manual
Mileage: 144,639 mi
Price: $42,900 Buy It Now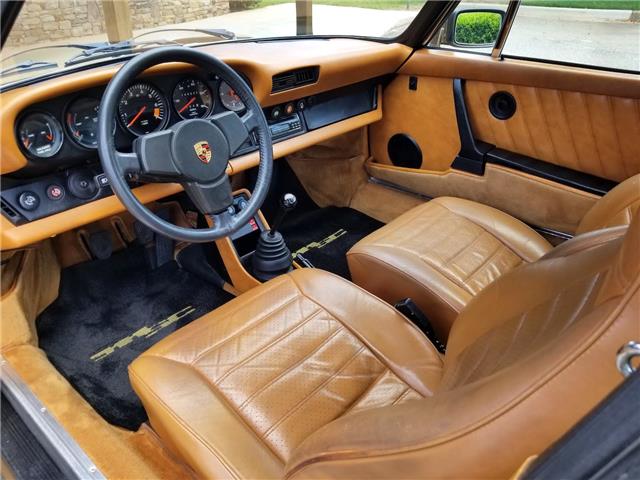 1979 Porsche 911SC.Vin 678-276-7045.5-Speed Manual.144639 Miles.Tabacco Special Metallic.Brown Leatherette Interior. Books Manuals Service Records COA 2-Keys Tools Spare and a Jack.Original metal deck lid comes with the car.This great looking 911SC comes in the classic Tabacco Special Metallic on Brown Leatherette interior. It is an all number's matching car which has been verified by the Certificate of Authenticity.The exterior of this car is very nice. The Tabacco Special paint is quite unique as it has a glistening golden hue to it which beautifully lights up in the sun light. The Brown Leatherette interior is in very nice shape and its lighter "cork-like" color greatly compliments the outside of the car. Performance wise this Porsche is spot on! The engine cranks right up and the car literally glides on the road. The shifting is smooth and continuous and the clutch engages perfectly. The brakes are strong and the car corners with ease. It is truly a joy to be behind the wheel of this beaut. There are three binders full of service records detailing a complete service history from 1979 to 2017. This also includes service stamps in the Porsche Maintenance Manual. Here are some inserts from the more recent service:143155 Miles: New steering lock and ignition switch.142674 Miles: Oil/Filter change.139486 Miles: Valve adjustment Plugs New fan belt Oil/Filter change.137767 Miles: New tires (Dunlop) Front brake rotors and pads. 136035 Miles: Oil/Filter change.129779 Miles: Oil/Filter change.126901 Miles: New oil lines Clutch adjustment Oil/Filter change.123090 Miles: New battery.122659 Miles: Oil/Filter change.120587 Miles: Oil/Filter change.119736 Miles: Valve adjustment Oil/Filter change.117545 Miles: Oil/Filter change.114300 Miles: Valve adjustment Oil/Filter change.114300 Miles: New tires (Dunlop).113410 Miles: New master cylinder.112350 Miles: New oil sum basket gaskets Oil/Filter change.111320 Miles: New lower head studs Updated chain tensioners New oil pressure switch Oil pressure sending unit Temp sending unit Air hoses Intake manifold rubber hoses Resealed fuel injectors New gaskets and cylinder sealing rings Decarboned heads and pistons New plugs and Oil/Filter change.110858 Miles: Installed ducktail.109075 Miles: Oil/Filter change.105442 Miles: Oil/Filter change.104455 Miles: New clutch cable. 103770 Miles: Oil/Filter change.102823 Miles: Valve adjustment Clean sump screen and replace gaskets Oil/Filter change.The 911SC models are starting to rapidly climb in price and surprisingly are starting to rival its bigger 3.2L sibling. Similar things have happened with the 964 cars which now have completely overtaken the 993 cars both in popularity and demand. The price of the 964 coupes have now doubled from what they were and many people watching the market closely are predicting that something similar will happen with the SC cars. This beautiful Tabacco Metalic 911 has all the ingredients and potential to be the next highly sought after car in someone's collection. Don't miss your chance! Collector car financing available at competitive rates.Vehicle Disclaimer:We make every effort to provide you the most accurate up-to-the-minute information on all of our vehicles in our inventory. However please do verify with us before purchasing that all the information is correct and up to date. Also unless we take a deposit any car is fair play and up for sale. Visit us at for complete list of options plus a free Carfax report and our entire inventory of luxury vehicles.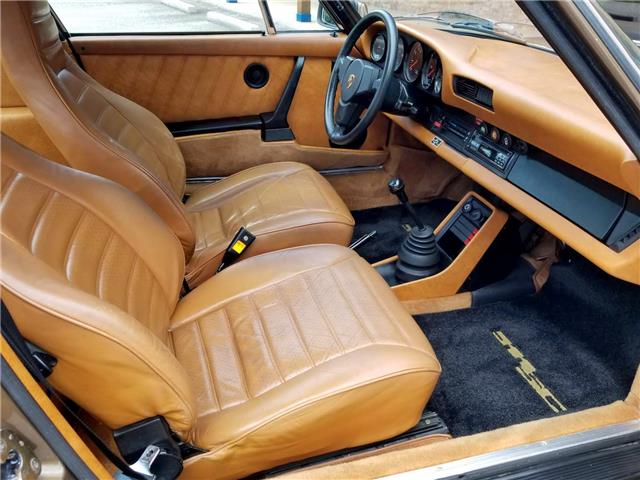 We see a lot of 911s from this seller and many of them are quite interesting, but the asking prices tend to be a bit steep. They go on a bit about potential appreciation in the 911SC market and while it's possible these will rise in value, I'm not convinced we're really going to see much change. The 911SC remains one of the more reasonable options on the air-cooled market and as the value for other models increases buyers will more consistently look to the SC. That might push values up slightly, but I don't expect anything significant. I certainly don't expect a significant rise for a SC with 144K miles on it. All of that is to say: I wouldn't look at this 911 as a potential investment. This is your driver; the 911 you enjoy whenever the weather is nice and without much worry about damaging its long term value. That's really what the 911SC is all about in the first place.
As I noted above I really like Tobacco Metallic on the 911SC. On today's roads it's a pretty unique color and while it's not bright and colorful it's still something that'll attract some attention. That's especially the case in the sun where the color really shines and it works really well with a Cork interior. This one also stands out by its addition of a ducktail rear spoiler. For those interested in originality, the original rear decklid comes with the car. It's also said to come with a full service history, which in itself is a rare find for a car of this age and given the mileage will be useful in understanding where everything stands now.
I don't think it'll sell for $43K, but in an interesting period correct color and with a full history it should command pretty good value.
-Rob