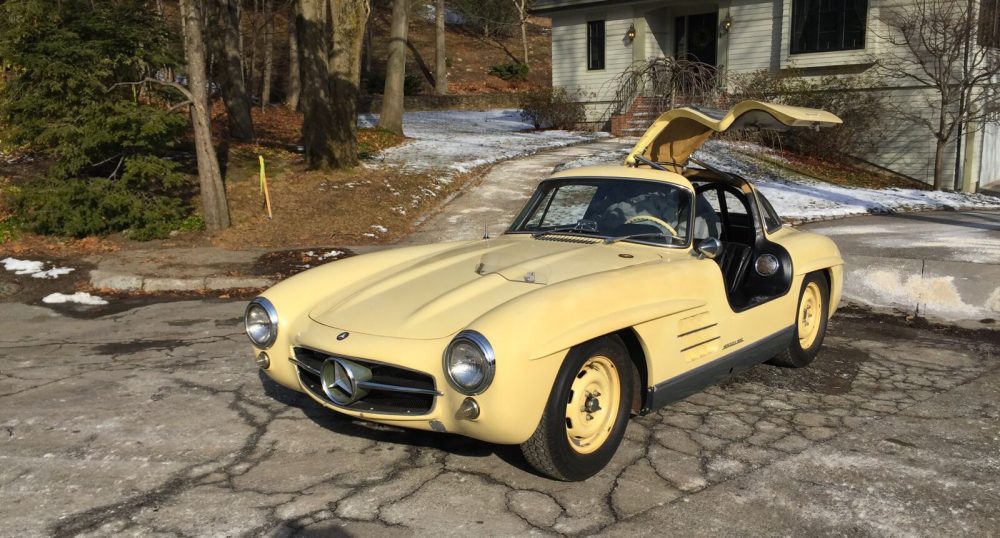 You see the photos. No introduction needed here. This 1955 Mercedes-Benz 300SL painted in Ivory hails from the Boston area where it has been in the same family since it has been purchased new in late 1955. It has been driven, used as a college car, modified, raced, modified some more and thoroughly enjoyed it's entire life. As it goes, this once toy has now turned into a winning lottery ticket for the lucky family that has held on to this W198 all these years but like almost all the 300SLs out there, there is a story for every one.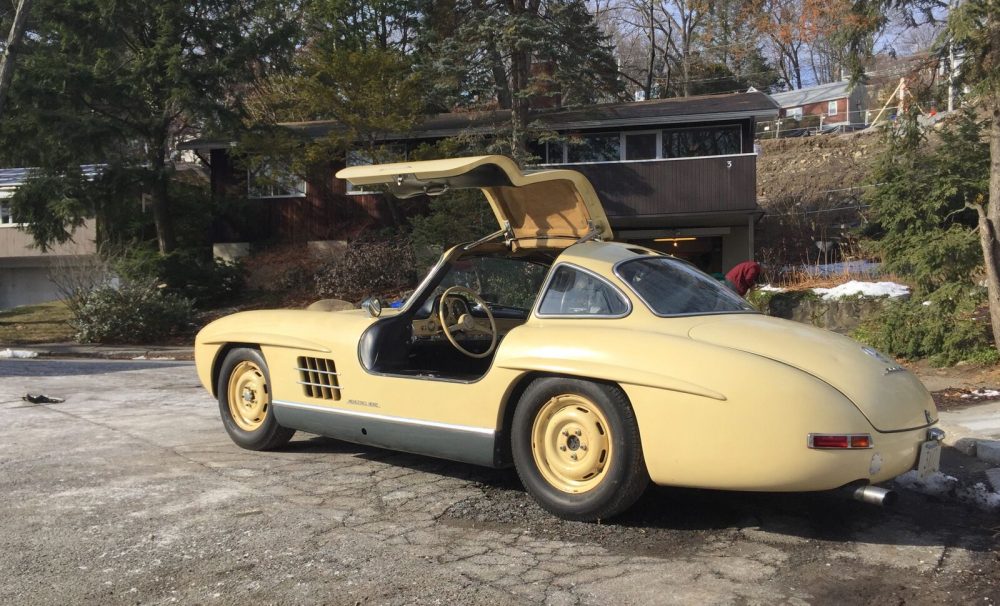 Year: 1955
Model: 300SL Gullwing
Engine: 3.0 liter inline-6
Transmission: 4-speed manual
Mileage: 50,540 mi
Price: Unlisted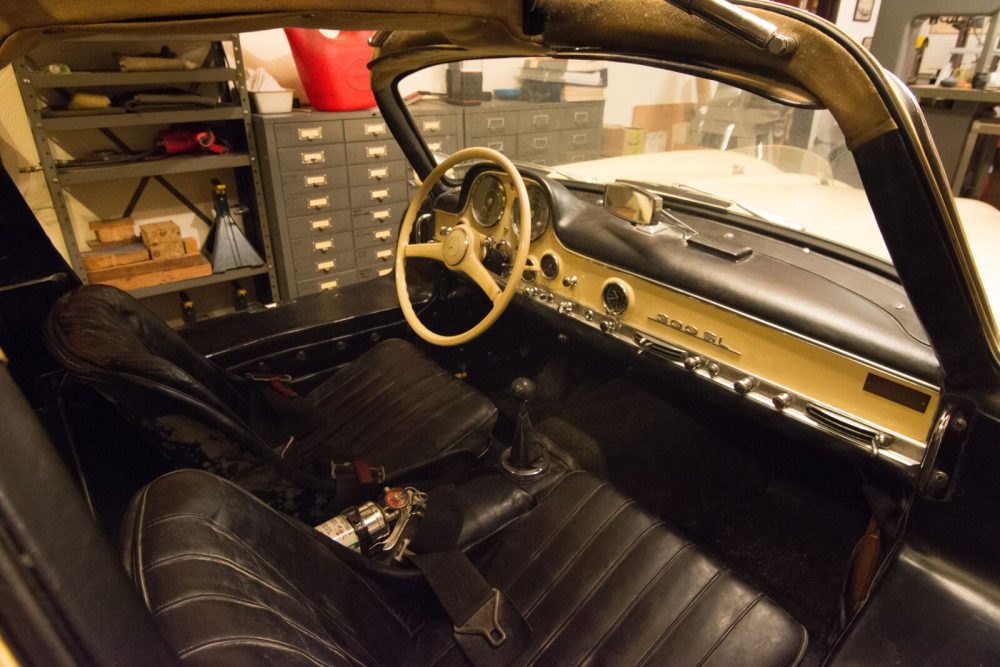 CONDITION REPORT

Fundamental Data: Color: Ivory w/ Black Leather. Factory Racing Options: Sport Cam & related f.i. calibration, 4.11:1 differential, front disc brakes. Also stock non-glare rear view mirror, original outside mirror, backup lights, clock, and dual heaters. Car is insured and licensed for the road.

Overall Rating: Condition 4 of 6: Definition 4 as used by SLMarket.com – "Drivable, needs only minor work to be reliable but deteriorated or incorrectly rebuilt or modified." That said, unrestored 300 SLs are more sought-after than restored examples because a) every prominent restoration shop in the world seeks to restore them, and b) when found owners prefer overseeing their restoration choices …rather than paying for and redoing someone else's choices. This car also brings provenance the best restorer can not recreate – racing trophies and purchase directly from its well documented one family ownership.

Engine: All iconic engine parts are present; fuel injection, air controller and unique intake dampener, 14 quart dry sump oil system with oil cooler, & radiator expansion tank. Glass windshield washer replaced. Some components incorrectly finished, non-period hose clamps, all function & easily corrected. Optional sport cam and high performance fuel injection pump are present.

Drive Train: MB transmission was replaced with a Corvette 4 spd. transmission. A correct, rebuilt 300SL transmission has been located & reserved for $15,000 [but not purchased]. Only one frame tube was altered. Easily replaced (see photos). Modifications were rampant in SCCA racing during the 1960s & 1970s. Lichtman's response combine with MB's optional 4.11/1 differential made the car a effective competitor.

Driving Impressions: After 25+ years of storage Oldtimer Restorations, (Jim Cosgrove) of Harvard, Massachusetts, has partially recommissioned the car: gas, oil, coolant, filters, and spark plugs were changed. Pistons were fogged with oil and manually rotated. A new fuel-injection diaphragm was installed and the engine returned to life in the shop. Street driving was not feasible due to need for new brake and water hoses, brake pads (stone hard) and rotten tires. Photos show most hoses & clamps to be 1970s & '80. A popular electronic ignition system has been added. A compression test showed 15% variance (120 to 140). The car could resume street use after the aforementioned replacements. Restoration could be done in increments (allowing use) or given total concours treatment (continuing to gain vale with either choice).

Interior: Leather may be original; no rips; normal patina. Headliner is tired and water stained. Footwell rubber mats missing. Gauges are weathered but all functioning. Close inspection of bezels shows pitting. Fields behind dials are all original. Steering wheel and it's center emblem have cracks; horn ring has pitted. Clock does not work. All are correct VDO parts. Authorized VDO repair shops regularly make older instruments perfect again. Safety belts are the wide SCCA-type authentic when raced.

Body: Paint is old (1970s) with minor dents and chips. Presentable for rallies or casual use with restoration in due course. Original tempered glass side windows are removable. Vent window hardware is complete (chrome plated brass) but needs new rubber. Original jack found. Tool kit is incomplete but every part is available. Owner's spare parts sell with the car.

Undercarriage: Never detailed. Some surfaces brushed with primers (example: inner fenders) but light surface rust elsewhere. Two of three belly pans found (affectionately called "tool catchers" -explaining why they're rarely installed).

Chrome: Early photos show front & rear bumpers were removed to reduce race-weight. A company in Switzerland makes excellent replacements for these parts. Bright work, mostly chromed brass & polished aluminum, are very restorable.

Special History: Correspondence shows the car's original sale to a personal doctor of Mercedes-Benz North America's (MBNA) 1st CEO, Heinz Hoppe, below dealer cost, as a thank you for professional services. Built in August 1955, it may have been an early press relations car as Dr. Lichtman's son's (Philip) early logs indicate 30,000 miles in July, 1957, a year after delivery to the Lichtmans. Given this mileage, I have inquired through the MB Classic Center if the car had any publicity duties before its sale.

INSPECTIONS: By appointment during April. Nearest international airport: Boston, Massachusetts.

Respectfully submitted, Minneapolis, MN USA John R. Olson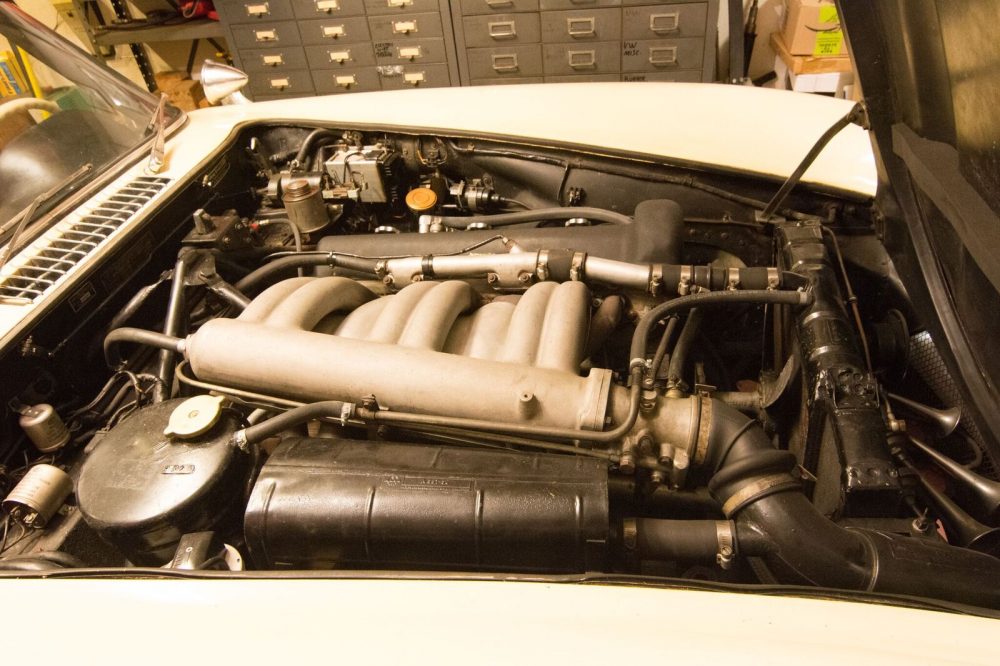 I'm not going to pretend that I'm a 300SL expert because there are a handful of people out there who could probably have a Ph.D. in 300SL history and I am certainly not one of them. Most like every other wealthy person activity, these kind of people stay in their own little world and don't spend their free time giving opinions about their hobbies on the internet in their free time. So if you looking for me to break down the serial number and total history of this car from personal knowledge, I am not your guy. Thankfully, the seller of this car did. The quick backstory is that the original owner of this car, only named as Grandpa Paul, was the doctor of the first president of Mercedes-Benz of North American. Grandpa Paul gave the car to his son shortly after to drive to Harvard for his freshman year of studies where it remained in the Boston area with the son and his family until now being offered for sale. I'm sure that son was quite popular at the time.
As you might of noticed from the photos, this isn't your typical 300SL. The biggest thing being that the original transmission was swapped out for a Corvette gearbox. The rest of the car was modified to complete in amateur racing events where it did take home some hardware as documented in all the photos. As it sits today, it's missing it's bumpers and center caps and is generally looked at as a "survivor." It needs a good amount of reconditioning and a full restoration probably wouldn't be a crazy thing to do, but as it sits now the car is running and driving.
As for value, I'm going to go out on a limb here and say any price that doesn't begin with a 1 and have six other digits behind it probably isn't going to be in the ballpark of the asking price. $1,000,000 is basically the starting point for any 300SL that is relatively complete. Once you start factoring in history, colors, condition and notoriety, the price only climbs up quickly. Since this is a one owner car with extensive history, it is safe to say that demand for this car is going to be really high, even without the bumpers and transmission. With enough money, you can totally rebuild a 300SL to factory spec so none of this should be too big an obstacle. Overall an extremely cool car with a nice story. I'm sure it will be well looked after.
– Andrew