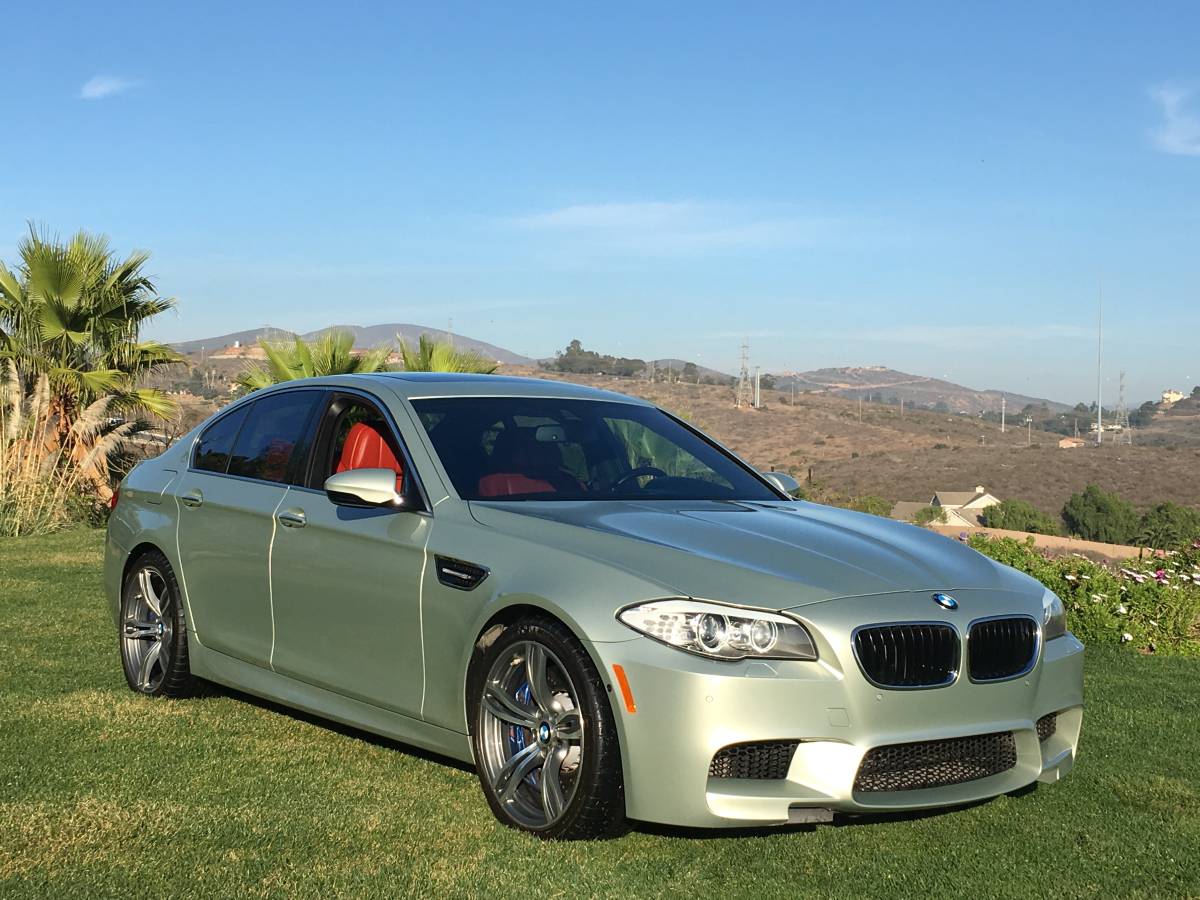 Newer cars are, in general, not the subject of this page. I can walk down to any dealership just like anyone else, and provided I have a pulse, probably walk out with financing for most mid-range cars regardless of whether or not I could actually afford them. Indeed, easy credit has led to the proliferation of many of our favorite brands and cars to the point where most don't feel all that special anymore. That $2,500 Jetta, for example, is much more rare to see today in that condition – or, at all, truthfully – compared to a new M car.
So all modern cars aren't really all that exciting? That's far from the truth, too, as there are many special examples that float by our feed. So while the F10 M5 isn't a model often featured, it's probably our loss for not doing so. It's also easy to forget that even though it feels pretty new, the F10 has been out of production for 2 years and the earliest examples are now 7 years old. Plus, as most M5s do, the entry price point on the antiquated models has dropped considerably compared to their original MSRP, while their performance is still contemporaneous to today's cars.
The S63B44T0 found under the hood of this particular example was good for 550 plus horsepower; not much more than the model it replaced with that wicked V10. But torque? That's another matter. While the S85 cranked out an impressive 380 lb.ft at 6,100 rpms, the two turbos tacked onto the S63 V8 produced 500 lb.ft of torque with a curve as flat as the Salt Lake from 1,500 rpms through over 5,000. That massive power could be channeled through a manual gearbox, and it could also be outfit from BMW's Individual arm. These are the most fun to see, albeit very rarely do they come up for sale: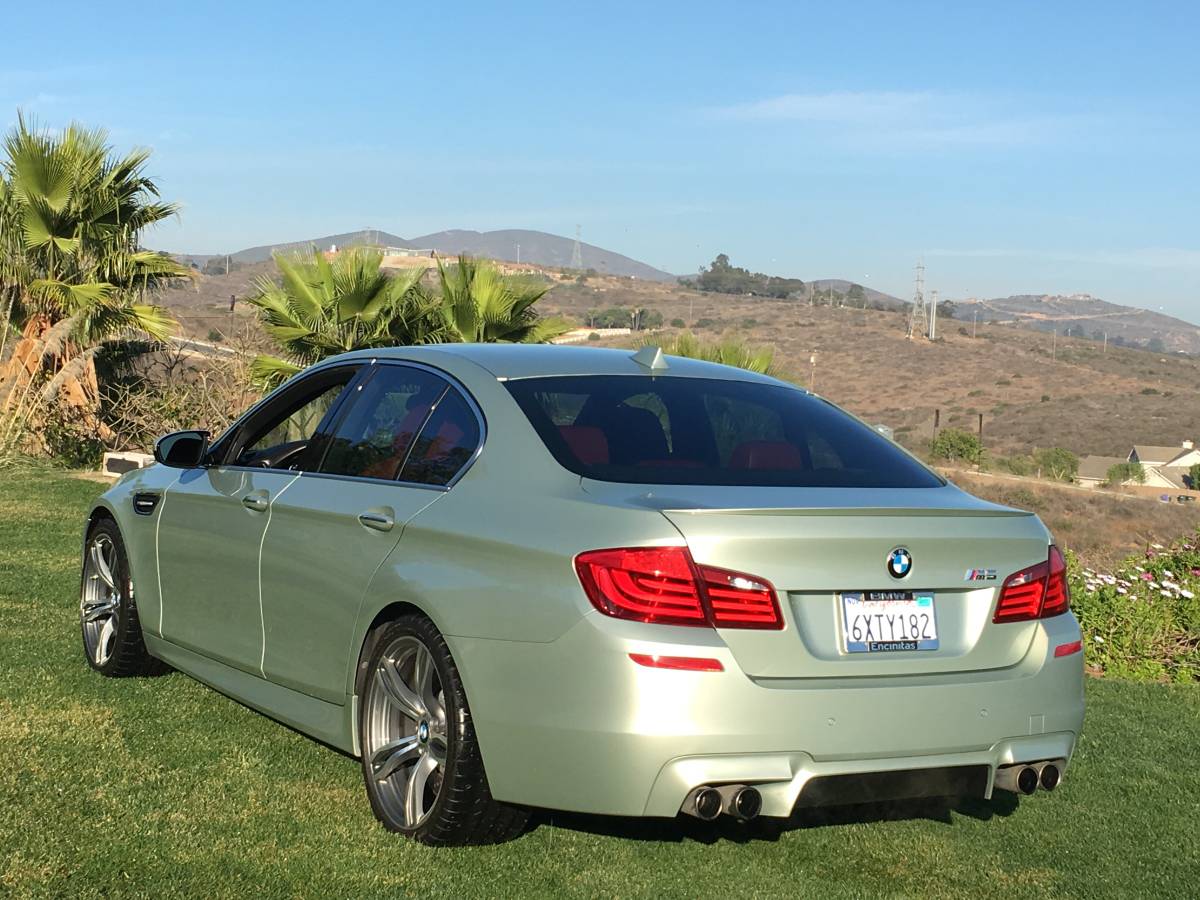 Year: 2016
Model: M5
Engine: 4.4 liter twin-turbocharged V8
Transmission: 6-speed manual
Mileage: 36,750 mi
Price: $53,000
This is an awesome 1-owner F10 ///M5 with 37,000 original & accident-free miles.
Current owner (pitcher for the LA Dodgers) ordered it through Las Vegas BMW's Individual Program in early 2013.

Clean & clear CA Title in-hand and ready for its new owner.

– $114,295 MSRP(!)
– 100% Stock
– 1-owner San Diego Car
– Extremely Rare "Amazonite Silver Metallic" ($1,800 option) with Sakhir Orange/Red Full Leather Interior ($3,500 option)
– 4.4L Twin-Turbo V8 Producing 560 Horsepower
– Custom Spec'd 6-speed MANUAL Transmission
– Executive Package ($5,500 option)
– Bang & Olufsen Premium Sound ($3,700 option)
– Vision Assist w/ Pedestrian Detection ($2,600 option)
– Rear Seat Entertainment Pkg w/ 2 TV Screens and Remote ($2,200 option)
– Driver Assistance Pkg ($1,900 option)

As you can tell this car is heavily optioned. Driven sparingly now that a new car is in the garage.

$53,000 firm.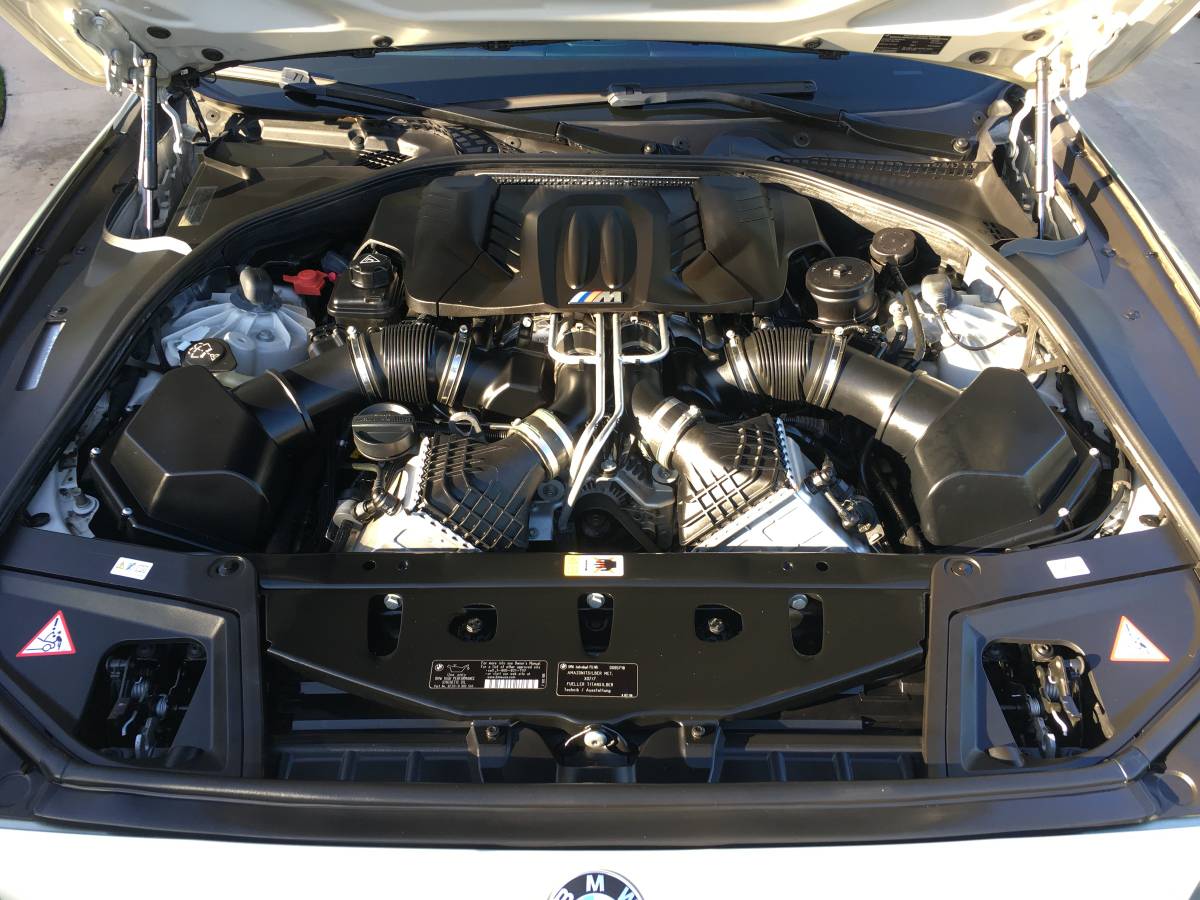 The seller's claim that this car is well equipped is a serious understatement. The build sheet looks like the list of "possible" options, rather than the ones that were actually selected on any given car. Produced in Dingolfing in October 2012, it was special ordered with manual (2MA), M Double Spoke Style 343 (2NZ), tire pressure monitoring (2VB), heated steering wheel (248), backup camera (3AG), satin aluminum trim (3MB), automatic trunk (316), integrated remote (319), comfort access (322), soft close doors (323), multifunction seats (4MA), rear reading lights (4M8), 4-zone climate control (4NB), sunblinds (415,416), velour floor mats (423), mirror package with anti-glare (430,431), active seat ventilation (453), active seats (455), ski sack (464, 465), lumbar support (488), rear seat heaters (496), lane deviation warning (5AD, 5AG), surround view (5DL), park distance control (508), adaptive headlights (524), power socket (575), teleservices (6AA), rear seat entertainment (6FH), Bang & Olufsen (6F2), iPhone integration (6NF), bluetooth (6NL), traffic information (6UH), night vision system (6UK), navigation (609), heads up display (610), extended BMW online services (615), satallite radio (655), dvd changer (696), M rear spoiler (754), 24 month service (8KC), and a few other regional options. Dizzying, isn't it?
But it's really the color combination of Amazonitsilber Metallic (X07) with the Sahkir Orange Merino leather (X3DA) really sets this car apart. It's stunning. Much like the light blue-silver Silverstone Metallic, the light green Amazon is so neat to see, and paired with the outrageous Sakhir interior it sounds a mess but looks stunning to me. Condition appears near perfect as you'd expect with a $115,000 pretty new BMW.
Pricing? $53,000 is far and away clear of the pricing on most other 2013 M5s, which range on eBay between mid-$30,000s for higher mileage to $48,000 for nicer examples. But this 6-speed from BMW Individual is certainly a very nice package with lower mileage than most and in a very unique configuration. It certainly seems from this seat to be worth it for someone looking for a pristine and unusual M5.
Thanks to our reader Sheldon for the spot!
-Carter