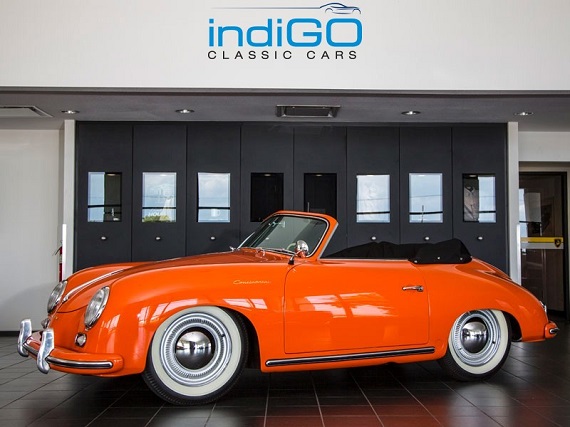 I can't even imagine the heads that would turn back in 1955 when this car rolled down the street. Now, I wasn't alive in 1955 so perhaps I'm mistaken, but a bright orange convertible must have been a very rare sight. I know I haven't seen many, if any, come across auctions of any marque, let alone a Porsche 356. Porsche has never shied away from producing cars in bright colors so that fact shouldn't surprise me, yet here I am pretty surprised by this car. And before we wonder, this is the original color: a paint-to-sample Orange that Porsche specially had formulated to suit the original buyer's desire. What better car to showcase on Halloween! This 1955 Porsche 356 Pre-A 1500 Continental Cabriolet is one of the most highly sought after models in the Porsche portfolio. While the 356 Cabriolet was produced for many years, those branded as the Continental Cabriolet were only produced for the 1955MY in the American market before Ford claimed naming rights to the Continental. While that may be a somewhat esoteric distinction, it is nonetheless a marker that separates these cars from other Cabriolets produced during this period. As a vintage piece of Porsche history this has it all!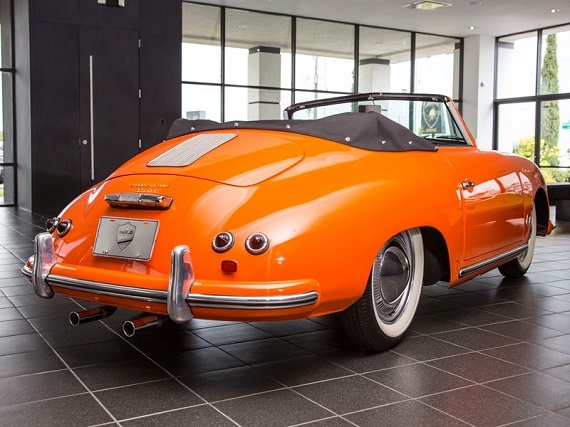 Year: 1955
Model: 356 Pre-A 1500 Continental Cabriolet
Engine: 1.5 liter flat-6
Transmission: 4-speed manual
Mileage: 96 mi
Price: Reserve Auction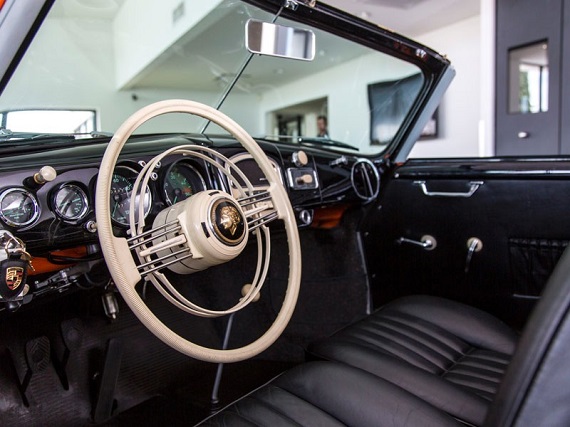 1955 Porsche 356 Pre-A Continental Cabriolet

Specifications: 1,488 cc air cooled horizontally opposed four cylinder engine equipped with two Solex 32PBI carburettors producing 55hp. Equipped with a 4-speed manual transmission, independent rear suspension with torsion bars, trailing arms, swing axles, telescopic chock absorbers, and four wheel drum brakes.

Porsche's first series-produced 356 Cabriolets appeared in 1950, with Karrosseriewerk Reutter building five examples and Gläser of Dresden issuing another 33. Production amped up the following year, with Reutter assuming all 356 Cabriolet production in 1954 and continuing production through to the end of the 356 series in 1965. As it was both luxurious and expensive, the model enjoyed popularity with touring drivers, and its fixed windshield, multi-layered folding top, and fully bolstered seats made it a comfortable choice for all-day cross-country travel.

indigo Classic Cars proudly offers this gorgeous 1955 Porsche 356 Pre-A 1500 Continental Cabriolet in original buyer specific orange paint with cabriolet roof in black over a black leather interior. Orange would not appear on Porsche's color palette until 1957. In order to achieve the orange paint color for the customer, Porsche actually had paint manufacturer Lechler create a specific shade of orange. This Porsche 356 was probably the only orange example of a 356 when it was shipped to its original owned in Los Angeles. This Porsche 356 was the third from last 356 Continental Cabriolet produced in 1954. Around 30 years ago this car was acquired in a rough but mostly complete state, from its original owner by noted 356 collector Lawrence Redman. It was sent to a shop in Nevada to begin its restoration at the hands of Craig Stevens. Redman returned the car home and stored it in a hangar near Oxnard, California, until 2009, when, shortly before his passing, he was persuaded to part with the car by its current owner.

After being purchased by Ed Palmer's shop in Camarillo, California. The Porsche 356 was stripped down to its bare metal which showed evidence that the car had been originally painted in orange. Which is confirmed by the Certificate of Authenticity from Porsche. The car was purchased with most of its original components, but marque expert Michael Shatz undertook a lengthy search for some missing critical trim items. Most of the correct original parts were eventually found through various sources, with the only exception being the parking brake handle, which was carefully fabricated to match an original piece. Meanwhile, Palmer had completed the necessary bodywork and applied fresh paint in the correct shade.

The car was then completed in Shatz's shop, with the 1500 Normal engine, transaxle, brakes, and electrical system carefully rebuilt. Autos International rebuilt and reupholstered the original seats in black leather and made up new carpeting, and a new top was made by AI and finished by Conejo Upholstery. The instruments were rebuilt by Palo Alto Speedometer.

The car rides on the proper 16-inch wheels, mounted with whitewall tires, and it has numerous special accessories, including a multi-band Telefunken radio and an unusual rearview mirror that also houses the radio antenna. Its most intriguing feature, however, is the very rare and expensive Petri "Superb" steering wheel, which was offered as an aftermarket piece to fit both Volkswagens and Porsches. The double rings with their thumb-pegs allowed the driver to control not only the high-low headlamp beams but also the directional signals, displaying the mode via three small indicator lamps built into the hub. This wheel, capped by a lovely Golden Lady hood button, was listed in the 1955 VW accessory catalogue as being priced at 125 Deutschmarks, which was a large sum for its day. Any Porsche owner might have found it tempting, and it is, indeed, the perfect finishing touch for this striking Cabriolet.

This visually arresting Pre-A Continental Cabriolet, complete with a correct tool roll, jack, manuals, and fitted with one of the most exotic accessories of its day. This Porsche 356 also comes with a catalogue of receipts and documents showing all purchases made towards the restoration process. This is a matching numbers Porsche 356 with with Chassis no. 60719 and Engine no. 34059.

indiGO Classic Cars is a member of The indiGO Auto Group which includes Lamborghini Houston and Porsche of North Houston in Houston, Texas as well as Desert European Motorcars in Rancho Mirage, California. Desert European Motorcars is indiGO's ten acre luxury & performance automotive campus in Rancho Mirage, California, conveniently located in the Coachella Valley and part of the greater Palm Springs, California metropolitan area. Desert European is comprised of Rolls-Royce, Bentley, Aston Martin, Jaguar, Land Rover, and Audi Rancho Mirage as well as Porsche of Rancho Mirage and Maserati of Rancho Mirage. All of indiGO's Rancho Mirage portfolio are factory authorized dealerships. indiGO Classic Cars specializes in unique post war European sports cars, American classics, and vintage motorcars. Our dealership features a beautiful showroom, fully staffed service center and parts department, and detail department. Allow us to also help arrange enclosed transportation of your classic car directly to your home anywhere in the world. Financing is also available. Trade-in proposals are always welcome. For further information on this vehicle, simply call, email, or drop by our location at 13921 North Freeway (I-45N) on the north side of Houston. You will meet the friendliest group of car enthusiasts anywhere!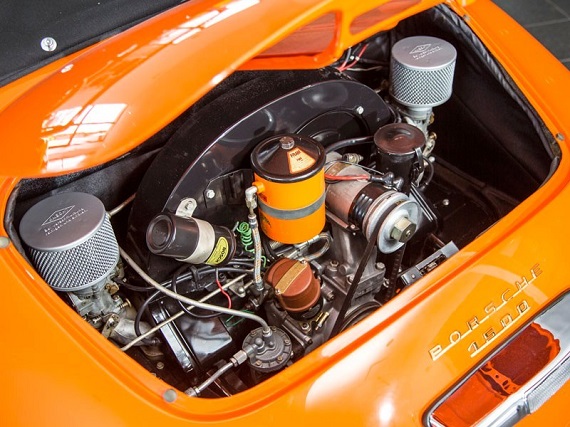 It's somewhat jarring to see this car come up for auction on eBay after recently selling at a prestigious Monterey auction. The sale price: $330,000. With bidding here sitting at a paltry $155,300 we are a long way from this auction reaching its likely reserve, but even if this fails to sell it's still nice to come across something so rare and unique. From the orange over black color combination to the Petri steering wheel and Telefunken radio this is a time capsule that is sure to attract everyone's attention.
-Rob