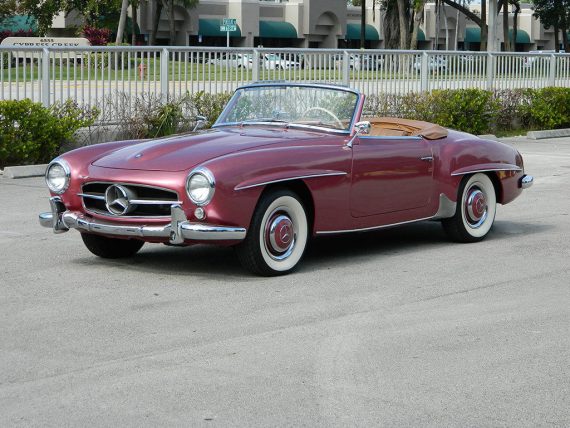 On Monday, I looked at a W124 cabriolet – a model I believe won't witness a huge spike in value over the short term. While I do think the values will hold strong where they are and, at the very least, keep up with inflation, if you are hoping to make tens of thousands of dollars in a quick flip, there are probably better options.  Today's car, the Mercedes-Benz 190SL, is one of those options.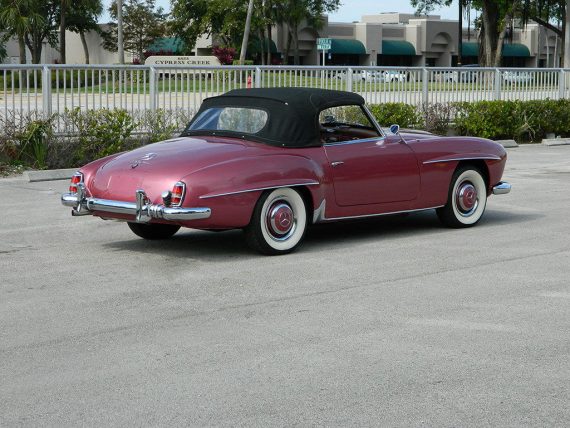 Year:Â 1957
Model: 190SL
Engine: 1.9 liter inline-4
Transmission:Â 4-speed manual
Mileage: 55,033 mi
Price:Â Reserve Auction
1957

Mercedes-Benz

190Sl

Rare strawberry red over cognac interior

Original solex carburetors which were just fully rebuilt and detailed to an outstanding standard

Fully rebuilt and restored brake booster including fresh nickle plating on the booster and hardware

One of the most stunning color combinations we've ever seen on a 190SL!

This outstanding example was restored (including photo documentation) approximately 10 years ago, and it shows – someone went to every length to make this an incredible car when it was restored. You can see the detail from the engine bay to the dashboard.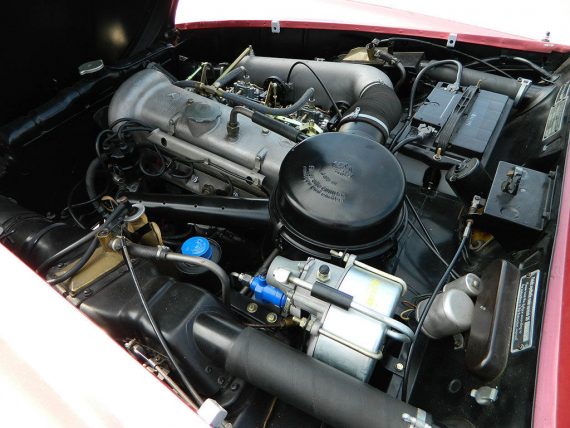 About five years ago, if you wanted a very nice W121 that had been loved and cared for, you had your pick of cars anywhere between $40,000 to up to about $70,000 if you wanted lower mileage. Today, that $40,000 will get you a rusty 190SL that probably needs two people pushing it for it to move — if you can find one. A nice example is topping six-figures with regularity and I don't see an end in sight. I think these cars were underappreciated for many years because they were in the shadow of their legendary big brother 300SL Gullwing/Roadster and restoration costs on these cars weren't in line with what they'd be worth when you were done with it. Not anymore. Now that the 300SL is a million dollar car and out of reach for more than 99% of people, the 190SL is still a reasonable option if you are looking for classic 1950s Mercedes look and feel. Of course, the explosion in the classic European car market we've seen of late is helping lift these values up, but these cars are finally getting the attention they deserve. No longer is it the typical "that's only the 190, not the 300″. It's now a car that collectors want – and want badly.
As for this 1957 for sale in Florida, it's not a perfect car but one that shows very well. The Strawberry Red Poly paint is wonderful with the matching wheels and dash. The seats are in good condition aside from some creases but that speaker sticks out like a sore thumb. I'm sure it is removable but I think originally is the way to go on these. Under the hood looks tidy with rebuilt Solex carbs and brake booster.
The bidding on this car sits at a bit under $80,000 with a few days to go but I'd be shocked if it didn't crack the $100,000 mark with ease. It does have a reserve so I don't know if it would sell for that since other comparable cars have been listed more towards the $125,000 mark and Hagerty's top value is over $200,000. Like I said, I don't believe if you bought a 190SL right now that you'd ever lose a dime on it even with the expenses upkeep factored in. So if you have the cash and don't want a ton of risk in a car, the W121 is a great option to look at.
– Andrew