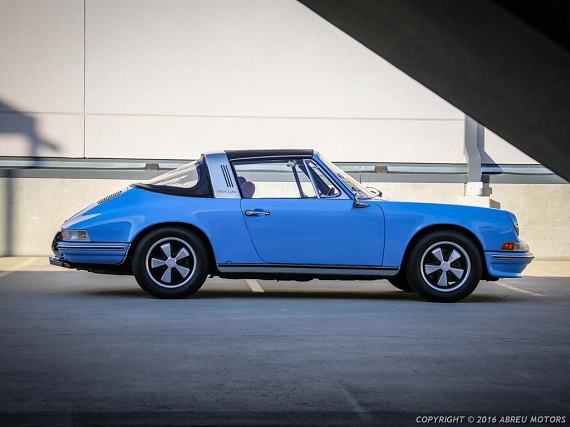 I've featured a 911 Soft-window Targa plenty of times before, but this is the first example I can recall seeing where someone converted an original hard window to a soft window. I'm not sure whether this was a popular idea at the time – I've definitely heard of owners doing the reverse (converting a soft window to a hard window) – but regardless we have one here. The Soft-window Targa only was produced for a couple of years in the late '60s. These were an homage to Porsche's participation in the Targa Florio and perhaps the original owner of this Targa hoped to recreate some of that open-roofed essence with this conversion. It certainly provides a unique appearance, especially with the addition of the Cibie rally lights, and stands out well with its Pastel Blue paint. While not original, this 1971 Porsche 911T Targa should still be quite desirable.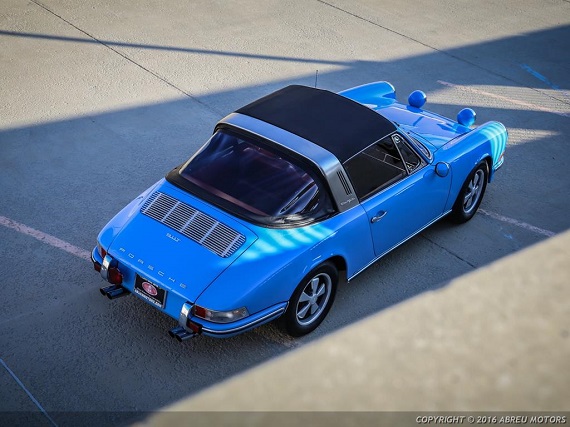 Year: 1971
Model: 911T Targa
Engine: 2.2 liter flat-6
Transmission: 5-speed manual
Mileage: 3,326 mi
Price: $86,895 Buy It Now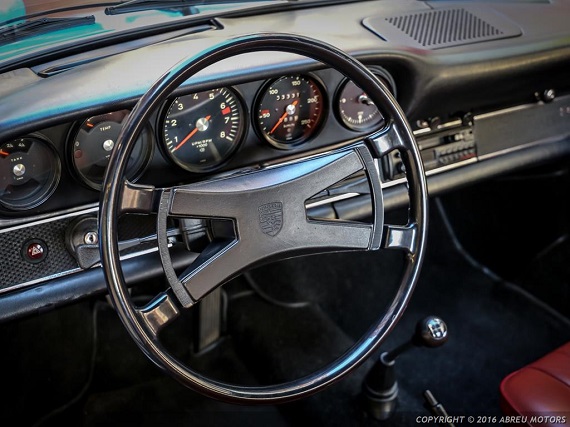 This beauty is an homage to the Porsche rallying days of Monte Carlo. The American Air Force Pilot that originally purchased this vehicle in Italy added authentic Cibie hood mounted rally lights and a soft Targa window. His finishing touch of panache was the installation of soft red Italian leather seats.

Once stateside, the vehicle was sold to a fellow Air Force pilot who savored this relic of the past for 14 years, storing it in an airport hangar and only driving it approximately 500 miles. The last owner continued to store the vehicle for the last 26 years. His recent restoration was extensive, and included an expert bare metal repaint in original Pastel Blue, which has restored this classic to its original lustre.

$30,000 in Service Records shows an exceptionally tasteful restoration which has not only included a bare metal repaint, but a complete engine out and shifter and transmission rebuild. Original 1970 Fuchs have been refinished, complete with new Pirelli P 6000 tires, turbo tie rods, and alignment.

All new gaskets and seals, chain tensioners, fuel hoses, ignition control, rotors, plug wires, and a complete fuel tank flush and clean. New Synchro teeth and rings for 1st and 2nd gear and a new clutch disk. Work was completed by Gold Meister Porsche Shop.

Stoddards materials were used for new Porsche outer rockers and door skins. New Italian lenses. Some original patina has been intentionally retained in the cabin, and the original glass Targa window and trim were delicately stored to preserve their pristine condition. This is included with the vehicle.

A marque 911 T, this car is reserved for drivers with brio! It is an absolutely stunning, expertly restored piece of Porsche's most treasured aesthetic. All service records are present, complete with COA, Tool Kit, original Fuchs spare, and Books.
While originality probably won't be of much concern to any buyer of this 911T, the fact that it is wearing its original exterior color of Pastel Blue – even if not the original paint itself – and that it comes with the original rear window should each be points in its favor. The asking price isn't such that anyone would likely care to return it to full original condition, but it never hurts to possess such original items. Among the non-original features is an interesting red leather interior. I'm normally a huge fan of a red interior, but this one clashes quite a bit with the Pastel Blue exterior. It isn't terrible by any means, and the interior itself looks quite nice, but when the two colors are viewed next to one another it's a little garish. But really that's my only criticism of what is a pretty interesting early 911. Given its entry-level status the 911T makes for a good model to perform such a transformation and fans of the Soft-window Targa should find this one pretty appealing. The price is high for a T, even in original condition, and that makes it a tough sell given that collector values drive much of the early 911 market. I think this should have appeal though. It appears in good shape and well documented and if we consider the prices some sellers hope to receive for their backdated builds, then we may not be far off. There's definitely a market for modified early 911s, whether those modifications are mechanical or aesthetic. Ideally, this 911 would also have received some engine work to help bring a little extra power from its 2.2 liter engine, and that may hold the price back a bit, but this is definitely a unique specimen among these early cars with quite clear roots to Porsche's racing past.
-Rob