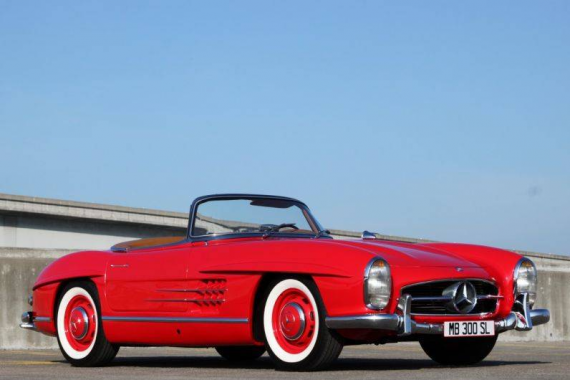 Not much needs to be said when we feature a 300SL, whether it be Gullwing or Roadster. Both extremely stunning in their own right, these are cars that don't require any explaining or justifying now that examples are regularly selling for over $1,000,000. But today's car actually comes in just slightly under the seven-figure mark. This W198 isn't a barn find or a basket case either. So let's check out this beautiful 1957 roadster for sale in California and find out why it's so "cheap".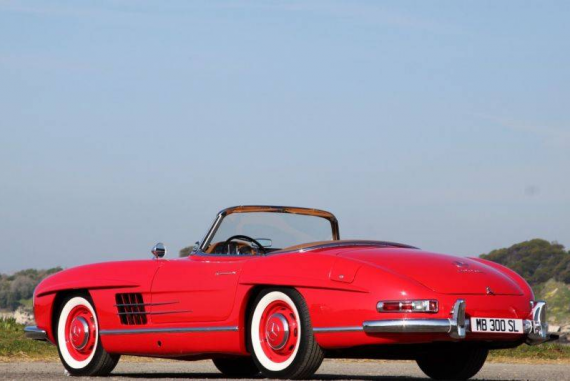 Year:Â 1959
Model: 300SL Roadster
Engine: 3.0 liter inline-6
Transmission:Â 4-speed manual
Mileage: 25,388 km (15,775 mi)
Price:Â $995,000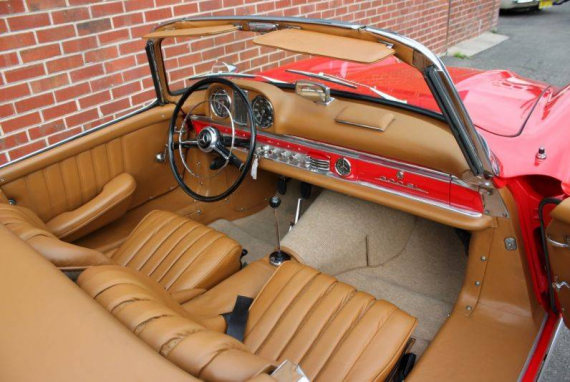 1957 Mercedes-Benz 300SL Roadster
s/n 198.042.7500568
Fire Engine Red with Tan Leather Interior

The 300SL was one of the most exotic cars available when it was new. Directly descended from racing cars, and chock full of innovative features, they were fast, beautiful, and expensive. Arguably the first 'supercar' ever (others claim that honor should be bestowed upon the Lamborghini Miura), the 300SL has been described as the McLaren F1 of its day. Thanks to Mercedes' development work during World War II in aircraft engines, the300SL became the first production car to feature fuel injection (directly injected into the cylinders no less), and the light but strong spaceframe necessitated the now legendary and often copied upwards opening doors on the closed variant of the car. The result was a stunningly beautiful but also functional car that was, depending on gearing, the fastest production car in the world. Surrounded by separate frame carbureted contemporaries, the SL was truly a glimpse of the future and remains today a very special car indeed. Its appeal is timeless and consequently, 300SLs have remained 'blue-chip' collector cars that are always in demand and perhaps even culturally embedded as one of the most iconic and greatest cars of all time.

The roadster version was for many years overshadowed by the gullwing; however, as more savvy enthusiasts have become privy to the advantages of the roadster, their values are now catching up to those of the coupes. Indeed, the increased practicality of proper wind-up windows and doors, improved drivability from the revised rear suspension, and inimitable open air experience make the roadster a more enjoyable car to use than the gullwing.

This 300SL Roadster was ordered new by the Belgian Mercedes-Benz importer, IMA, in US specification. Finished new in DB534 fire engine red, which it wears today, the car spent its early life in Europe before being imported to the United States where it belonged to a woman in New York during the 1970s, and a gentleman in Maryland in the 1980s. In approximately 2000, the car was sent to noted 300SL specialists Paul Russell and Company of Essex, Massachusetts after having been off the road for some time. At this time, the odometer showed only 24,151 kilometers. The car was made to run with a new battery, spark plugs and some fresh fuel, and a compression check indicated 150 to 157 psi on all six cylinders. A leakdown test indicated readings ranging from 5% to 24%, which was traced to a worn camshaft, and a complete engine overhaul was undertaken.

Receipts from this work document various items including restoration of the starter, generator, fuel injection pump, and water pump. The fuel system was refreshed with the fuel tank, fuel pump and associated hoses all being restored or replaced as needed, while the cooling system was attended to with all new coolant hoses and a restored radiator. In addition to the above, a brand new wiring harness was fitted along with a new oil tank, while the power brake booster was rebuilt. In all, some $80,000 was spent to ensure the car would perform as intended. Today, the car runs well and is equipped with desirable factory hardtop finished in black. Having covered less than 100 kilometers a year since its mechanical overhaul, the Roadster has been carefully maintained with a brake service and tune-up in the last two years. Please note that the engine block boss is not stamped, indicating that this is likely a factory replacement block.
Cosmetically, the car makes a strong impression. The red paintwork has remarkable intensity and is glossy, although it does show some blemishes including some cracks in the tops of the front fenders, a few surface imperfections, and bridging adjacent to the fender eyebrows. The body is straight with good gaps. The chrome is excellent, as are the lights and glass. The car is fitted with European headlamps. The hard top is in excellent condition, as is the soft top.

The interior is in excellent condition, with correct tan square weave carpets and excellent leather upholstery, which appears to be very fresh. The instruments, switches, steering wheel, and bright trim are all excellent. A an early production 300SL Roadster, this car has the clever horn ring actuated turn signals rather than the conventional column-mounted switch of later cars.

The engine compartment is in very nice condition. The engine itself is extremely correct and clean in its presentation, as to be expected from a Paul Russell & Co. rebuilt unit. The engine compartment itself is clean but was not restored and shows some aging in places. The trunk is has a matching tan square weave mat. Both the spare and jack are in place.

This is an excellent opportunity to acquire an attractive and well-sorted 300SL Roadster that is desirably-equipped with factory hard top. Comprehensively serviced and cosmetically attractive, the car is an ideal event car thanks to its 1957 build date, surprisingly spacious trunk, and Mercedes-Benz durability. It comes with factory spare, jack, and a thick file of invoices from Paul Russell & Co.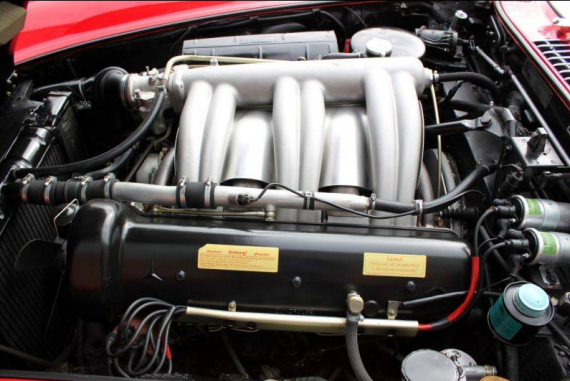 This thing is a stunner. Granted you could paint a 300SL in mud brown and it would stop traffic but the factory DB534 red is gorgeous. The color matched wheels and caps along with the white walled tires only add to how great this car looks. The interior doesn't disappoint either with almost perfect upholstery and this being an early 300SL it has the clever actuated turn signals on the horn ring rather than a traditional stalk. The engine bay is extremely clean as well as you'd expected from a car that had a rebuild from 300SL experts Paul Russell & Co. some years ago. One thing to note is that this is a European car so it features the original all-glass headlights that I greatly prefer over the smaller sealed beam units.
Now this price for this car is only $995,000. Yes, I realize I'm using the term "only" in relation to a car that's almost a million dollars. But the W198 has been trading well above the seven-figure mark for some time now and doesn't look like it's slowing down. Last year around this time Paul featured a 1958 Roadster that had six times the mileage and wasn't even close to the condition of today's car, yet the asking price was still $1,035,000. I'm willing to bet this is probably one of the best buys you can make if you are in the market for a car that is close to a million dollars. Baring a total economy collapse, I don't see how you'd ever lose a dollar on this car. But if you did, you'd probably have way bigger problems than your 1958 300SL Roadster losing a little bit of its value.
– Andrew