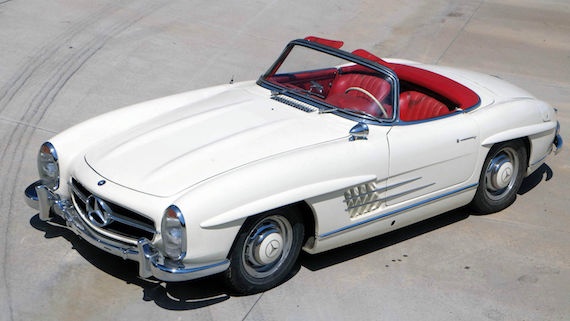 We often see vintage collector vehicles so perfectly restored that they seem unapproachable, not just in cost, but in terms of putting them to use. One little scratch and you might not score perfect in that next concours. I never really cared much for such bastions of perfection, though. Which is why a car like this 1958 Mercedes-Benz 300SL has caught my attention. This 300SL is in largely original condition, having passed through two owners with an interesting, global story to boot. What price patina, then?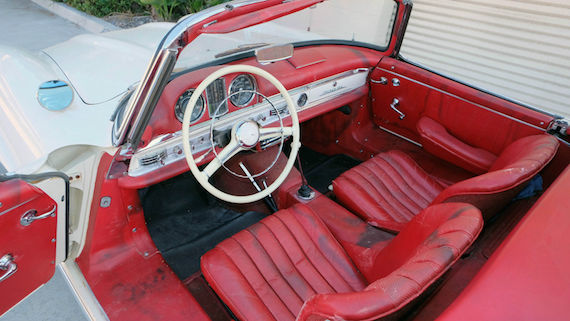 Year: 1958
Model: 300SL
Engine: 3.0 liter inline-6
Transmission: 4-speed manual
Mileage: 96,296 mi
Price: $1,035,000 Buy It Now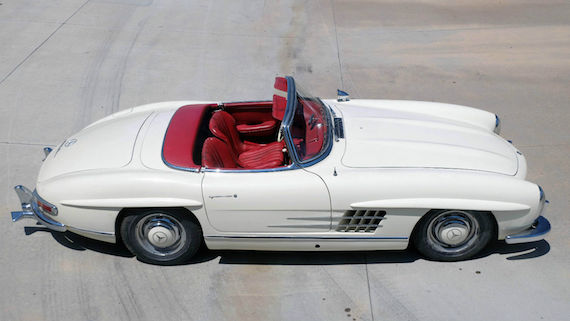 300SL Roadster, Chassis No. 300SL/198.042-8500225

This is one of only 267 300SL Roadsters completed in 1958 and one of only a very few that were not destined for the US market. It is sequentially the 106th to last unit built in 1958 and finished early in the 2nd half of that year's production run. Because this 300SL is a pure "European" version, it has the far more attractive "Full Flutted" front headlights rather than the USA type Sealed Beam units. The gauges are also calibrated in metric units and the deluxe steering wheel has the very desirable turn signal built into the rotatable horn-ring. It also has a rare secondary horn activation stalk as well to the left of the steering column. This particular 300SL was built under "Kommission" No. 900 779 which was a special order placed by Mercedes Benz Sales & Distribution of Caracas, Venezuela on behalf of their client, Sr. Mark Joseph Wise Tempski of Puerto Cabello, Venezuela. Sr. Tempski who was the owner of the Z.I.E.A. Shipping Company. He had initially planned to order a 190SL rather than a 300SL but at his wife's insistence prior to taking delivery of the 190SL, he instead had his order changed to this 300SL. Upon acceptance of the order for this 300SL, Mercedes Benz assigned and stamped the following unique identity numbers into the individual sub assemblies that would comprise this vehicle:

Chassis No. 300SL/198.042-8500225
Engine No. 198.980-8500141
Body No. A 198.042-8500231
Gearbox No. 8500224
Rear Axle No. 8500214
Front Right Axle No. 8500223
Front Left Axle No. 8500224

The original order for this 300SL specified the exterior color to be DB50G Cream/Ivory (white) with 1088 Red Leather for the interior as well as the special ordered KARL BAISCH Autokofferfabrik Stuttgart, Germany two piece set of fitted luggage. The soft top was to be in black with body-colored matching hard-top. The subassemblies (gearbox, axles, steering box, wheels, gauges etc… that would be used in the construction of this particular 300SL were all assembled beginning in March of 1958 with the final items being completed in May of 1958 and are all date-coded as such. The two rear Rims and Spare Wheel are date coded "3/58" March 1958. The Front two rims are dated coded "9/57" September 1957. The engine has the correct original engine number stamped on the engine number boss and below it is the correct original stamped engine id tag. The engine block casting date is "3/57" or March 1957 and the engine oil-strainer cover plate is date-coded "7 57" or July 1957. The type of engine ID tag is the type used for replacement under warranty which is confirmed by the early block casting date. Mercedes Benz records indicate this vehicle was completed on June 12th of 1958 and it was ready for delivery shortly thereafter.

At the time of completion, this Mercedes was fitted with the following options:

-Special Order / Shipping / Delivery at the Mercedes Factory with Temporary "Tourist Registration"
-Becker Multi-Band, Signal Seeking Radio
-Amplifier with Loud Speakers
-Hirschmann Automatic Power Antenna
-Dual Horn Activation Controls
-Five Chrome Plated KPZ Wheels and Body-Colored Hub Caps
-Front and Rear "Over-Rider" Bumperettes
-Talbot "Berlin" Fender-Mounted Rear-View Mirror
-Both Hard and Soft Tops
-1088 Matching Red Leather Fitted Luggage (KARL BAISCH Autokofferfabrik Stuttgart, Germany)
-Extra Sets of Keys
-Five Special 6.5 x 15 Tires
-Special Packing for Shipping to Carracas, Venezuela at the completion of a European Holiday

Delivery of this Mercedes to Sr. Wise and his wife Ravenna took place at the Mercedes Factory under their "Tourist Delivery" program. The Wises then travelled extensively throughout Europe that Summer in their new 300SL Roadster. They went as far as Istanbul, Turkey and then through Greece and Italy before Sr. Wise returned the car to the Mercedes Factory for extensive warranty work, painting and then follow-on shipping to his home in Venezuela. After services and repairs were complete, this 300SL was shipped by ocean vessel in a specially prepared crate to the port of La Guaira, Venezuela and shortly after arrival delivered to Mercedes Benz Sales & Distribution Caracas, Venezuela and then to Volker Moslener the manager of Garage MOTRIX which was also located in Caracas. Volker Moslener was the personal mechanic of Sr. Wise and after arrival he assisted in processing the documents in order to obtain new road-registration for the Wise family. The car was issued Venezuela plates; "AEB-509" and wore them until March 18th, 1983 when new registration and plates were issued to Sr. Wise. The new plates were "AHP-244" and they would remain on this 300SL for the next 30 plus years.

Mark Joseph Wise Tempski was a wealthy Venezuelan socialite who also owned a prominent shipping company. He owned a very famous villa called "Galipan" in Chacao, the most luxurious area of Caracas as well as home in California which he and Ravenna visited when business and their travels would allow. The Wise family owned and enjoyed this 300SL for thirty years. Sr. Wise drove it frequently within Venezuela as well as overseas on several long-distance journeys he and his wife undertook by Steamship. This was made all the more easy as Sr. Wise owned a freight-forwarding and shipping company and frequently had the car shipped to various places in Central and South America in a manner and frequency anyone without such connections would find very difficult. The Wise family even had the car delivered by ocean to California where they enjoyed a long holiday with their prized 300SL before having it returned to Venezuela.

This 300SL remained with the Wise family until 1988. In the mid to late 1980s, Sr. Wise was no longer driving his prized 300SL as often as once had and the car was stored for sometime at Garage MOTRIX. It was at this time that the world-famous automobile collector, José Carlos Harth Deneke (Joe Harth) another wealthy Caracas resident heard about the car and eventually was able to purchase it from the Wise family. The formal sale took place on July 7th, 1988 however new registration in Harth's name was not finally issued until April 4th, 1989. Sr. José Carlos Harth Deneke, more well known in the collector car world as Joe Harth is an American Ex-Patriot and former senior executive with Caterpillar Venezuela. Throughout the 1960s and 1970s as Venezuela's economy swelled with oil-income, Harth began actively seeking out and collecting a variety of automotive treasures in addition to this 300SL. At one time Harth owned a Ferrari Tour De France, 275 GTB/4, BMW 503 and 507 as well as a matching pair of Mercedes 300SC Coupe and Roadsters. In August of 2013 after 25 years of ownership, Harth agreed to sell his treasured 300SL Roadster to his friend and classic vehicle advisor, Ed Waterman in Ft. Lauderdale, Florida. Ed and Joe had been trading vehicles for many years and the car was formally sold and imported by Mr. Waterman arriving in Florida in September of that same year.

300SL/198.042-8500225 TODAY:
This particular 300SL is a documented two-owner, 96,000 original kilometer, completely un-restored example with full records, documents and history going back to the moment it was first ordered new 58 years ago. Both former owner's carefully maintained and serviced this vehicle with the greatest of concern and care so that the authenticity and originality were always preserved. It remains in the original delivery colors with a completely un-touched as delivered new interior. There is absolutely no rust on the car anywhere and all date coded items are consistent with the build date of the vehicle itself. All sub components, engine, gearbox, axles, steering box etc… are original and matching to the car's original completion and delivery as noted above. Comprehensive and detailed records have been carefully preserved by both former owners and the car is being sold on a newly issued USA title with proper chain of custody and previous owner's bills of sale. This vehicle has just completed total inspections, safety checks and full services. It would be very difficult to find a better driving or performing example anywhere. Engine compression and leak-down numbers are perfect on all cylinders and the fuel-injection pump is freshly rebuilt and re-installed with a modern diaphragm.

If you are fascinated by originality details in a collectible classic automobile, this particular 300SL will warrant your full attention. Pay particularly close attention to the original KARL BAISCH matching fitted luggage which still has many of the travel stickers from the 1950s and 1960s still attached. Note carefully that the car not only has the original keys but the carefully preserved original key FOB as well. Every aspect, feature and detail of this vehicle is equally well preserved, conserved, cared for and documented fully! More than 200 high resolution inspection photos and copies of the original factory assembly records as well as sample copies of additional records and documents related to this vehicle can be accessed by contacting me at bill AT billnoon DOT com or by phone at 619 840 7811

Please feel free to contact to arrange for inspections and test drives. I can assist with full door-door delivery anywhere in the world. EEC import is pre-approved at only 5% VAT and no additional duty charges.

Many thanks for your time and patience and good luck in all your automotive searches,

Bill Noon
Symbolic International
11425 Sorrento Valley Road
San Diego, California 92121 USA
Phone 619 840 7811
bill AT billnoon DOT com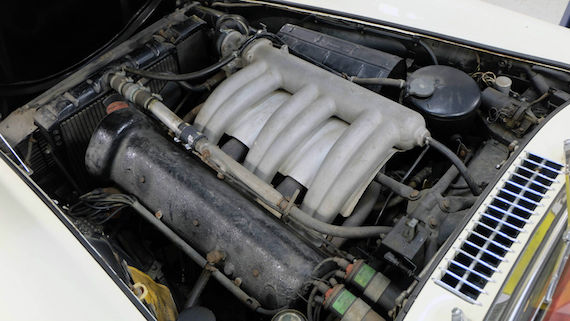 One thing I'm curious about with this car is the color of the hardtop. I've never seen a white 300SL roadster with a contrasting roof like this, but it could very well be stock. One would need to investigate further. Hagerty has the high end of a 300SL of this vintage at around $1.6 million, so given the fact that much of the originality is in tact, an ask of just over $1 million doesn't seem too far fetched. While some would see this car as an optimal starting point for a restoration, I wouldn't have the heart to do it. Keeping its originality not only adds to the car's appeal but allows the new owner to use it as intended.
-Paul