When the term restomod comes to mind, images of American muscle cars from the 1960s and 1970s emerge. Sometimes these cars are upgraded with engines they didn't leave the factory with, other times modern amenities such as disc brakes, updated suspension bits and modern electrics are incorporated to make a classic vehicle more agreeable to drive.
This Porsche 356 started life as a 1600 Super and has been turned into a GT clone. The 356 Carrera GT was a purpose built competition car. A stripped out interior, deletion of the heater and Perspex side windows were part of the package, along with lightweight bumpers and no undercoating. Modified suspension, a larger fuel tank and brakes from the Porsche 550RS were added. Offered as both a coupe and speedster, the GT coupe came weighing only 1903 lbs. The Carrera GT saw action in a number of races and one claimed victory at the Liege-Rome-Liege Rally in 1957. This particular GT clone was originally sold in the US only to be exported back to the homeland later in life.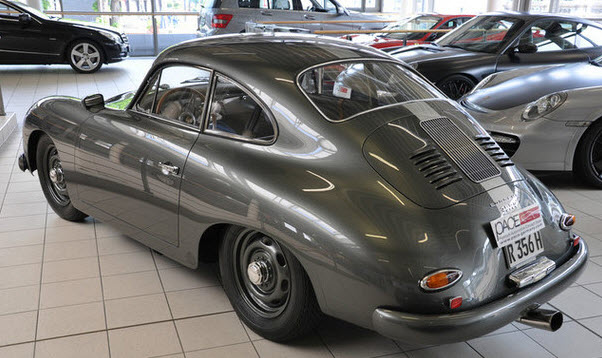 Porsche 356A/1600 Super. Restored with a lot of attention to detail, must see in person. The vehicle was delivered in 1957 in the United States and imported in the past into Germany. Originally it was a Porsche 356 A (T1), Coupe, which has in recent years gained attention. Fully restored and rebuilt to largely original specification under the 356 Carrera GT. The interior has also been overhauled and is in mint condition. The seats are lightweight shells, the same as used in the Speedster. These were covered with new leather. The entire vehicle technology has been updated and cosmetic condition is very good. Both the engine and the transmission were completely overhauled and therefore in mint condition. During the two year restoration, extensive photo documentation was kept.

Equipment: leather seats, three spoke wood steering wheel, stop watches, cap refueling at front with snap closure, leather caps to cover the front, original Rudge wheels perfectly restored with central locking, individual interior, steering by the T2, rear stabilizer from the Super 90, GT brakes, side windows made of acrylic glass (GT version), side windows operated by leather straps (GT version). Total interior in Conolly leather, 12 volt system with new wiring harness and battery, aluminum boot lid, louvers (GT version), custom exhaust (at Sebring). The expert opinion was with the rating of "1" rated. Since this vehicle is now in new condition, it is in the class of the as a new condition, it is in the class of an objects lover.
The asking price of over a quarter million dollars puts this 356 squarely in mint condition Speedster territory. If this was an original Carrera GT, you might be looking at a value closer to $300,000 or beyond. This build is very much to my taste and is a unique way to restore a 356. From the gunmetal gray paint to the color matched bumpers and wheels, this car looks the business. But given that it is a clone, I don't think a $50,000 discount is quite enough. With the work put into it, I might be able to see $100,000 to $150,000, but not much more. Then again, the market for 356 clones is so small, and one high sale price could set the market abuzz.
-Paul