We have a soft spot for fast estates here at GCFSB. We've featured a few Mercedes-Benz E class AMG estates along with some Audi S4 and S6 Avants, but one of the more obscure five doors of recent memory is the BMW 535xi. Currently, BMW does not sell a 5 series Touring in the US, opting instead to foist the, ahem, aesthetically challenged 5 series Gran Turismo on us. I've only seen two of these things on the street and not surprisingly, sales have not been good. While BMW considers whether to bring the 5 series Touring back to the States, this E60 535xi is the newest 5 series estate we'll have a crack at. And this one for sale in New York has one important feature: a 6 speed manual transmission.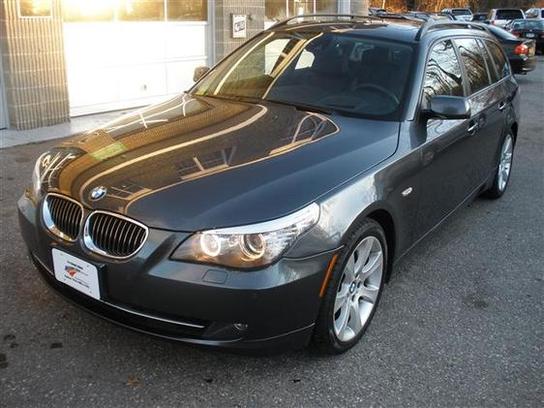 Clean Carfax, one owner, 6 speed manual, sport package, 18″ wheels, comfort multi contour seats, Dakota leather, Premium and Cold Weather packages, front and rear heated seats, heated steering wheel, navigation, heads up display, lane departure warning system, rear side impact air bags, rear sunshades, Logic 7 sound, HD radio, rare car with all the options.
While not as fast as some German estates, the 300 horsepower from the 3.0 liter twin turbo inline six cylinder engine in this 535xi is certainly enough to get the job done and then some. Three pedals in a family hauler like this might not be everyone's cup of tea, but that's OK. It would certainly help come negotiation time on the price. Almost $37,000 for a 5 series that is creeping up on 50,000 miles is a bit difficult to stomach. If this car was priced between $30,000 to $33,000 it would be more in line with the market for these right now. For the person wanting a fast five door with three pedals, there aren't many choices these days. Even if there was more competition in the segment, the 535xi would still stand head and shoulders above the rest.
-Paul