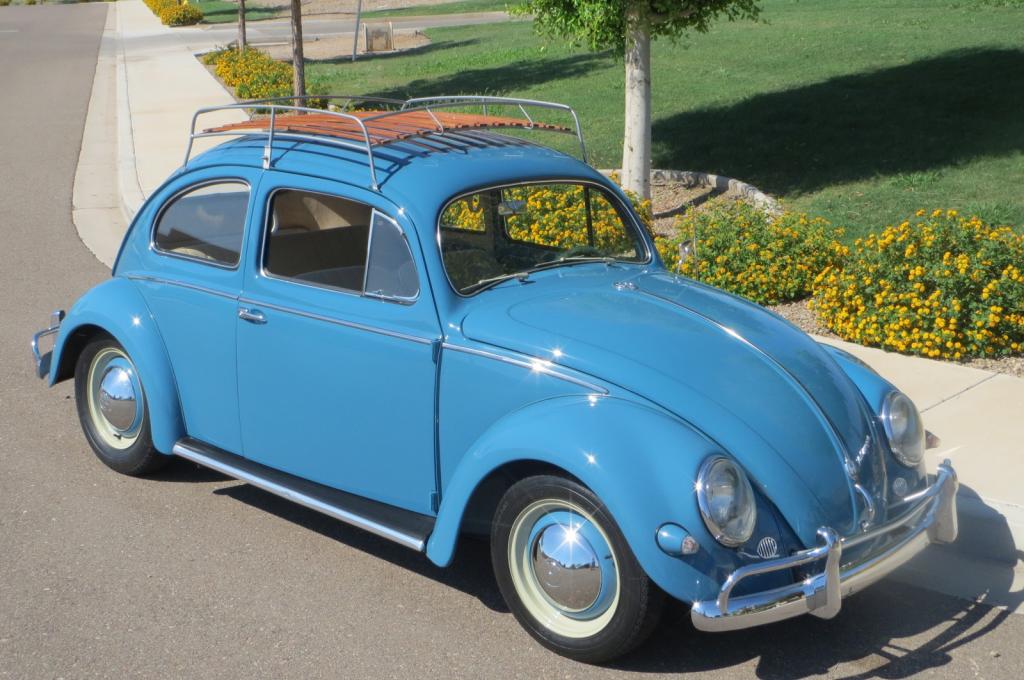 The original Volkswagen Beetle is one of those cars that is infinitely customizable. From dune buggies to dragsters, the possibilities are limitless. If I was going to add a classic Beetle to my collection, I'd probably go for a stock look with period add ons, such as this early Oval Window Bug for sale in Arizona. It's not everyday you see a pre-1960s Bug, and they are well worth appreciating due to their unique features. Originally a California car, this one has been treated to a comprehensive restoration and pops in Horizon Blue with the wood slatted roof rack.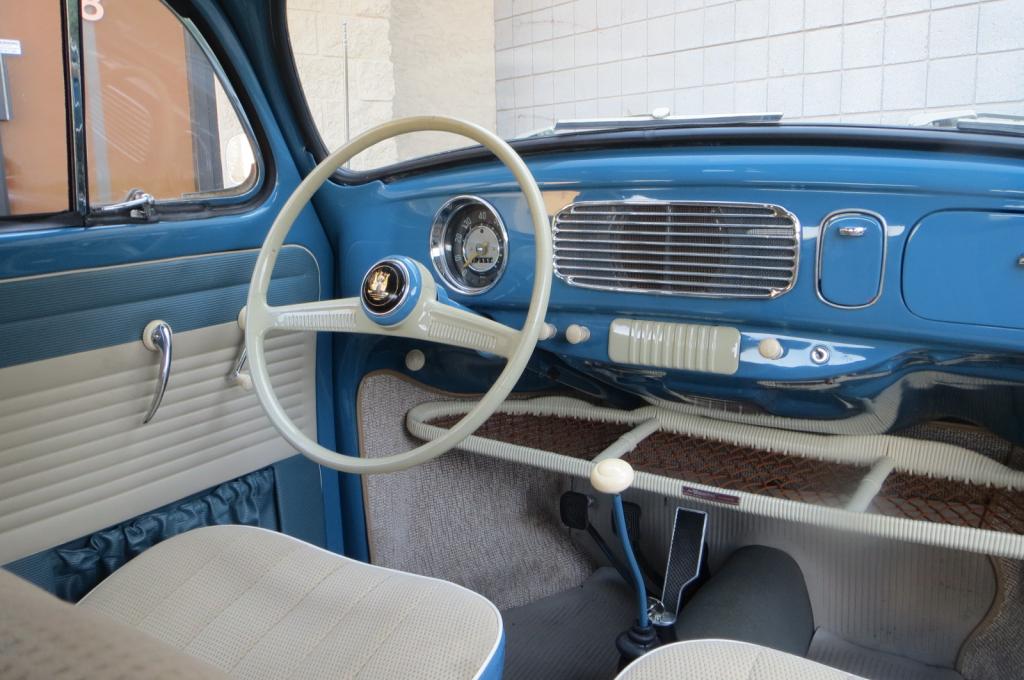 Year: 1957
Model: Beetle
Engine: 1.1 liter flat-4
Transmission: 4-speed manual
Mileage: 34,775 mi
Price: $21,750 Buy It Now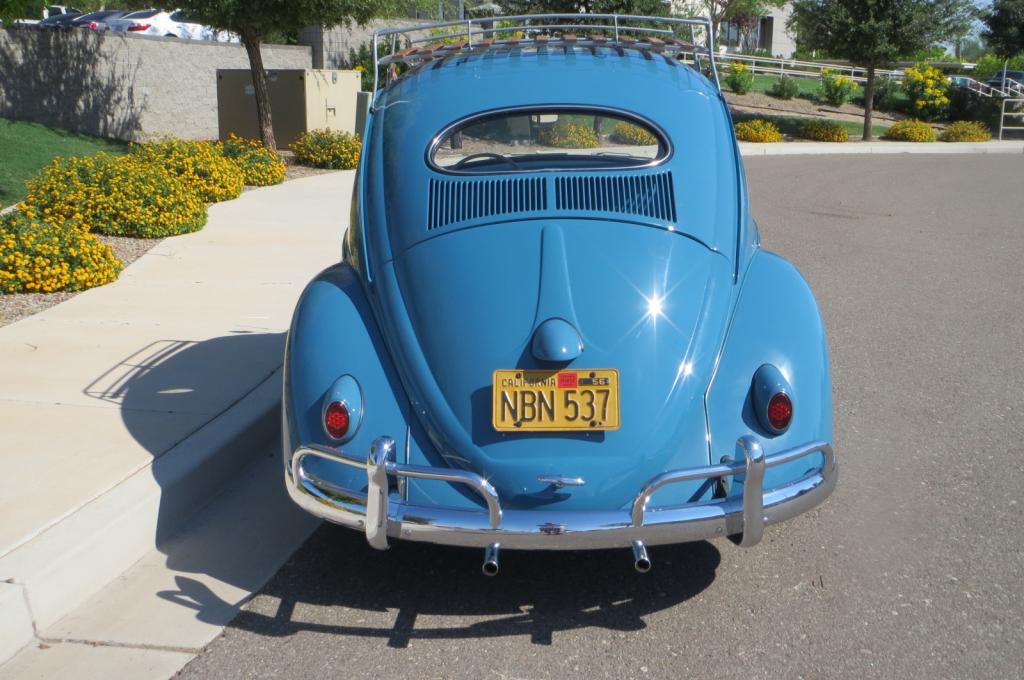 1957 VW Beetle Oval Window!!!

Here is one of the nicest Beetles that I have ever come across. This car was the subject to an incredibly high quality body off restoration and is one of the nicest Oval windows in the country. This is truly an award winning car. This car was completed a few years and has competed at several shows winning several 1st place finishes. It is truly difficult to describe how nice this car is. This car is a very nice matching numbers California car finished in Horizon Blue with a beautiful set of color matched wheels tying both the exterior and interior together. Everything on the car has been finished to an incredibly high standard and everything on the car has been rebuilt. The engine is numbers matching as is the entire car. The body work is laser straight and absolutely gorgeous. The paint is stunning and virtually flawless.

At the time of restoration the car recived a gorgeous paint job on a beautiful straight rust free body, new chrome, a new interior, rebuilt engine, rebuilt transmission and a rebuilt suspension. This is one of the nicest Beetles I have seen in years. The cars underside is beautiful and in practically perfect condition. These cars are excellent cars to drive and enjoy either daily or just for fun on the weekends. They are beautiful to look at, rare to see, easy and even fun to maintain due to there simplicity. This is a beautiful collector quality car that will surely make its new owner very happy!

Exterior: This great looking Beetle was treated to a very high quality paint job and as you can see from the photos, it looks gorgeous. The body on the car is laser straight and free of "waves." All of the doors, hood and deck lid all line up beautifully. They also shut with incredible ease. Many many hours went into making sure this car was finished to a high standard and making everything line up perfectly!. When looking inside the trunk area and looking at the nose of the car, it appears to be accident free and finished to a very high standard!!! The chrome on the car is like new and in excellent condition and has a beautiful shine. This car was stripped down to bare metal and was a full body off restoration. Every piece of glass, interior component, wiring harness etc was removed. This car was painted in bare shell inside and out at a very large expense. No corners were cut and it truly shows. Overall the exterior of the car is in excellent conditon!

Interior: The interior of this car is stunning!!! The interior was redone at the time of restoration and looks gorgeous. The interior is absolutely beautiful with tan seats and matching carpet. The seats are extremely comfortable and were done correctly with new foam. The dash is finished beautifully and everything WORKS! The headliner is in perfect shape as well. The seats are free of rips, stains, tears and odors etc. All of the gauges and lights work. Overall, I would say that the interior is in excellent shape!!!

Engine: The original 36hp engine has been rebuilt and starts up and runs like a top!!! When the engine was rebuilt it was detailed to show quality standards. It has been driven and enjoyed so it could use a couple of new stickers, but overall the engine compartment shows VERY well. The engine only has a few hundred miles on it since it has been rebuilt. The transmission was also rebuilt at the same time of the engine and it shifts through all of the gears with ease. The brakes and suspension have also been gone through and the car rides, steers and stops GREAT! This really is a great driving Beetle that can be driven daily or just for fun on the weekends. These are great cars because they are very reliable and any part you might need is readily available and very inexpensive. This car however, shouldn't need anything for sometime! This car is ready to enjoy or show!

This is a great looking 100% Rust free Beetle that can be purchased for tens of thousands of dollars less than what it cost to build it. This is one of the nicest Beetles I Have come across in many years and is truly ready to be shown, driven and enjoyed. This car is a true collector quality car and all the credit for this beautiful car must go to the previous owner and the restoration shop that performed an absolutely stunning restoration

I can help arrange shipping anywhere in the world and international buyers are welcome to enjoy this beautiful Karmann Ghia! All Reasonable Offers Considered. Please do not hesitate to call me or email me with any questions. Justin (602) 339-2416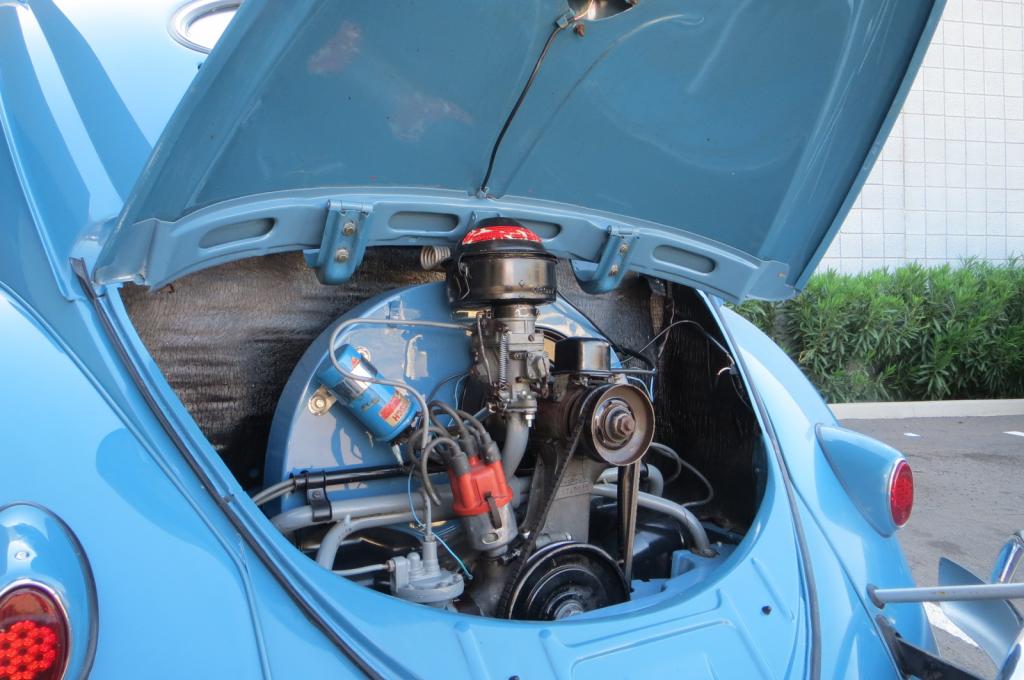 For years, air-cooled VWs were great cars for enthusiasts on a budget. They were cheap to fix and buy, but similar to Amphicars and the bubble car segments, prices have been trending upwards as of late. Vintage T1 and T2 Kombis are a favorite of collectors, as well as some slightly rare pieces like the Hebmüller Convertible and Type 34 Karmann Ghia, affectionately known as "Der Große Karmann." For an early Oval Window, the asking price is at the high end of the range. If you could get it for somewhere a bit under $20,000, it would be well bought.
-Paul