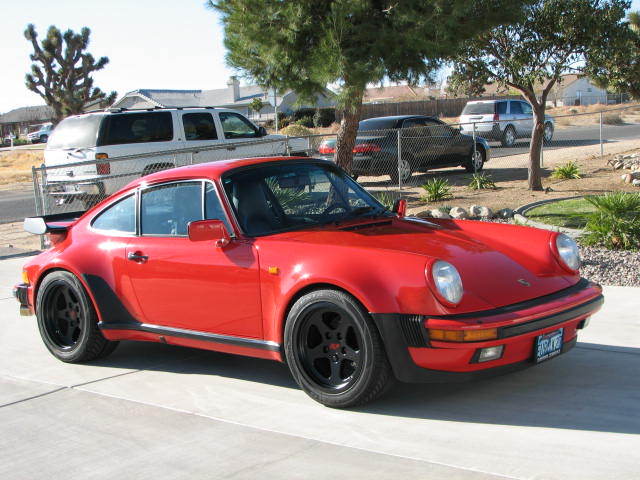 If you wanted a Porsche 911 Turbo in 1985 in the U.S., you were out of luck; Porsche, intent on pushing the 928 as the premier car in its lineup and saddled with increasingly tough emissions regulations had pulled the 930 from the U.S. lineup in the early 1980s. That didn't stop many individuals from seeking them out and importing them directly from Europe. With a reputation for being a widow-maker, early 930s still captivate the motoring masses with supercar slaying performance and brutish good looks. Like most of the 911 range, prices have steadily been on the rise and these are a go-to for collectors. Today's example looks excellent in Guards Red with some Ruf details: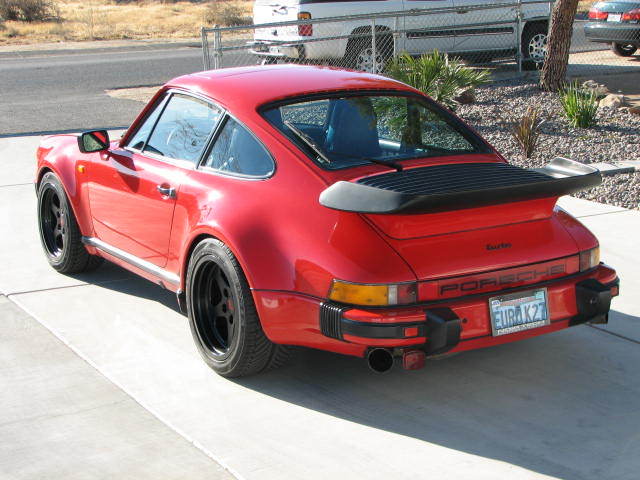 Year: 1985
Model: 930
Engine: 3.3 liter turbocharged flat-6
Transmission: 4-speed manual
Mileage: 59,061 mi
Price: $45,000 Buy It Now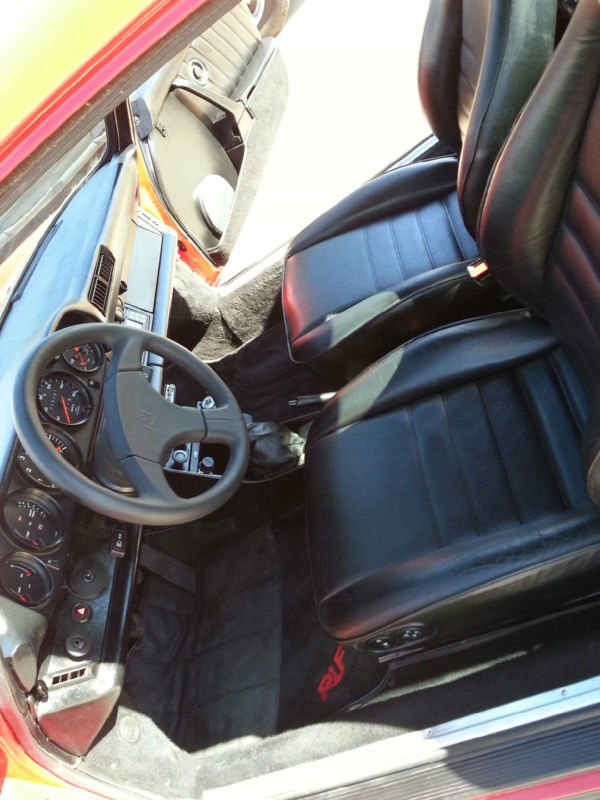 Selling my 1985 Porsche 930 Turbo with 59K original miles. Eurospec 3.3L engine. 4 speed manual transmission. Guards red exterior with black leather interior. VERY CLEAN! I am the 3rd owner since 2004 and have driven this vehicle less than 100 miles since I have owned it. Always garaged and NO OIL LEAKS! Have all the DOT / EPA documents. Car is California registered since 2005. DOT states there were only eleven of these 1985 Porsche 930 Turbo's imported into the US in 1985. Quite a rare and fun vehicle to own. Only selling as I am buying a new house and need the garage space for my new golf kart as I am retiring soon. Hoping a car collector or Porsche enthusiast will buy this beautiful classic Porsche. Getting harder and harder to find these Eurospec Porsche 930's in the USA! RUF and performance upgrades are listed below:

THE GOOD:

Upgraded H4 Headlamps
Upgraded floor mats to RUF
Upgraded steering wheel to RUF
Upgraded stock turbo to a K-27 turbo
Upgraded to front strut tower supports
Upgraded stock exhaust to GHL Dual Exhaust
Upgraded stock headers to B&B Stainless Headers
Upgraded stock intercooler to larger GHL Intercooler
Upgraded stock turbo bar spring to 1.0 bar spring in waste gate
Upgraded to Andial Fuel Enrichment System due to the headers & 1.0 bar spring
Upgraded rims to RUF 5 spokes (powder coated matte black) with near new Kumho racing tires
Upgraded stock radio to Alpine Cassette / Denon Amp (period correct) & Boston Acoustics subwoofer system

Vehicle VIN: WP0ZZZ93ZFS000081

THE BAD:

Air conditioning system needs to be re-charged. System worked fine up until about 2 years ago. Seldom drive this beauty and haven't had time to re-charge the system.

THE UGLY:

There is a small dime size dent on the right rear quarter panel flare as shown in the picture. Nothing significant but can be seen up close.

CONCLUSION:

The vehicle is pretty much stock with the exception of the few RUF accessories and performance upgrades. Car is very fast, producing approximately 375 HP with the bolt-on performance upgrades listed above. All professionally installed with receipts to prove all work done by a certified Porsche veteran mechanic. If my reserve is met, I will include the original Porsche 930 parts that came off the vehicle (Fuch wheels, exhaust, turbo, steering wheel, 4 speed shifter knob and turbo floor mats).

I have described this vehicle to the best of my abilities and as accurately as I could. Clear title in hand. Car is physician owed and very well maintained and cared for. Bid with confidence. Very sweet sports car to own!

SIMPLE TERMS:

Vehicle is located in Southern California. This is a used vehicle. There is no warranty on this vehicle, expressed or implied. Please make arrangements to pick up the vehicle yourself or make arrangements with a transport company prior to buying the vehicle. I am requesting a $2000 Paypal deposit within 24 hours after the auction ended. I will not accept money orders or personal / company checks for payment. Full balance to be paid in cash when you pick up the vehicle. I will also accept a bank Cashier's Check from Bank of America. However, the title of the vehicle will not be released until the funds have cleared my bank. I will be more than happy to answer any questions during this 10 Day auction. Thank you.

Thank you for viewing this beautiful collector car.
We've featured a few 930s recently, and they always draw lots of attention. Rightly so, as they're the German car to have from the 1980s if you wanted the best performance. The last 930 we featured was a converted Ruf BTR with about the same mileage but an asking price over double this car. In that light, this car looks like a solid value, with lower miles, the right color and some tasteful modifications to make it a worthy classic. With the correct DOT/EPA paperwork sorted, registering this car anywhere shouldn't be a problem. Though not a huge fan of black wheels in general, the Ruf Speedlines are some of my favorites and really accent the look of this car rather than detracting from it. The modifications are not overdone and I think are what most enthusiasts would want. The only drawback is the typical "the A/C just needs a charge" line, which if you live in a warmer climate would likely be a pricey repair but worthwhile if you wanted to drive the car with a black interior. Like most people who read this site, I'm a big fan of the E30 M3; but with clean examples pushing the same amount as this car, I can't help but think this is a much better value, driver, and collectable.
-Carter