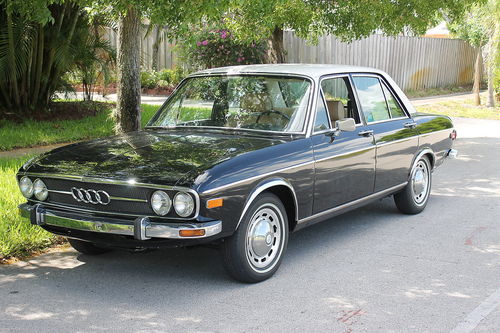 The third generation Audi 100 (5000 to the U.S.) was so revolutionary as a mid-sized sedan, it's easy to forget that there were two generations of Audi 100s that preceded it. Long before the legendary Quattro debuted, Audi was actually selling a reasonable amount of 100LSs and Foxes here in the 1970s. Not the sportiest or most luxurious of the mid range sedans, the 100 wasn't the best competition for BMW and Mercedes-Benz, but in its day it was a respectable car. Unfortunately, its day didn't last very long; plagued with reliability, rust and electrical issues, many of these 100s left a sour taste in U.S. buyers mouths. Now 40 years later, finding a clean 100 is a tough job, but once in a while one pops up for sale, such as today's black 1972 100LS::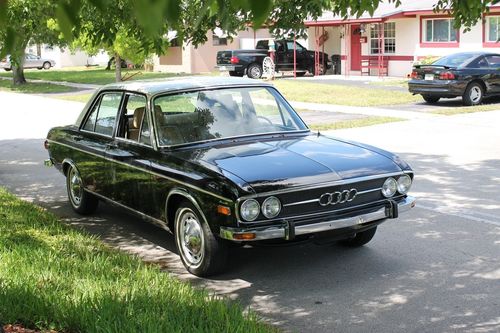 Year: 1972
Model: 100LS
Engine: 1.9 liter inline-4
Transmission: 3-speed automatic
Mileage: 66,000 mi
Price: $11,111.11 Buy It Now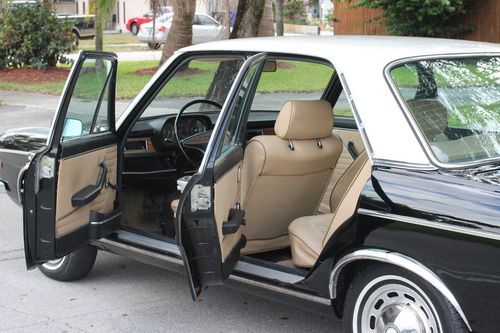 I purchased this several years ago from the original "old lady" owner / driver in Maryland. It was all black with original paint. It was just professionally repainted with a cream colored roof.

Has the original tan vinyl interior, with a little over 60,000 miles on the odometer. In very good condition, drives well. Minimal rust. Never been in an accident. I still drive occasionally, it gets 27mpg. Front brakes have been totally redone, booster bypassed for now. Excellent tires and new front shocks (Boge). The AC/air conditioner has been converted to a newer, more efficient type of compressor, replacing the old York, which vibrated too much and was quite a drag. The pulleys have all been machined to use current 38 degree V belts which was a real boner problem, because Audi spec'ed the original belt at something like 60 degrees and then stopped selling them! System not charged at the moment.

Radio is installed but not hooked up. This car has a good dash pad. Headliner has hole above right visor, not visible when visor in the parked position. I have many spare used and NOS parts. Car is located in Fort Lauderdale, Florida. Gold/Silver accepted for payment. This is one of the best riding cars I have ever driven!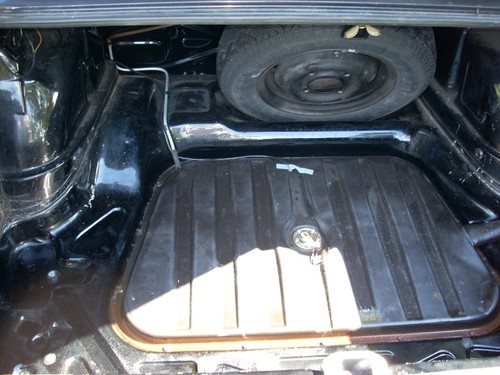 I feel like it's a common thread in my posts, but indeed this isn't a car for everyone. Finding parts is pretty tough though they are available. Most of our fan base would pass this car off as too soft or not sporty enough compared to similar Benz or BMW models. Few want an older automatic. And, as is the case with this car being from Maryland originally, there is more rust in this car than appears on the surface. All of that said, it makes a very reasonable alternative to some of the normal iron that you see at shows. I have a friend with one of these in better shape, and it always seems to draw a crowd at shows. Sure, most people have bad stories to tell about some past relation that owned one and it broke, but what cars from the 1970s didn't break time to time? I think this car's design has continued to age well and still looks sharp, especially in black.
After talking with my 100 expert friend, we both agreed that this car is heavily overpriced. The very best 100LSs are not currently bringing the asking price of this car, and while this car is very nice, it's not the best example out there. The rust would have to be addressed long term if you wanted to keep this, and doing so will be pricey for sure. Given the condition of the car, we both agreed that $5,000 – $6,000 was the right asking price for this car. The owner is certainly ambitious asking double that amount, but honestly is unlikely to get it. Despite that I hope this car finds a new loving owner who will continue to keep it up; finding clean 100LSs is going to continue to be a very rare event!
-Carter