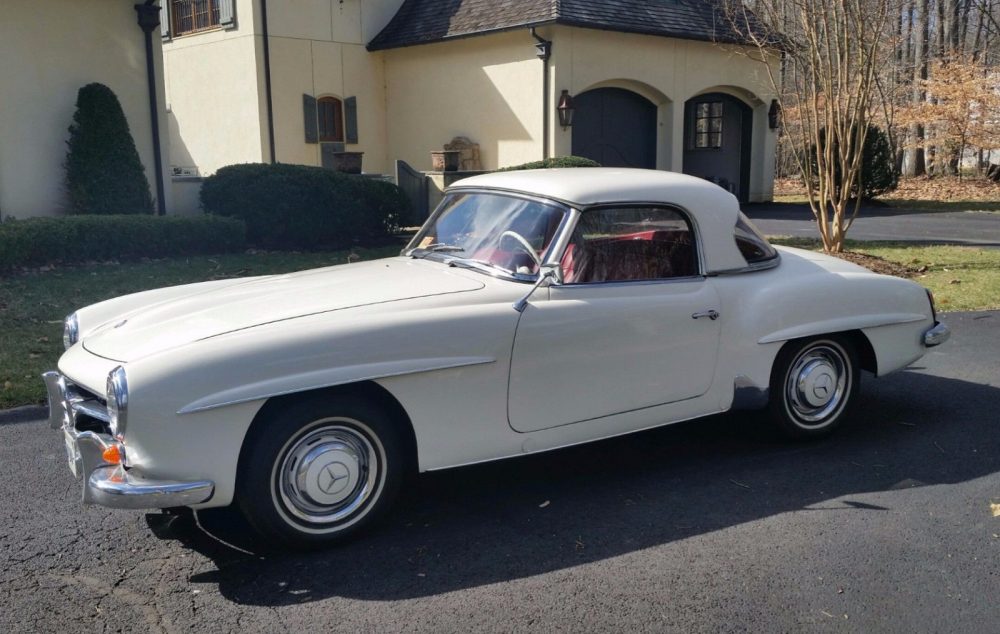 Update 12/17/19: It appears this listing was fraudulent – sometimes if it looks to good to be true…
Last week I checked back in on the Mercedes-Benz 190SL with the craziest engine swap I've ever seen in W121, a Toyota 1UZ-FE. Despite it being a very nice and exceptionally clean build, the new $160,000 price tag still has it for sale with no takers yet. It is one thing to convince someone to spend $160,000 and a whole other thing to convince them to spend it on a 1962 Mercedes convertible with a Toyota engine. Naturally, I wanted to flip it 180 degrees and look at a totally stock 190SL and a much more reasonable price tag. This 1960 up for sale in Massachusetts is actually a really nice example for 133,000 miles and has an even better price tag. How much?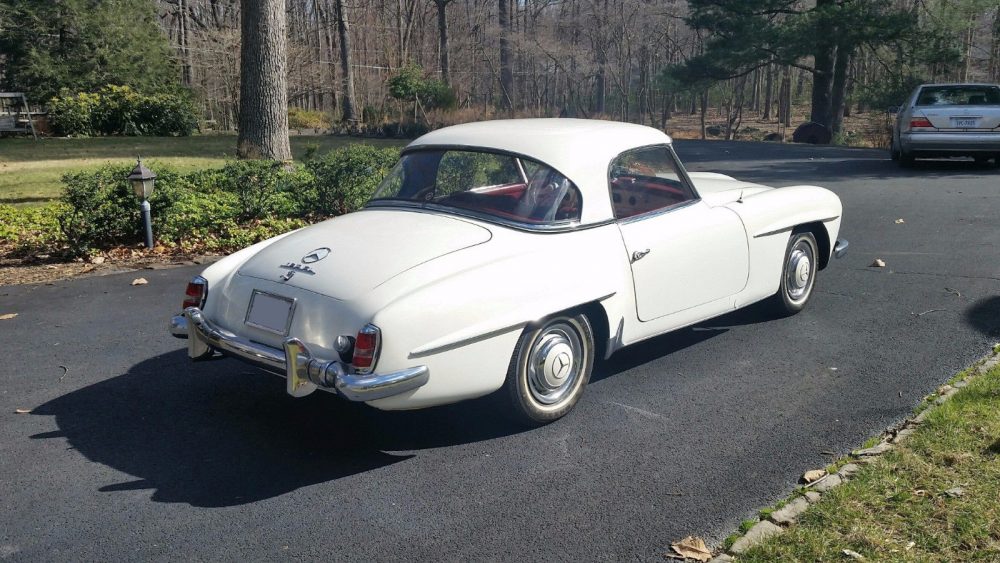 Year: 1960
Model: 190SL
VIN: 1210401
Engine: 1.9 liter inline-4
Transmission: 4-speed manual
Mileage: 133,000 mi
Price: $44,000 Buy It Now
This 1960 Mercedes-Benz 190SL has 133k miles The car is unmodified apart from the radio, and both the hard and soft tops are included. Service records date back to 1965.
The body has seen one repaint in white and it looks good.
The interior was reupholstered in the past in its original color.
Squareweave carpeting and leather seats appear to have held up well.
An early Sanyo AM/FM/Cassette player was installed, but the dash is stock otherwise.
The speedometer, tachometer, fuel gauge, and windshield washer system were repaired in 2012.
The 1.9-liter M121 SOHC inline-four features staggered valves and is mated to a 4-speed manual gearbox.
The car has reportedly been serviced regularly, and detailed records date back to1965.
A service performed at a Mercedes-Benz dealer in 2012 totaled nearly $18k and included:

Engine mounts
New exhaust pipes
Fuel hoses
Carb service
Rear differential fluid service
Transmission fluid
Heater and air control cables
Front wheel bearings and seals
Wheel cylinders
Master cylinder and brake lines
Brake cables and hardware
Front and rear brake shoes
Inner and outer tie rods
Idler arm rebuild
Radiator and heater core hoses
A heavy undercoating is visible underneath! It is fundamentally solid with no rust.
It runs, stops, turns, and shifts.
Clean title in hand.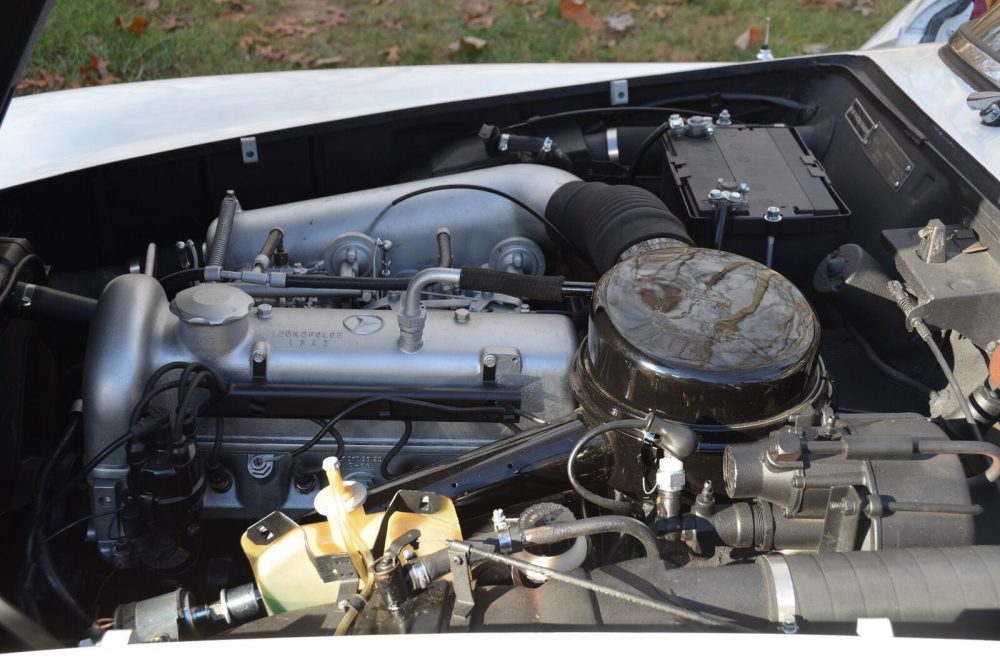 The seller lays out a pretty through description of everything that was replaced in this car and it looks like no stone was left unturned. An interesting note is that this car was taken to a Mercedes dealer in 2012 to have a $18,000 service done. Production ended on the W121 in 1963, so chances are that the technicians working on this car weren't even born yet when these were still taken to dealer and the majority of people have probably never even seen one. With cars as old as this, there is literally no advantage to dealer service over a specialist because their lack of experience with them. I'm sure a massive mark-up was charged on the parts as well. I like the color combo of the white over the red leather and white dashboard and I think it suits this car well. Under the hood is the same story with a very clean-looking M121 engine with nothing that I see that throws up any red flags.
The price of $44,000 seems suspiciously low. If you told me to guess how much this car was listed for, I would have said at least $75,000 given that most really nice 190SLs are in the six-figure range now. If this price is legitimate, then this one is a no brainier because you will certainly never lose a dime on this car and probably be in position to make a nice chunk of money as well. I know I'm half tempted to dive in headfirst with this one to have a very nice W121 to enjoy and probably unload for a profit when the time is right. If anyone else has deeper pockets than me, which I'd say is a lot of people, then this one looks like a sure bet.
– Andrew