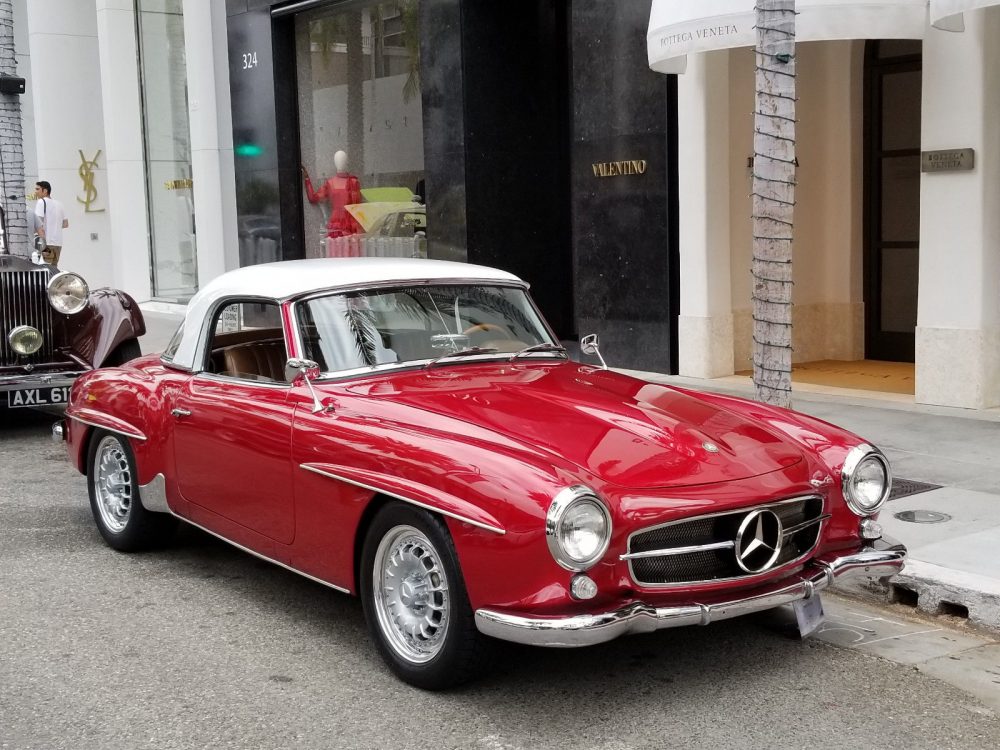 Nearly six months later, this 190SL with the crazy IUZ-FE swap is still for sale with a new price of $169,000. If you are keeping score at home, that is $10,000 more than what it was previously listed at. Bold strategy.
File this one under the category of something you don't see every day … or ever. I know you are probably wondering why I am looking at another 190SL when I just recently featured one, but as you can judge by the title, this isn't your standard 190SL. Somehow, someway, this classic 1962 Mercedes roadster is powered by the 1UZ-FE 4.0-liter Lexus V8. Even more, it is mated to a 5-speed manual transmission and a limited-slip differential. All of this work looks factory, as factory as a 1962 car with a Lexus V8 can look, and performs just as well. I'm still trying to wrap my head around this one and I imagine you are too.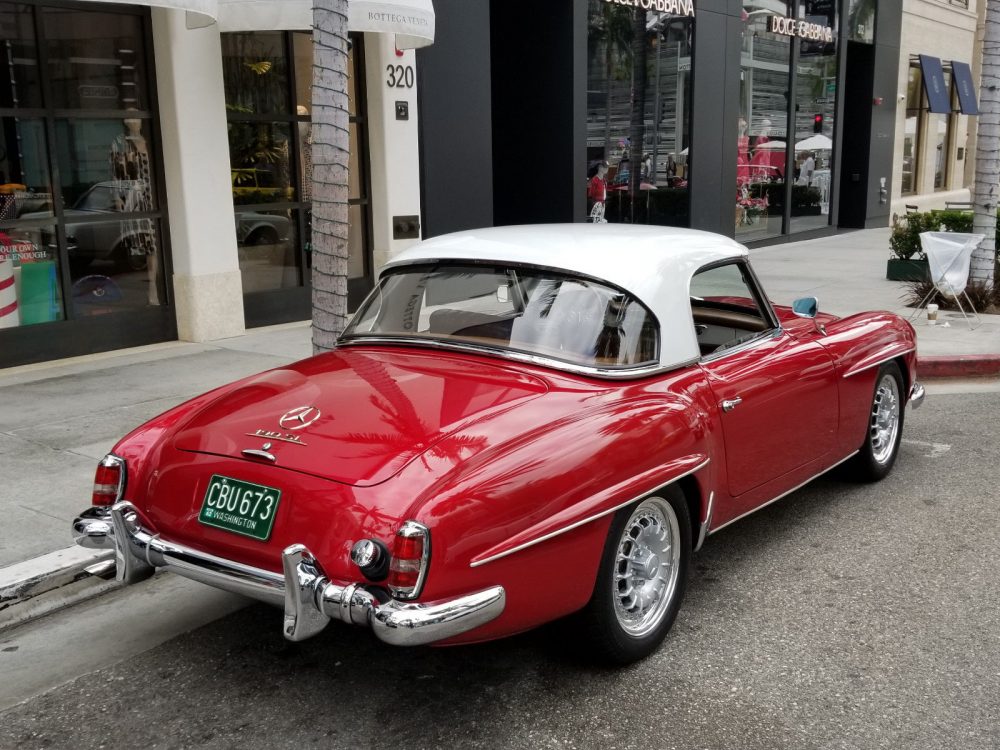 Year: 1962
Model: 190SL
Engine: 4.0 liter V8
Transmission: 5-speed manual
Mileage: True Mileage Unknown
Price: $159,000 Buy It Now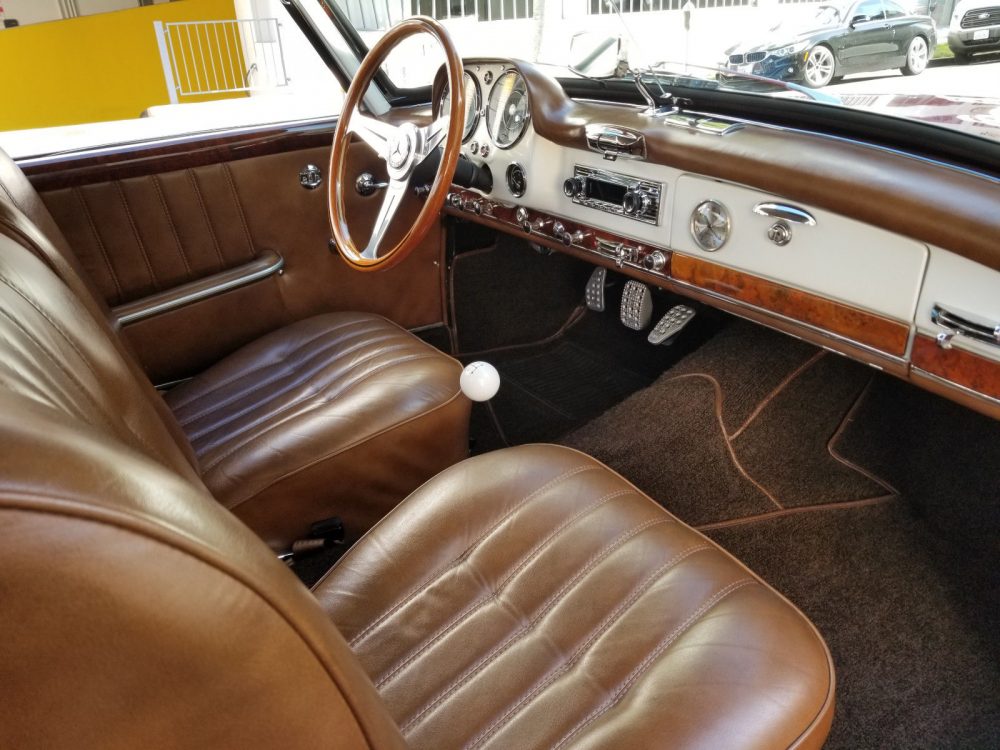 Here is a 190SL that will have Gullwing Owners feeling a sense of envy! Featured at the world famous Rodeo Drive Concours 25th Anniversary Event on June 17, 2018. Pictures are from this event.

Red metallic convertible with a removable subtle Pearl White hardtop that compliments the red paint.

The only 190SL that can have bragging rights when parked beside a 300SL roadster or Gullwing. This is the best engineered, best performing Mercedes 190 SL in existence, one that performs significantly better than the iconic 300SL Gullwing and yet is more refined as well and yet is inexpensive to maintain and operate.

The Ultimate 190SL: A 190SL that's actually fun to drive! 300 horsepower fuel injected aluminum Four Cam 32 valve V8. The most reliable 32 valve V8 motor in existence. A motor designed for racing CART/IRL. By comparison, the standard 190SL motor makes only ~100 hp. (Even an economy car like the Honda Fit makes 130 hp! 30 hp more than the standard 190SL)

This motor, the legendary 1UZ, considered by many to be the most reliable 32 valve V8 ever designed, can go 300,000 miles without needing an overhaul!

5 Speed overdrive gearbox. At 80 mph the standard four speed 190SL is turning nearly 5,000 rpms!

At 80 mph this 190SL is turning just over 3000 RPMs, nice and comfortable.

***UPDATING THE BRAKES. Currently in the process of having 325mm ventilated brake discs with 6 piston aluminum brake calipers designed for this 190SL. By comparison, all 190SL and the legendary million plus dollar 300SL Gullwing use drum brakes.***

Suspension upgrades include high performance front sway bar, aluminum adjustable front shocks and aluminum double adjustable rear shocks. This allows a fine tuning of the ride and performance and makes this car handle like a dream.

Also further improving the handling and braking are the upgraded wheels and tires, wheels custom made for this car, 3 piece wheels using original Mercedes components.

The original tires on the 190SL are puny 165mm wide, 13″ tires: Gullwing tires are 185 mm /70 15″

This Mercedes 190SL features 16″ wheels with 215mm tires, giving far better traction and braking than the 300SL thanks to a much larger contact patch! (Not to mention weighing hundreds of pounds less than the 300SL)

Just like the Gullwing, this 190SL features a Limited Slip differential to put the power to the wheels.

New unique custom yet classic Mercedes 3-piece wheels. (Original wheels are 13″ these are 16″) With new high performance 215mm B.F Goodrich performance tires.

Weighs just 2575 pounds! (A little over 2600 with hardtop on.) That's about 600 pounds less than a carbon fiber McLaren! A 300SL roadster weighs ~3200 pounds, 600 pounds more than this 190SL.

The 300SL Gullwing and Roadster engines make nearly 100 hp less than this 190SL (~215hp compared to 300 hp for this 190SL)

This Mercedes 190SL goes 60 in ~4.6 seconds compared to 9 seconds for a Gullwing. As the 300SL Roadster weighs hundreds of pounds more than a Gullwing so its 0-60 mph is even slower. The 190SL 0-60 mph is nearly 14 seconds! By comparison, entry level economy cars like the Hyundai Accent and Honda Fit take just 8 seconds.

25 mpg on highway.

The steering was also upgraded from the old worm and roller to more responsive rack and pinion steering. The steering is power assisted which makes this car easy to drive at lows speeds and during parking maneuvers.

A new aluminum clutch master cylinder was installed making clutch operation comfortably light. A new clutch (disc, pressure plate and throw out bearing) was just installed.

To give you an idea as to how much these modifications cost, some years ago Mercedes and AMG took 11 300SL (Gullwings and Roadsters) and because they only made around 200 hp, they installed V8 engines in them. In fact, these were the very first cars to be jointly developed by Mercedes and AMG. The modifications to the 300SL cost $1,000,000 and this million dollars is in addition to the price of the car!

If you know about the 300SL and the 190SL you know the biggest problem with the 190SL is it is painfully slow. It also has dual carburetors that need adjusting to run properly. Yet it is beautifully and solidly built by Mercedes, making it the perfect platform for a modern, reliable, fuel injected, direct fire ignition, four-cam, 32 valve, all aluminum, lightweight V8. A V8 that weighs just 364 pounds, about the same as the original cast iron 4 cylinder 190 engine that it replaces.

Why be bothered by a finicky, hard to get parts for a 4 cylinder engine that makes the car slower than any modern production economy car when you can have modern reliability, modern fuel economy, a cleaner running engine and one that will blow the doors off most cars with one of the best V8 engines ever designed?

Another recent restomod was the installation of a fuel injected V8 into a 246 Dino. One of those will set you back around a million dollars as well.

This Mercedes 190SL has what many consider to be the best all around normally aspirated V8 engine ever designed: the legendary IUZ: This engine designed for racing, yet goes as many as 300,000 miles before needing a rebuild! A motor known to have "no issues." That's why this engine is a favorite for drifters who require powerful, rev happy, reliable engines.

In fact, this engine was based on CART/IRL engine design. It was planned to be used on GT500 vehicles, however it was subsequently used in the Daytona Prototypes. It has race engine features like 6-bolt main bearings and belt-driven quad-camshafts. Unlike Ferraris and other cars, if this cam belt ever brakes the pistons do NOT hit the valves.

The 190SL four speed manual gearbox has been replaced by a 5 speed with overdrive manual gearbox. The benefit of this is huge as this 190SL cruises at a relaxed 25 mph per thousand RPMs cruising: 75 mph is just three thousand RPMs. Compared to stock 190SL which is spinning at around 4200 RMPs at 75mph.

Restored by an engineer who worked for General Electric and then Boeing named Don Harmon, this is the world's best sounding and most fun to drive 190 SL or 300 SL. This Mercedes is much faster and more refined than the legendary 300 SL Gullwing. This was Don's pride and joy, his "masterpiece" and I've included a little bio of Don below. He never sold his beloved 190SL V8 and instead he owned it until he passed away. The trunk is lined with dozens of plaques Don received from various car shows dating back as early as 1994. Now this beautifully unique Mercedes is available for the next lucky owner.

This SL is a like a German Shelby Cobra…..but so much more refined and functions as a great daily driver. In fact, this Mercedes has a power to weight ratio comparable to the original Cobra yet the Cobra did not have roll-up windows, a luxurious interior, refined suspension, large chrome bumpers, glove box, etc.

This 190 SL features a 5-speed manual gearbox making it a joy to shift and a comfortable car to drive fast yet cruise comfortably at freeway speeds. The rear differential was upgraded to a Mercedes limited slip differential.

The car drives beautifully, solid and without any play in the suspension. This car does not drive like a 1950s era car but feels modern in terms of its solidity. The suspension appears to have been recently restored. As you can see from the pictures, the suspension and undercarriage are in exceptional condition.

The 32 valve, four-liter V8 idles so smoothly that looking at it you can't even tell its running.

This Mercedes has a dual personality either as a comfortable cruiser or as an AMG-style hotrod.

A 300 horsepower vintage Mercedes SL, with a modern, reliable, clean running, fuel efficient, fuel-injected, four-cam, all-aluminum, easily serviced, 32 valve V8. A motor so light and well-engineered that its weight is the equivalent of the iron block four cylinder it replaced.

This Mercedes is something truly rare, significant and special. Faster and more fun to drive than a Gullwing or 300SL Roadster, it was owned and driven regularly for decades by the Boeing aerospace engineer. He restored and built this car back in 1994, whereupon he restored the Mercedes and engineered it so as to be the fastest and most refined 190 SL anywhere.

This Mercedes was his pride and joy and he drove it to shows consistently for many years. In fact, he lined the trunk with miniature plaques he'd received from the various shows with plaques going to back to 1994 still displayed.

Many files of records come with the car including photographs going back a number of years.

This 1962 Mercedes 190SL weighs just 2,575 pounds. That's only 20 pounds more than the published weight four cylinder 190 SL.

The standard 190 SL, although a beautiful car to look at is quite frankly frustratingly slow, taking nearly 14 seconds to go from 0-60 and 20.5 second 1/4 mile time at just 74.6 mph.

This Mercedes SL will zero to 60 in an estimated 4.6 seconds. This car is fast!

The four cylinder 190SL engine makes less than half the power of the Gullwing, barely more than 100 hp, with published figures of actual horsepower ranging from just 89 bhp to 104 bhp.

Actual dyno results show just 73.3 to 82.6 rear wheel horsepower. Giving a further example of the lethargic nature of the 4 cylinder, it reportedly makes just 48hp at 3000 rpm.

This car makes nearly three times that amount with an estimated 300 bhp and its zero to 60 is in Cobra territory. This V8 also revs freer and higher than the four cylinder and is reportedly safe to run up to 7000 rpms although maximum HP is reached around 6500 rpms.

The 300SL Roadster is slower still as it weighs significantly more than the Gullwing.

The only comparable Mercedes from the same era is the legendary 300SLR, an 8-cylinder race car that made 300 horsepower and won World Sportscar Championship before a catastrophic crash and fire at Le Mans ended its domination prematurely.

This 190 SL has the identical wheelbase (94.5") as the Gullwing and the same style swing-axle rear end so it has similar handling characteristics.

This 190 SL is roughly the same height as the Gullwing but 2 inches narrower and more than 9 inches shorter than the Gullwing.

Yet, the 190SL has space enough behind the front seats for a small person to sit sideways and a larger trunk than the 300SL.

This 190SL is significantly lighter than the 300SL, with more compact dimensions and far more power, this Mercedes is far more nimble and dramatically faster than the Gullwing. It is also far more reliable and infinitely easier to service, use and maintain.

This is a very special car for a person who wants to drive a classically styled, 1950s era Mercedes-Benz, but who also wants performance and reliability of a modern car. A car that is a blast to drive!

The timing belt, tensioners and water pump were all replaced in January of 2018. The clutch was replaced in February of 2018 with a new pressure plate, disc, throw-out bearing and pilot bearing. The engine oil and filter (synthetic Mobil 1), rear differential oil (Mobile 1 and LSD additive) and transmission fluid (Redline synthetic fluid) were all replaced in February of 2018.

A new power steering pump was fitted in June of 2018.

New wheels and new tires were also fitted in June of 2018.

This engine has been termed "bullet proof" and is known to have no design flaws. This is a car you could drive from Los Angeles to New York while also being able to get it serviced almost anywhere.

This car represents the best of everything. Classic Mercedes styling and driving refinement yet with modern powertrain reliability and performance.

This is the only 190SL in existence like this. There is another car, called the "Bent" Mercedes, where the owner put a 190SL body on a modern SL600. Of course, it does not drive like a 190SL or look like one in the interior because, well, it is not a 190SL. But it is super cool….and cost $500,000.00 or so.

A 190SL was modified in Germany, but they modified the appearance of the 190SL's exterior as well as the drivetrain. Their price for their car was 1,000,000.00 Euros.

There is also a 190SL with a Chevy engine in it but they completely changed the suspension and installed a solid axle rear end in so that car, while looking like a 190SL on the outside, no longer drives anything like a Mercedes. A beautiful car, likely very expensive, but a car that does not feel like a Mercedes…..and it sounds like a Chevy.

This car is the best engineered, most aesthetically pleasing, best sounding, 190 SL known in existence and for what it is, it's extremely well priced. Far less expensive than the $1 million dollar car in Germany or the $500k 600 SL with a 190SL body mounted.

In January, at the 2018 Scottsdale Auction, RM Auctions sold a 190SL for $196,000…..and lovely as it is, it is still slower than Molasses. This car is for someone who actually wants to drive and enjoy a classic Mercedes roadster, a car that's reliable, serviceable and comfortable to drive on the freeway, yet fast and responsive, even more so than the Gullwing. It truly is the best of all worlds. SOLD AS IS. True Miles Unknown.

Don Harmon (written by his brother-in-law)

I met Don in the mid-1970's when he met and married my sister, Barbara. He was a Sonar Engineer, worked for General Electric for several years in both San Diego and Naples, Italy. Because of his specialist skills, he was flown in to do emergency fixes no one else could figure out. In later years, he was part of a volunteer team to restore the Kalakala, a unique streamlined diesel engine ferry that had operated in the Seattle area from 1935-1967.

He was a very focused guy and could fix anything. He always had a project going that usually involved some plan to save money. He installed solar panels to lower the electric bill, had an elaborate, very complicated wood stove burning system in the basement to heat the water, he picked up diesel oil from folks converting their heating systems to save money for his diesel operated Mercedes.

The paradox was, though he was always looking for a way to save a dollar, he would only drive a Mercedes! His license plate read Diesel Don, he was skilled as a diesel mechanic and took care of most of the repairs to this vehicle, another money saver.

Another potential money saving project at one point was the installing of a water wheel in the creek going through their property, He had the cement platform in place, bought a large metal wheel and was all set to go until the Seattle PUD stepped in and put a stop to it!

One day when I arrived at the house, the garage door was open. I noticed what looked to me like a big hunk of metal. I thought to myself, what in the world is that pile of garbage??

It sat in the garage for a few years. Eventually Don began working on it slowly by slowly. At a certain point it began to look a little like the shell of a car.

Over a number of months, lots of scraping, sanding and what all, it started looking more like the shape of a sports car of some kind.

From there, one improvement and hand-picked addition after another – seats, steering wheel, mirrors, wheel covers and hard and convertible tops. His most exciting part was found by a friend of mine in Canada. He was ecstatic when Richard found him the perfect engine. And being a bargain hunter himself, Richard got Don a steal of a deal!

Even with all that, the car still looked a bit rough. But, alas, the final touch to Don's masterpiece was the spectacular paint job – a very shiny candy apple red with ivory beige hard top. Wow, it was unbelievably beautiful! We were all in awe of how Don's vision had become a reality. From the earliest acquisition of that hunk of metal he had purchased those many years before – that stunning Mercedes sports car never left his mind's eye until the final coat of paint.

As a family, we had many years of going to Car Shows with Don. He won a number of trophies and he never tired of talking about every aspect of his masterpiece. Though none of us had much to do with the developing of his project, we all watched what seemed an impossible vision become a reality. Don's sports car restoration project was a genuine full color illustrated life lesson!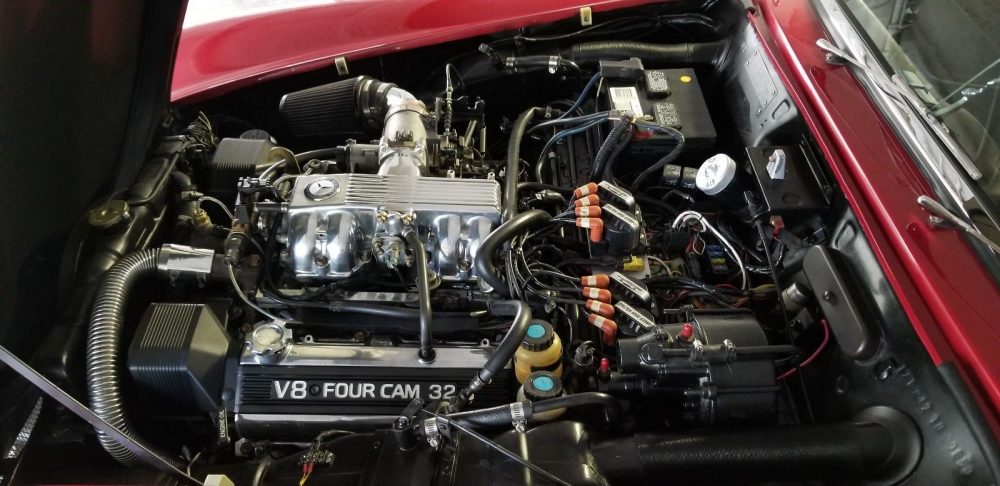 The builder of this car seems like quite the eccentric guy and it doesn't surprise me one bit that he was an engineer. Just to draw this up in your head then tackle this project with such precision is nothing short of amazing. The seller wrote a mini-novel about what is all going on with this car but fair warning, it is tough to follow and jumps all over the place. From what I gather, this car does an amazing job of blending 190SL parts with both Lexus and custom-made parts. I really like the modified-look 16 inch Bundts to get more rubber on the road to handle the power from this car. The steering wheel, shift knobs and pedals are take them or leave them kind of stuff, but it is hard to complain about little things with a project like this. I'm still trying to figure out how they made all those gauges work in the cluster.
Honestly, the price of $160,000 doesn't seem all that bad. If you figure in the cost of the car, cost of the parts and whatever value you put on the design and engineering that went behind the thing, you are probably over $160,000. You are buying a true one-of-one car that will never be replicated again and will stop anyone in their tracks that knows about cars. If I had more money that I knew what to do with would I buy this car? Of course. As an investment or my only special car? Maybe not. Either way, a crazy piece of engineering and I'm glad it exists.
– Andrew