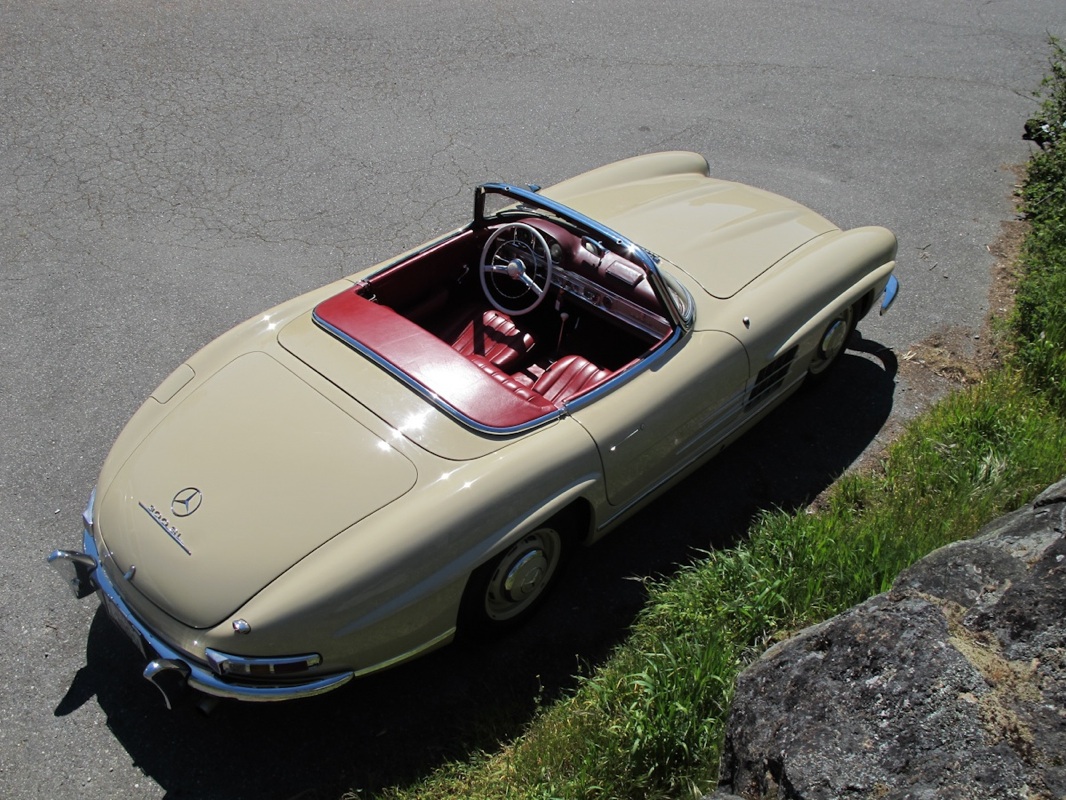 Walking along Park Avenue last weekend, I was thinking about the recently gutted Mercedes-Benz showroom designed by Frank Lloyd Wright at East 56th Street. It must have been a shock years ago for New Yorkers to pass by this shop and see a low slung roadster derived from racing technology sitting inside a space that foretold the forthcoming Guggenheim Museum that would open in 1959. The 300SL was a car in stark contrast to the fins and chrome of domestic vehicles of that era. We featured a 300SL Roadster last month during Convertible Week, and now another one of these graceful machines has come up for sale in Vancouver.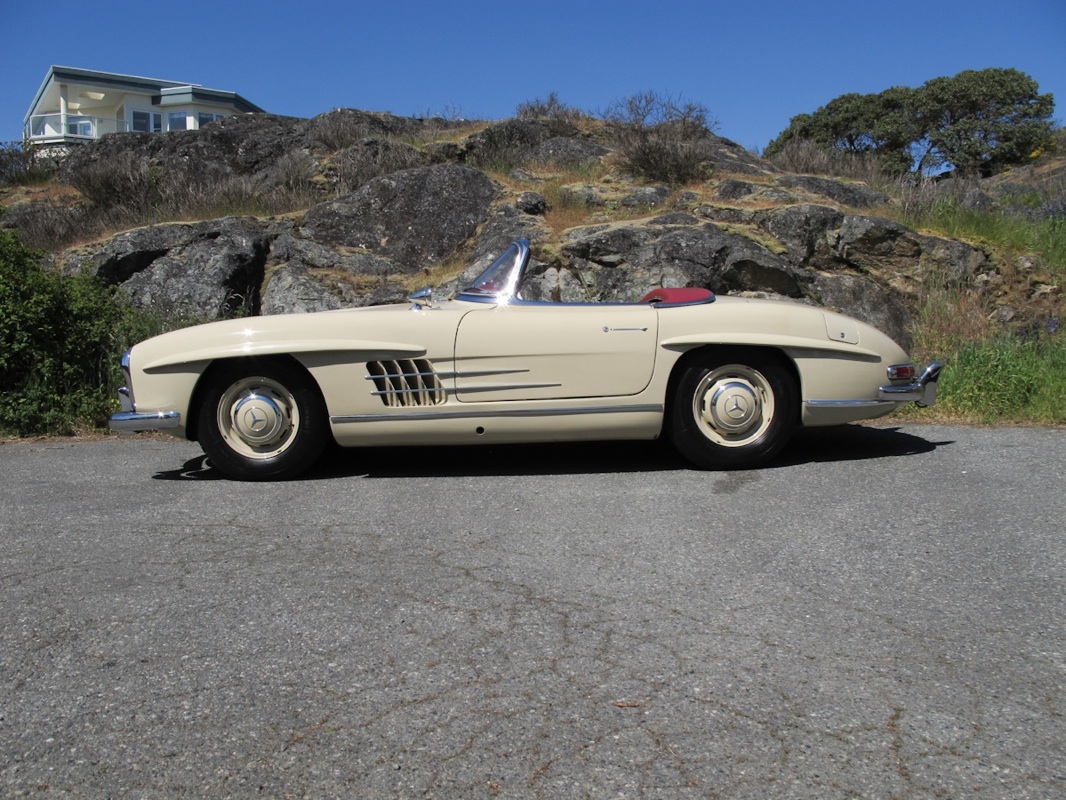 Year: 1960
Model: 300SL Roadster
Engine: 3.0 liter inline six
Transmission: 4-speed manual
Mileage: 113,464 mi
Price: $769,000 Buy It Now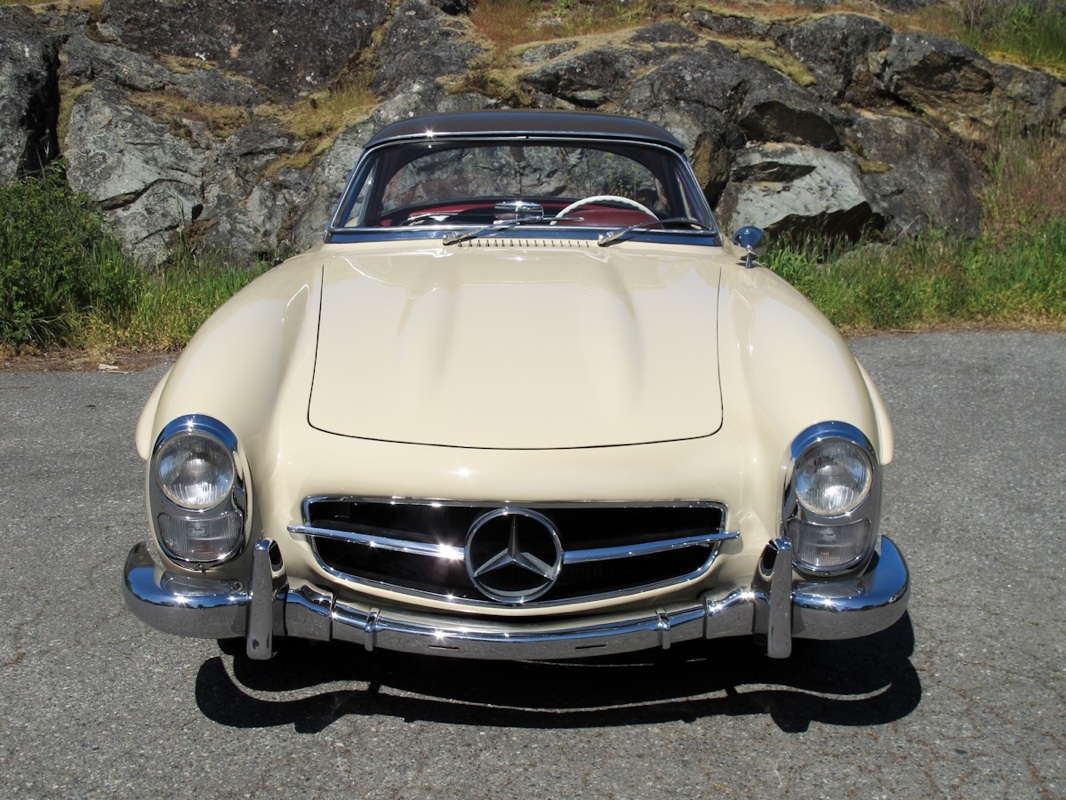 1960 Mercedes-Benz 300SL Roadster. Matching Numbers, US Specification, Two Tops, W198 II

Details:
Chassis: 198.042-10-002403
Body: A198.042-10-00125
Engine: 198.980-10-9500126
Exterior: DB 439 G – Cream Paint (Body)
DB 442 G – Medium Brown Paint (Hard top)
Interior: 1079 – Red Leather
Delivered to: Toronto, Canada
Date Completed: September 3, 1959
Model: U.S. Version
Rear axle ratio 1: 3.89

This is a US model 1960 300SL Roadster with factory documented numbers-matching, big brakes, two tops (Hard top and Soft top) with a rare factory two-tone paint scheme. Additional features include a Talbot mirror, and an original set of period correct Marchal headlight lenses.

Originally, and still finished in DB 439 G (cream) with a DB 442 G (medium brown) hardtop, red (1079) leather and red carpets. The current paint shows very well. It was painted gold (tunis beige metallic) at some point in its life, and then returned to the original cream. The hardtop still shows a gold edge, but the medium brown paint is original and shows a nice patina. This 300SL Roadster was ordered new for a client in Canada. It was shipped from the factory to Toronto, Ontario.

This is a rare Canadian 300SL with just three owners from new. The most recent owner bought the car in 1969 and kept it until early 2013. The compression is very strong in all cylinders. A new stainless steel exhaust has been installed; the fuel pump just came back from Pacific Fuel Injection Service, where it was completely rebuilt.

It is evident that this 300SL was driven frequently and well maintained. There are some older visible repairs to front and rear bodywork. The hood is an OEM replacement and is in perfect condition. As we do our best to offer a complete history of every car, we make this note to offer a full picture of all the facts and findings we have.

This beautiful 300SL does not pull to either side when driving. This Roadster starts with ease and the 1:3.89 gear ratio makes for a very sporty and fun driving experience. As many 300SL are being "reborn" and "restored" this is the ideal candidate for a full restoration. A complete, running car is a much better canvas to start with than a frame, body and a room full of boxes. This is a very desirable year, with great factory options.

Ownership History:
William Schwenger: 1961 – 1968 – Canada
Harry Woodford: 1968 – 1969 – Canada
Robert Lush: 1969 – 2013 – Canada

Please call Tim at +1 (250) 812-6409 to have any additional questions answered or to see the car in person.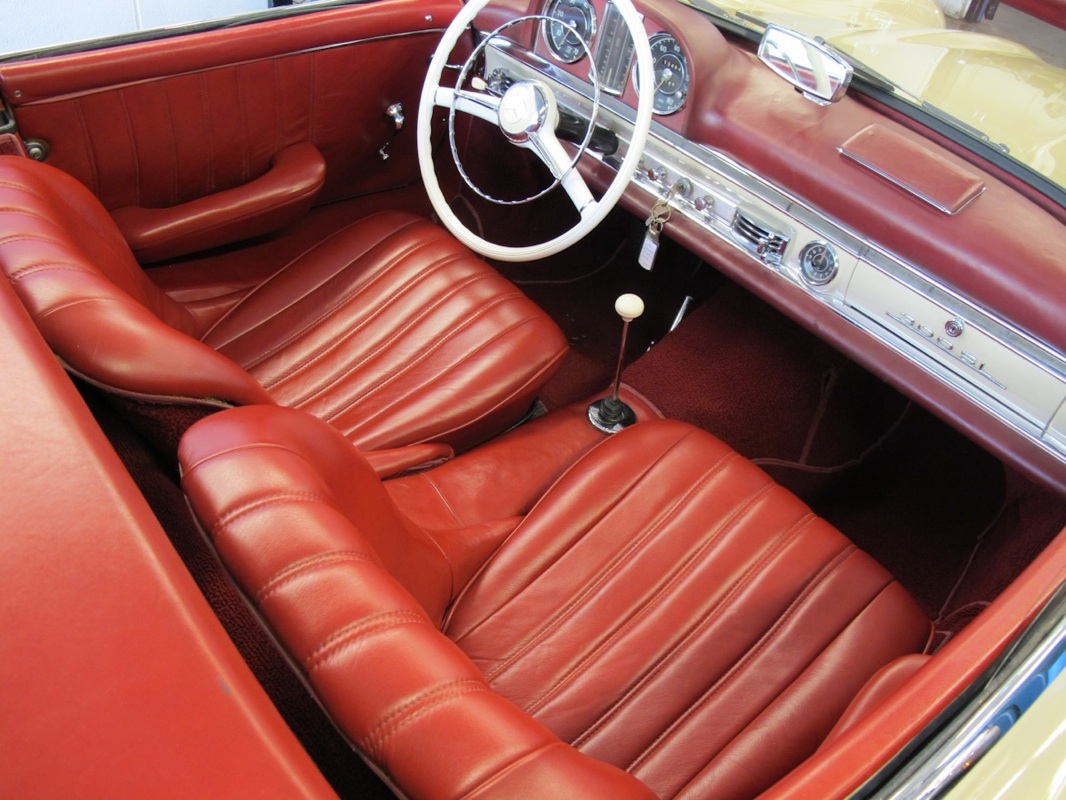 Whether it's the Gullwing or the Roadster, a 300SL will never come cheap. This car was under the care of one owner for a long while and is numbers matching, wearing its original colors. That means a lot to collectors, although I'd like to know if the entire body was painted at one point or whether it was just a few panels that were repaired as described. The 300SL we featured last month was a tad nicer, but this car is unrestored and carries a lower price, although not by much. If there aren't any problems lurking underneath from previous accident repairs, I would say the asking price isn't too far off the mark. A lot of these classic SLs have been treated to nut and bolt restorations, so coming across one like this is a rare treat.
-Paul