The Porsche 356 is one of those cars to which I always enjoy returning. Whether it simply be to return to a vintage automobile whose lines I always enjoy or to gain a fuller appreciation for the elements of design, shape, and performance that went into these early Porsches. The ethos of the company is built into these cars and even today, more than 60 years since the first model was introduced, we still can see the evolutionary nature of the marque and the relationship not only of design but also performance. With the 356 Porsche had already begun offering their cars in varying levels of performance and here we have the highest available of those utilizing the 1.6 flat-4 engine, the Super 90. While 90 hp doesn't seem like a lot, tasked with propelling a car that weighed less than 1000 kg these offered brisk performance for their time all while retaining the lightness and directness of feel possessed by many vintage machines. The particular example we have here is a restored Ivory over Tan 1963 Porsche 356B T6 Super 90 Cabriolet, located in Miami, and on auction with no reserve.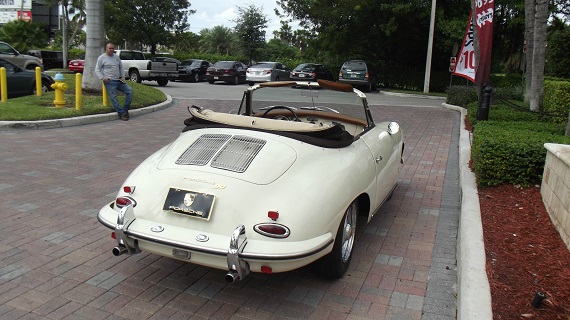 Year: 1963
Model: 356B Super 90 Cabriolet
Engine: 1.6 liter flat-4
Transmission: 4-speed manual
Mileage: 41,500 mi
Price: Auction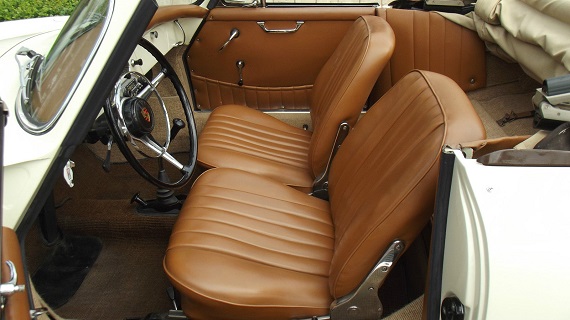 1963 Porsche 356 B T6 SUPER 90 Cabriolet, Ivory with Tan 41,500 miles

Body: complete restored, new Stoddard floor pans and bulk heads welded in, battery section as well. This car is complete rust free and bondo free. Original paint: Porsche ivory # 6204. Reutter Body
Absolute straight body,correct factory gaps in doors/hood/lid.
Interior: all redone and new, Porsche square weaved carpets with tan interior, black German canvas top with beige headliner. Becker Mexico Radio with cass., new seats and door panels, chrome rims with good tires, spare tire, jack, owner's manual and tool kit.
Engine: Super 90 engine, engine # 804924, vin # 157858, color # 6204, complete overhauled engine and ran only 2,000 miles since overhaul including crank case (We have the invoices), Weber 40 Carbs, complete rebuilt. The original Solex two barrels carbs going also with the car.
6 new wheel cylinders installed, engine still 6 volt, new battery installed.
This is a very clean and original SUPER 90, VERY, VERY RARE, complete redone with invoices,
last owner had the car since 1978 (we still have the original title), offered for the first time on ebay.
Starting bid US$ 130,000.00 NO RESERVE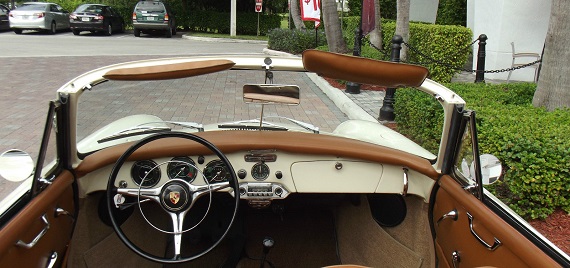 A no reserve auction for a restored 356 of any nature is a fairly rare thing, but especially for a Super 90 Cabriolet, which tend to show fantastic values that are only eclipsed by the uber rare and uber expensive Carrera 2 Coupe. The issue holding back this car I would suspect is the engine. According to the engine number this is indeed a Super 90 engine, but from a 1962 356B Roadster rather than a 1963 356B Cabriolet. That lack of originality surely will hamper the ultimate selling price of this car, and I'd be very interested to know at what price it would actually sell, and with this auction's high starting bid it sits with no bids. Nonetheless, this is a very nice example of one of the early performance cabriolets Porsche produced that is sure to be enjoyed by its next owner.
-Rob