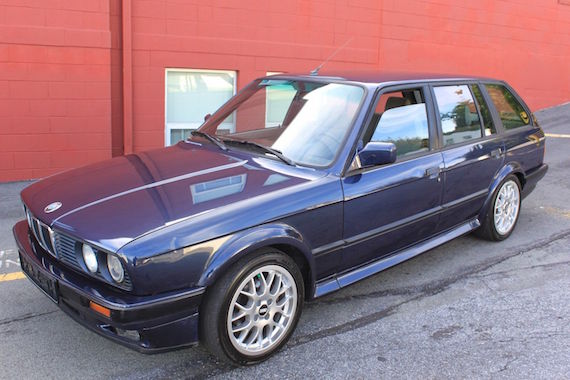 The E30 Touring influx is reaching critical mass, and where they used to come up once every few months, they are available in various levels of trim on eBay and craigslist around the country. The black on black one we recently featured was very tempting, but pretty spendy. Today's receives negative points for the automatic transmission, but overall is looking outstanding in Royal Blue and some shiny BBS wheels. 167k miles is nothing to sneeze at, but the bids are starting much lower than the black edition's $12,500 asking price. If you're third pedal-averse but live in an area with actual seasons, this is the E30 touring for you!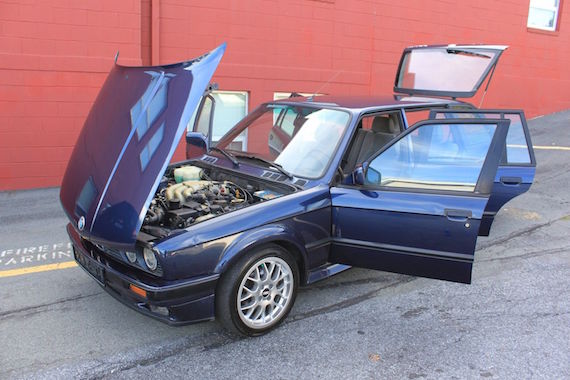 Year: 1988
Model: 325ix Touring
Engine: 2.5 liter inline-6
Transmission: 4-speed automatic
Mileage: 167,000 mi
Price: Reserve auction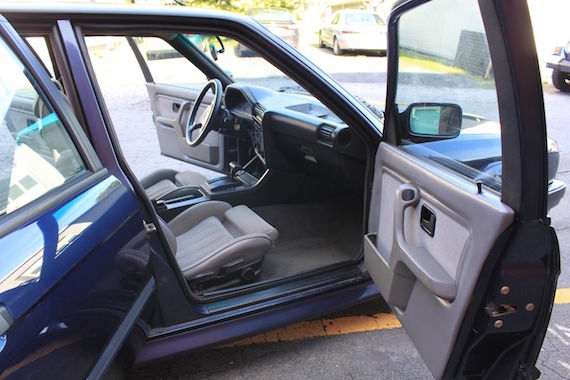 This hard-to-find Royalblau 325ix wagon spent most of its life as summer car for a family in Switzerland. It runs and drives excellent, and the automatic transmission shifts smooth through all gears. It has factory A/C (rare for a European touring) that has already been converted to R134a. A full m-tech interior adds to the sporty feel of the car. The stance is nice as well, as it sits on H&R lowering springs and BBS wheels that are in beautiful condition; it definitely attracts a lot of attention. This ix is comfortable and powerful and would make an excellent daily driver. We have taken it on a few recent freeway cruises and the car has performed flawlessly. It has recently had a fresh change of Mobile 1 and has a brand new battery.

I would drive the car anywhere in its current condition, although it does come with the following issues:

wear on the driver's side seat bolster
rusty rear exhaust hanger and catalytic converter heat shield
blemishes on front left fender as well as right rear quarter panel needing paint correction
steering wheel has a creak that we have not taken the time to locate; the rack and ps pump seem to be functioning correctly and there are no leaks, but the noise is abnoxious and needs to be addressed

I have tried to be as thorough as possible with my descriptions of the condition of this car, but you are free to ask questions or better yet, come see and drive this car in person. The car is garaged in Fogelsville, PA and can be seen by appointment.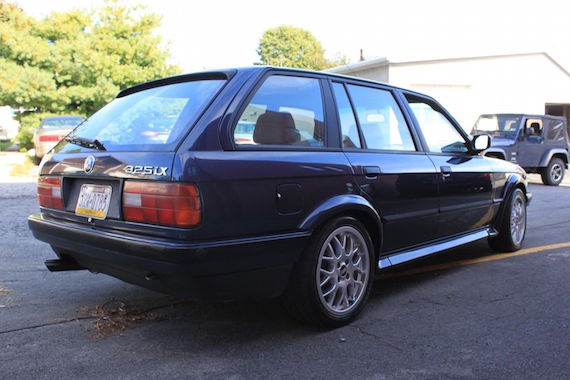 It sounds like it needs a little love, but the E30 Touring game is an exciting one to be in right now. Clearly many people are starting to ship them over, hoping for at least a little bit of a profit. As prices come down and supply goes up, it's a good time to set out the exact spec you want and watch the market for a month or two. Something close to, if not exactly, what you want is probably going to come up, and probably for a decent price. So while this one looks nice on the outside, I'd probably sit tight and wait for the right (read: manual, lower miles) example to surface.
-NR