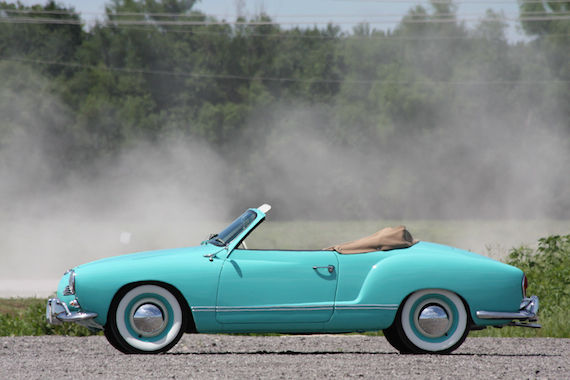 The restored 1964 Volkswagen Karmann Ghia Convertible we featured last month is back up on offer, having failed to meet its reserve last time around.
The below post originally appeared on our site November 24, 2014: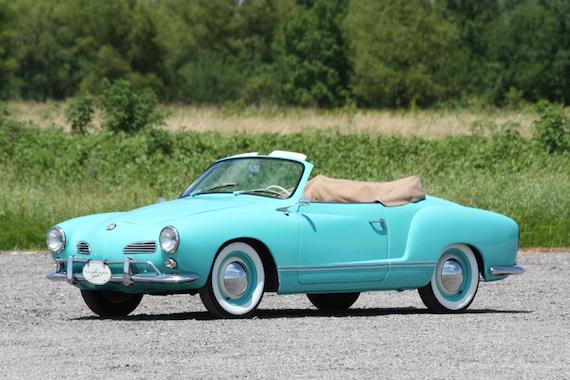 If ever there was a car made for Miami Beach, this Volkswagen Karmann Ghia would fit the bill. It's pastel paintwork just pops and as much as I don't like white wall tires, they compliment the look well. In a sea of drab automotive colors, mint green is a perennial favorite of mine. It makes me yearn for some of the bright colors we would see on 1950s Detroit iron. Sure, it might not seem current to some, but it certainly is interesting. This particular Karmann Ghia has undergone a complete restoration and would prove to be a unique choice to help stand out from the rest of the air-cooled VW crowd.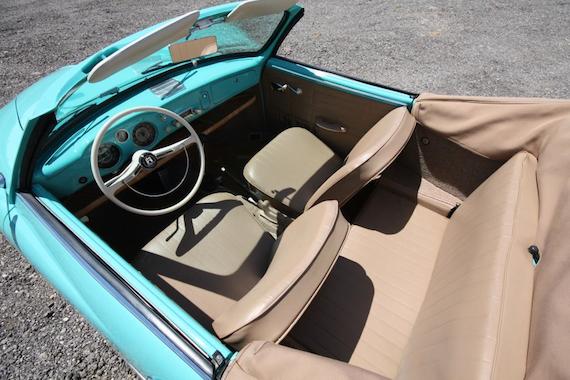 Year: 1964
Model: Karmann Ghia Convertible
Engine: 1.6 liter flat-4
Transmission: 4-speed manual
Mileage: N/A
Price: Reserve auction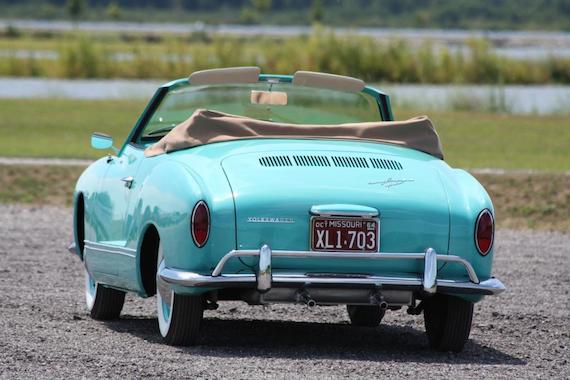 Up for auction is one of the best examples of a Karmann Ghia on the market today! This car is a jaw dropper! There are not many Ghias out there that are restored to the level that this car is. If you ever thought about investing your money in a Karmann Ghia, this one is as safe as an investment as they get. Demand for these cars is steadily growing, and one of this caliber is sure to appreciate in value. This car still retains its originality and integrity, but has alot of mechanical upgrades and modern convenience that make it a joy to drive. It has a very vintage look and feel, yet drives are performs safely and comfortably.

This fantastic 64 convertible belongs to some good friends of mine. I am listing the car for them, so any questions should be directed to Bryan, at 314-422-5098. I don't normally list cars for other people or cars that I do not own, but I have been around this car since it was purchased and through its entire restoration. I am familiar with the car enough that I feel comfortable listing it.

It took years to find the right car to start with. Its hard to find an early Ghia convertible that hasn't been hit, molested, or have rust. This car started as an extremely nice, rust free, original, un-hit, survivor that was garaged its entire life. When you start with a good car, they are that much better in the end. This car was better than most any out there before the restoration. This car was completely disassembled and done right! No corners were cut during this build. This was a 3 year restoration with no expense spared. Countless hours and a lots of money spent getting this car to where you see it today.

The paint and body were professionally done by a restoration expert and look incredible. The car was done using all Dupount material. It has been color sanded and buffed to a mirror finish. The car was completely stripped and repainted, including the jambs, engine compartment, trunk, etc. All the gaps and body lines look great. The doors open and close very nice. The windows go up and down and line up as they should. The fit and finish on the car is very nice. As stated before, this was a rust free car to start with so no rust repair was needed. All German metal!!! Just look at the pics of the nose and spare tire area. Never hit and never any rust!

All the bright work on the car has been restored and shines beautifully. The original bumpers were re-plated where needed. The mirrors, door handles, emblems, etc… have all been either replaced or re-plated. The aluminum parts were straightened and re-polished.

This car doesn't just look gorgeous, it performs too! It was built with function and practicality in mind. This car can be driven anywhere. All the kinks have been worked out and it is ready to be enjoyed. It starts, runs, drives, and stops just as it should. It needs nothing and is ready to bump the key and go. It has been upgraded to 12 volt, which allows for the modern stereo with iPod hookup, phone charger, ect.

The motor is a professionally built 1641 that runs great. Everything is new and was done by a VW expert. The motor retains a stock look and appearance, but has a lot more power and drive-ability. Most of the parts on the motor such as the fan shroud, cylinder tins, air cleaner, etc were stripped and repainted. This is a very smooth running motor with plenty of power to cruise highway speeds.

The interior on the Ghia is also all new. The seats and door panels were refinished in a correct style tan vinyl. New German square weave carpet was added. The steering wheel and horn ring are new. All the trim inside the car was re-polished or replaced. The knobs and switched are new. The top is a new stay-fast canvas and operate as it should. Everything on the car works; speedometer, fuel gauge, horn, wipers, turn signals, headlights, taillights, dash lights, ect.

The car has a rare and valuable AM/FM Sapphire radio, that works! There is also a secondary stereo system that is hidden in the car that plays off your phone or Ipod. There are 4 speakers and an amplifier. It sounds nice and is plenty loud enough to here even on the highway with the top down. A cigarette lighter was added in the glove box to so you can charge your phone on a weekend road trip.

The smoothie wheels were refinished and painted to match the car. A new set of Coker wide whitewall tires were added along with a new set of chrome caps. Even the spare was painted to match. This car was taken to a large national VW event with cars from all over the country, and didn't just win its class, it took Best of Show! It draws a crowd wherever it goes. If you don't like attention, this isn't the car for you.

Overall, this investment grade Ghia is sure to make its new owner proud! This is a car that you can drive, use, and enjoy as it appreciates in value. All the work is done and it's ready for its new owner. You could not duplicate this car for what it can be purchased for. There has been no expense spared on this one.

I have been selling on eBay for 14 years. And have sold many classic cars and trucks with 100% positive feedback. I know what I am looking at and know how to accurately describe them. I have many happy buyers all around the world, and can provide references if needed. For more great classic cars available for purchase, visit www.MainMotorCo.com

Again, this car does not belong to me. I am listing it for a friend, please call Bryan with questions, or to make an offer, at 314-422-5098. This car is advertised locally and the auction can be ended at any time.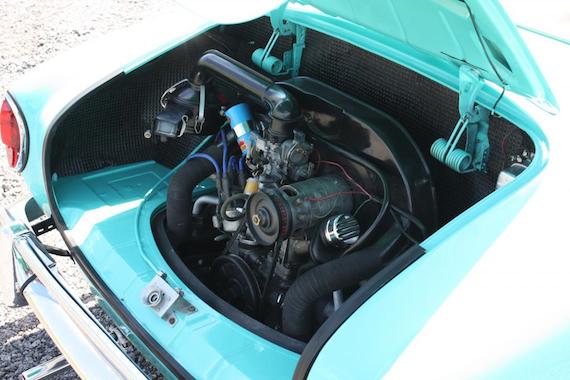 Karmann Ghia Convertibles are one of those silent collectibles. You don't see a lot of them kicking around and just because it's a VW, don't think they will come cheap. Good ones are reaching into the $30,000 range these days and I'd suspect the reserve on this car isn't far off from that figure. This one appears to be a no excuses restoration, however, it baffles me why sellers of restored cars don't add more color on the vehicle's true mileage. It's always good to get information out like that right off the bat. The Karmann Ghia has never been a car that has really captivated me, but this is one example I wouldn't mind calling my own.
-Paul