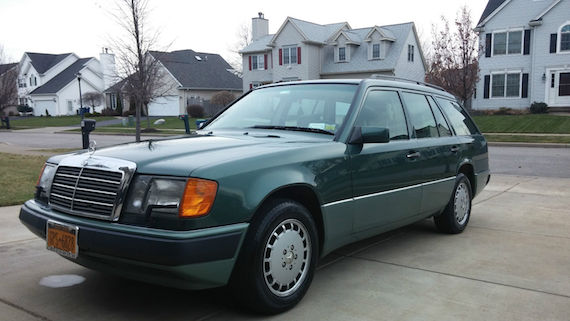 "Old Faithful." A term of endearment bestowed upon the things which are reliable and always there for us. Few things in the automotive realm embody this idea more so than an old Mercedes-Benz. And few Mercedes-Benzes are more recognizable as a dependable motoring companion than the W124 estate. Produced from 1986 through 1995, the US would first be acquainted with the W124 estate in the form of the 300TD in 1987. For 1988, the gasoline inline-6 would be substituted and we would see only petrol variants on these shores until the model's demise in 1995. The following two W124 estates we'll look at today are from around the halfway point of W124 production and have covered similar amounts of mileage. They are in good, if not perfect condition but represent the kind of vehicle for those seeking out not a museum piece, but an honest, serviceable example.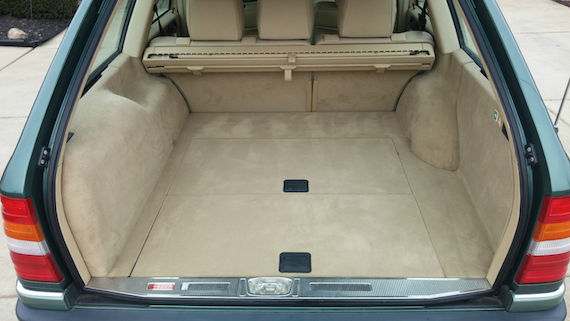 Year: 1993
Model: 300TE
Engine: 3.2 liter inline-6
Transmission: 4-speed automatic
Mileage: 118,776 mi
Price: $6,995 Buy It Now
Collector Owned. Very Clean, Original Well Maintained W124 Wagon. Perceived to be entirely original paint. Spruce Green with Oyster Leather Interior. Heated and Orthopedic Front Seats. Five Passenger (No Rear Facing Jump Seat). Original Owner Through 5/14. Extensive MB Dealer Service History in Maintenance Book. More recent services include New Behr Radiator, New Front Brake Pads and New Front Muffler/Resonator. The Full Owners Manual Packet is present as are multiple sets of Keys. Original, Lightly used Spare Tire. Original Tool Kit & First Aid Kit are present. The Original Cargo Cover and Pet Gate are also present. No Corrosion whatsoever. All equipment and options perform as intended except for the Sunroof and Antenna issues referenced above. Presents itself like a 50K mile car inside and out. For those less familar with this model, 1993 was the first year of the 217HP 3.2L Engine in the non-4Matic models, so this version has the same power plant as the '94 & '95 E320 Wagons. Potentional Candidate for MB Regional & National Shows.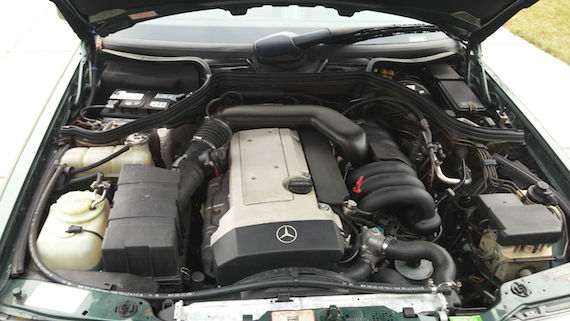 Apart from the sunroof issue, this is a very nice W124. Having been a one-owner car for so long, extensive servicing documentation and the rare orthopedic seat option are nice touches. It is also the model year that had the curious mix of the old style grille and later M104 inline-6. One would need to make sure that the wiring harness was replaced, as a result. The asking price may be a little bit steep, but I don't doubt that in a few years time, an example like this will command this kind of price, if not more.
Next up, we'll take a look at a W124 estate for sale in California, this one having lived out west its whole life and like the 1993 example we just looked at, comes with a stamped service booklet.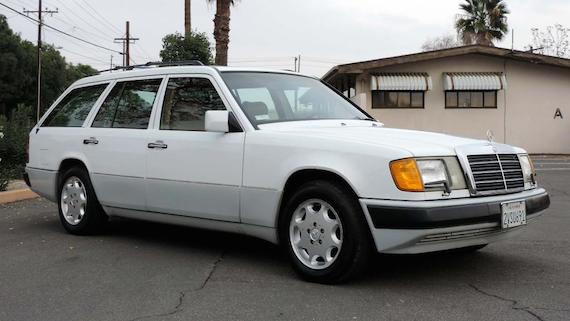 Year: 1991
Model: 300TE
Engine: 3.0 liter inline-6
Transmission: 4-speed automatic
Mileage: 127,970 mi
Price: No reserve auction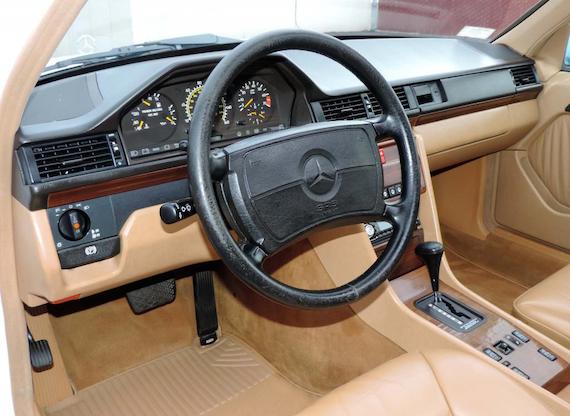 Up for NO RESRVE is this gorgeous ONE OWNER 1991 Mercedes Benz 300 TE. The car is absolutely stunning inside and out and has been garage kept/carefully driven in California since new.

-Comes with all books

-Original window sticker

-Stamped maintenance booklet

She has always been properly maintained and always serviced on time. The engine runs extremely well without any leaks, smoke, overheating or strange noises. The acceleration is superb and extremely powerful. The transmission shifts right on time through all the gears as smooth as a Rolex. Everything is in tip top condition and their are no issues. The brakes, steering and suspension are all in A+ condition. All mechanical, electrical and climate control systems are in tip top shape. The air condition blows strong ice cold air.

The power windows work flawlessly as doe the sunroof and all interior and exterior lighting. Cosmetically the car is absolutely stunning! The body, chassis and frame are 100% rust free. The car is 100% original inside and out. The factory coat of paint is in near mint condition. The car has never been in any accidents or had any mishaps. Minimal nicks, chips, dings, etc. The overall appearance is outstanding! This is a Car fax/Auto check certified ONE OWNER vehicle. Average Auto check score is (15-36) This car received an incredible score of 71.

The interior looks virtually new and shows no significant wear anywhere whatsoever. Impressive!!!!! This special wagon is an absolute gem in every way and should provide the new owner with years of driving enjoyment. Do not miss out on this cream puff, you would be hard pressed to find another one in such wonderful condition.

This vehicle is also available for sale locally and is subject to removal from the auction at anytime should it be sold. If you have any questions call Evan at 310-594-4224 or email. Shipping can be arranged worldwide. Thanks for looking!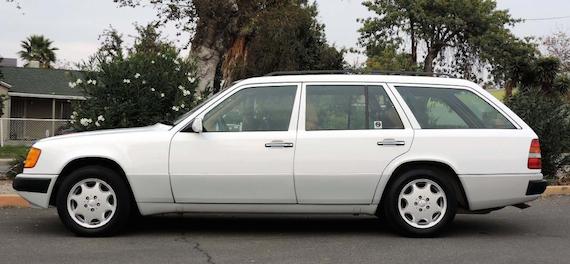 When it comes to choosing a favorite between the two, this is a tough decision for me. I'd probably opt for the 1991 example, due to a few factors. First, the color combination is a bit less dated, although I'd prefer a black interior over the palomino we see here. Second, it has been a California car all its life. Third, it appears to have a few less issues with it than the 1993 example. Either of these two W124 estates would be a solid bet, though. Much in the same form as the W123 estate that preceded it, the W124 is a car that is known for having a timeless quality about it and standing up to the rigors of the miles their owners like to pile on.
-Paul