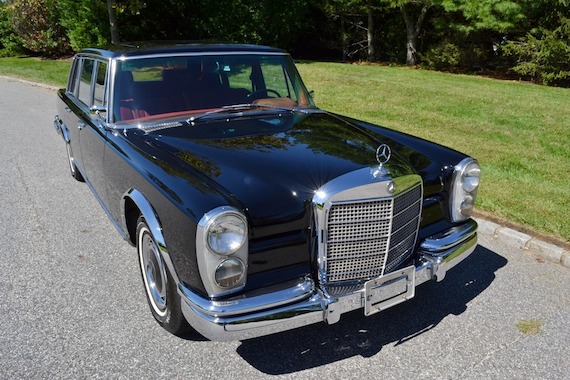 If you think back over the last century, what are some of the greatest cars to have ever roamed the streets? Sure, vehicles such as the original Volkswagen Beetle, Porsche 911 and Alfa Romeo Spider come to mind, but all of these cars had a multitude of variations and generations that it is hard to point to one single model of each that you would classify as significant. If I had to pick one single model that moved the chains, it's this car: the Mercedes 600. While there were short and long wheelbase versions and an open roofed Landaulet version on offer, the 600 was relatively unchanged over its 18 year production cycle.
In that time, this became the de facto car for celebrities, heads of state and executives that wanted the most advanced, luxurious car money could buy. Advanced it was for its 1963 introduction, with a fuel-injected V8, hydraulic actuation for everything from the seats to the trunk lid and a host of other options available which would allow owners to customize their chariots to their every want and need. This restored 600 short wheelbase model for sale in New York allows the discerning collector to strike a decided chairman of the board pose.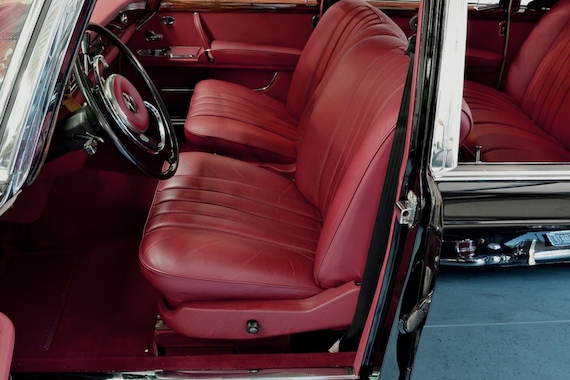 Year: 1965
Model: 600 SWB
Engine: 6.3 liter V8
Transmission: 4-speed automatic
Mileage: 31,173 mi
Price: $215,000 Buy It Now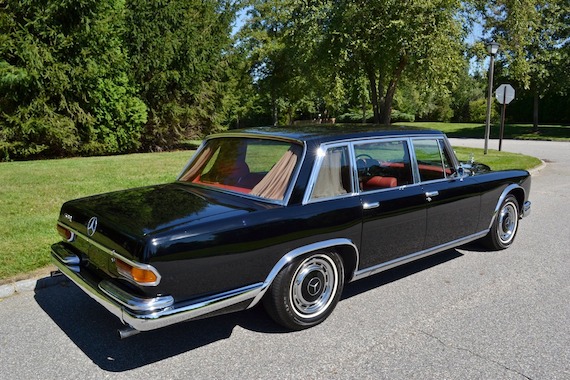 This is a 1965 Mercedes 600 SWB in stunning restored condition. This car, VIN# 100012-12-000312, is an original #040 Black car and has been extensively restored by Classic Car Restoration LLC of Wausau, WI, perhaps the leading restorers of 600's in the country. This car was repainted in its original Glasurit Black ( #040) and the finish is stunning. In addition the following work was performed:

full engine rebuild
full transmission rebuild
full rebuild of front and rear axle and brake system
new red leather interior and refinished Makassar wood
all hydraulic switches serviced and replaced as necessary
re chromed front and rear bumpers
all rebuilt air suspension components
and much more.

This is a unique opportunity to own a highly restored Mercedes 600. For more details call 631-283-8819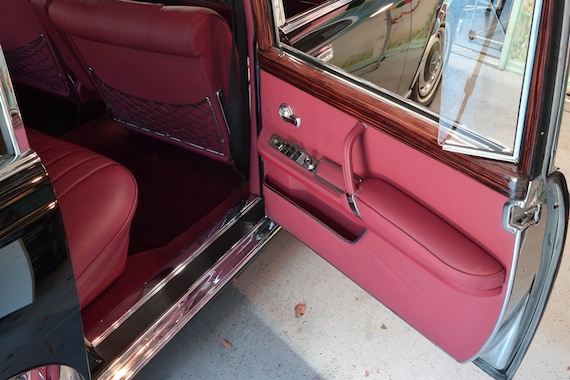 There are few other color combinations I enjoy more than this one on the 600. The red interior just looks lush and sets off well against the classic black paintwork, a color that lends itself well to pretty much any large Mercedes sedan. So the big question is whether the $200k plus asking price is worth it? Most well to do consumers eyeing the new S class or one of the very last Maybachs to be produced won't be cross shopping a vintage machine like this. But if you must have one of the biggest crowning achievements of Mercedes-Benz this side of the 300SL and Silver Arrows, there are few better examples than the Grösser Mercedes.
-Paul