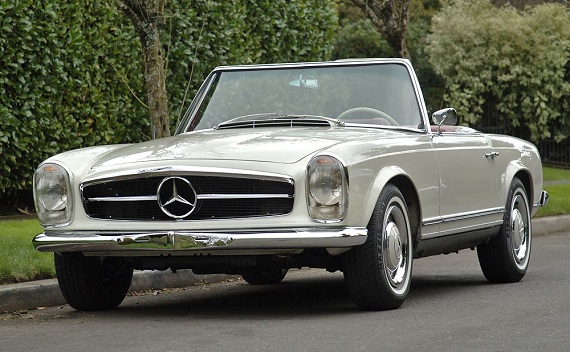 If the 911 and M3 are the recent market darlings, the dark horse in the European market has continued to be the W113 Mercedes-Benz SL. Dubbed the "Pagoda" in reference to its recessed roof, the 230, 250 and 280 aren't great sports cars and aren't even particularly light; however, they do perfectly represent the ethos of the "SL". A personal luxury roadster, they've got muscular yet sensuous looks with flowing fenders and a subtle bulge in the hood. The wide and low stance with simple single bar grill and elongated headlights echoed the 300SL in all the right ways. With just the right amount of chrome, color-keyed (or alternating) wheel covers and beautiful fit and finish, these middle generation SLs have steadily increased in value over the past few decades.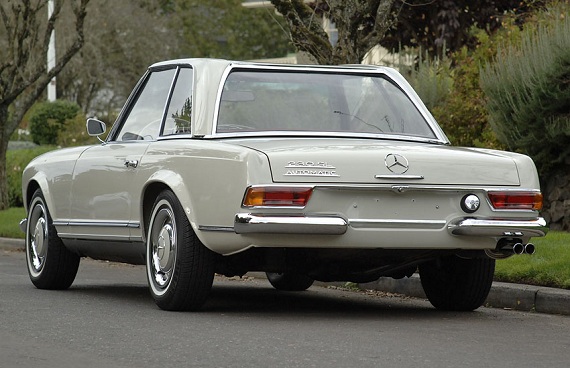 Year: 1966
Model: 230SL
Engine: 2.3 liter inline-6
Transmission: 3-speed automatic
Mileage: 56,801 mi
Price: Reserve Auction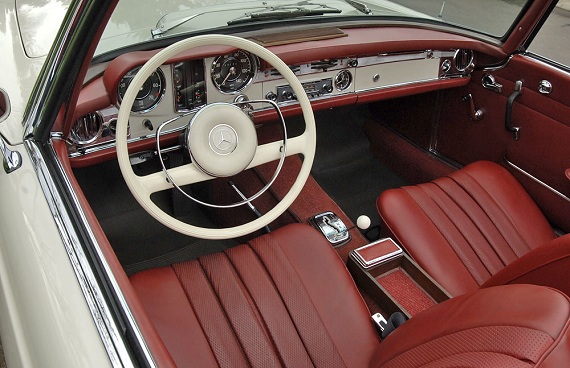 Here up for bids is this show stopping Mercedes 230SL. This is a European market example, it spent its first 2 years in the Netherlands before coming to the US in 1968 where it has resided in Phoenix Arizona ever since (46 years). The car has service records dating back to 1977 and has recently benefitted from a comprehensive mechanical and cosmetic freshening on an otherwise very original example. The car is incredibly well preserved and retains all of the important details that separate the truly exceptional Pagodas from the rest.

Click to enlarge any of the photos below, a link to a slideshow of all the enlarged images is available to view at the bottom of the page.

The car has had one repaint in its original color of WeissGrau (White-Grey), code DB518. The paint and prep were of very high quality, it was a complete glass-out, trim-off job, you'll find no overspray anywhere on the car and of course zero rust. The wheels were also refinished and have OE factory correct trim rings in perfect condition.

The paint finish is beautiful; it's a mile deep and smooth as glass, true show quality paint. The body is laser straight with perfect panel fit, no dings, no scratches, no dissapointments.
Both bumpers have been rechromed and are flawless. All of the car's trim work is excellent, showing no pitting or tarnishing, just a very strong presentation everywhere you look.

All of the glass is in excellent condition. Both fenders show factory correct notches, their authenticity is confirmed by the rows of fender spot welds inside the engine bay.

Grill, surround, wings, barrel and star are all incredible – no damage, no scratches, no fading – they all look showroom new.

Correct early style taill lights with rare Euro-spec amber corner lenses. This style was only used on cars made for the Italian, Australian and Netherlands markets. Very rare pieces, both sides are in like-new condition.
Complimenting the tail lights are the Bosch Euro-style headlights assemblies, in my opinion the perfect look for a Pagoda.

The soft top is a high quality GAHH replacement, the fit and finish is first rate. New perimeter weatherstripping has also been installed around the soft top storage compartment.

The hardtop is in excellent original condition with good weatherstripping and glass. Additionally, the door window glass on each side are original Sekurit pieces in great shape. The hardtop fit is just as precise as the soft top and the door glass closes perfectly to each with good weatherstrip contact.

Nice headliner, the rear wood trim is beautifully preserved. Some W113 hardtops can begin to rust from underneath, not the case here. The hardtop transforms this car into an airtight coupe for year-round use.

Exemplary original trunk floor with no rust issues. The car comes with the factory jacking equipment set and tool kit. Spare tire is unused.

Very original interior with correct square weave carpet and rubber floor mats.

Excellent door panels and hardware. Both inner and outer aluminum sill plates are in fantastic condition with no scuffs or dents. Doors close precisely, windows wind smoothly. Every piece of weatherstripping on the car was replaced when it was repainted.

The car was ordered with the rare Kinder Seat option, it's just one of the many details that sets this car apart.

The ivory steering wheel is in like new condition with zero flaws. The dash is crisp and clean with outstanding original wood. The factory wood was intended to have a satin finish, it's common to see high gloss replacements and while those look nice, these walnut pieces are the last word on originality.

Lights, signals, horn, wipers, etc all function correctly. All gauges are working and show good readings. The clock works and keeps good time. The heater and ventilation levers all move freely, these colored levers were phased out with the 250. The Europa TR radio works perfectly and has good sound. The 230's have a slightly different dash design which will only accept specific sized radios. Having an original Becker TR that works is like icing on the cake.

Very nice factory floor mats with no cracks or worn out areas. Underdash panel boards are all present. Original tool kit is included as well as the factory manuals, data card and full folder of receipts.

This SL runs and drives beautifully. The car starts immediately, runs cool, shifts perfectly, brakes and handles like new. 800 miles ago the engine had a new head gasket and piston rings installed, follow-up service was done 80 miles ago with a valve adjustment and head retorquing. The car has also had comprehensive work done on the cooling systems, brakes, fuel systems, exhaust and all new hoses and belts – a total of over $17,000 in receipts over the last 700 miles, not including the paintwork! This car is dialed in and ready for driving enjoyment.

Seams, spotwelds and hardware are all factory original. The hood's originality is confirmed by the body number stamp. This number is also found on the soft top compartment cover, hardtop base and transmission support plate. The engine is matching numbers per the data card.

Clean and solid undercarriage with zero rust issues and no signs of accident damage. This is the way you want a W113 undercarriage to look. Another thing to check for is the fidelity of the screws at the front and rear of the rocker panels, perfect in all 4 places on this car.

Original factory inspection paint marks complimented by recently updated items such as brake calipers, fuel pump and a genuine Mercedes branded exhaust.

Click here for a slideshow of all of the enlarged images.

About the reserve price:
Out of fairness to all bidders, the reserve is held in confidence, please just bid at the level that you are comfortable paying. This auction ends Monday November 3rd, at 9AM Pacific Time , 11 AM Central , 12 Noon Eastern, 4 PM GMT .

About Payment:
I will contact the winning bidder via email within 3 hours of auction completion. I would like a $500 deposit via paypal within 24 hours. Balance is due (bank check or bank wire transfer only) within 7 calendar days of auction end. The car will be securely garaged until pickup.

About this auction:
This auction process is a legally binding contract into which you enter when you click "confirm" on your bid. Please have finances in order before you decide to bid and please ask all questions before you decide to bid. Basically, please only bid if you are ready to purchase this car. Car is sold as-is with no warranties express or implied. Due to the car's age it is sold mileage exempt. Any disputes regarding the sale of this vehicle shall be resolved through binding arbitration exclusively in Multnomah County, Oregon under applicable state laws. By bidding you agree to these terms.

About me:
Please check my feedback, I take customer satisfaction very seriously and am a licensed, bonded and insured dealer in the State of Oregon. The car has a clean and clear title.

You and/or your representative are welcome and encouraged to inspect the car in person before the close of auction. I can be reached at 503-891-7702 between the hours of 9-5. Previously sold inventory is available to view at www.cascadiaclassic.com

Post Auction details:
The transport cost is the responsiblity of the winning bidder, although I'll be happy to help with logistics. I have a wholesale account with a shipping dispatch service and can help you find a reasonable rate.

Overseas bidders may contact any of these international shippers for a quote:
Schumacher Cargo
CFR / Rinkens
California Shipping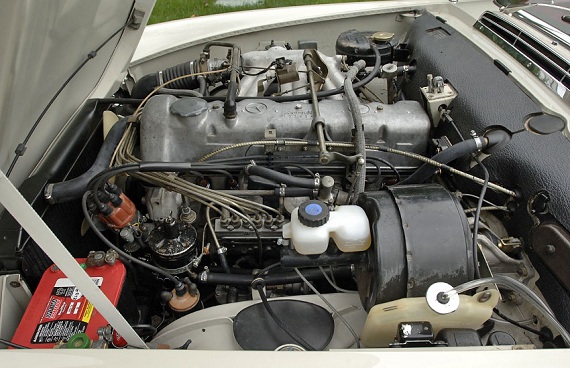 With a full mechanical and cosmetic overhaul recently, this car is certainly in top condition. Couple that with the European model which gives you the better full-panel glass headlights along with the smaller bumpers and this is one seriously good looking example. I grew up with a later 280SL 4-speed in family, and it's amazing how the subtle changes such as the wheels from the early to late models make the 230 look more delicate and elegant than the later 250 and 280s. This color – White-Grey Metallic – is particularly fetching on the W113 and is set off well by the burgundy interior. The automatic is a bit of a downer, but honestly this is a cruiser and show car. As a show car, you wouldn't be surprised to hear that top value on these cars is hovering right around $100,000 right now; this example will probably fall a bit short of that but it's no surprise that for such a lovely example bidding is beyond $60,000 with the reserve still on. With clean R107s also heading upwards rapidly, it's doubtful we'll ever see these example be particularly "affordable" again – but boy, are they pretty to look at.
Thanks to our reader John for sending this in!
-Carter