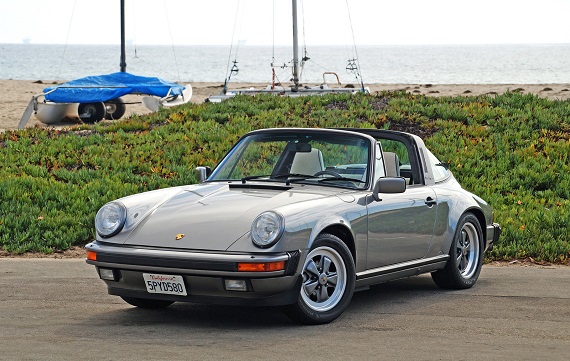 I always wonder about the Targa. I have a sense of why it was never as successful as its Coupe and Cabriolet counterparts, yet I still consider it an interesting design and strictly on appearance I find it quite a bit more appealing than the Cabriolet. The full open-top motoring experience of the Cabriolet obviously provides something the Targa cannot. At the same time it does provide a compromise experience between the other two models. Perhaps there simply are not enough buyers interested in that compromise, though Porsche's reintroduction of the model, after a few failed attempts at modifying the concept beginning with the 993, suggest some demand remains. For me though, the best looking of the Targa models came as the 3.2 Carrera. All of the proportions seem correct and in certain shades, like this Stone Grey Metallic 1988 Porsche 911 Carrera Targa, the lines are, dare I say, striking.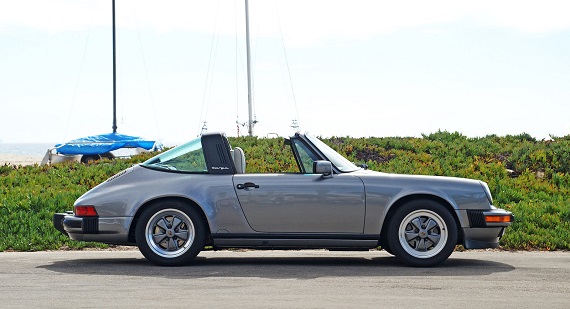 Year: 1988
Model: 911 Carrera Targa
Engine: 3.2 liter flat-6
Transmission: 5-speed manual
Mileage: 54,189 mi
Price: Reserve auction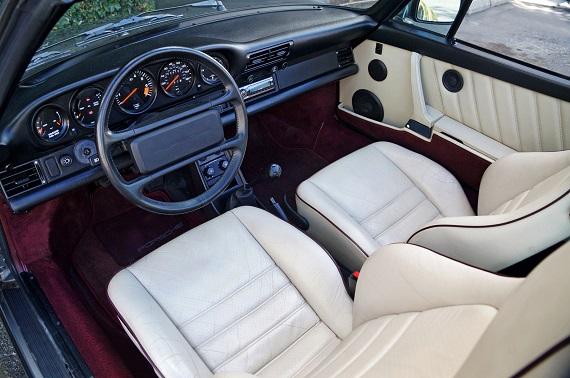 Offered for sale is a stunning, very original, uniquely optioned and well-maintained 1988 Porsche 911 Targa with only 54k documented original miles from new. Finished in exceptionally rare, special-order Stone Grey Metallic over special order Linen leather with Dark Red piping and Dark Red carpeting, the car is as mechanically sound as it is beautiful, a rare original example that comes with a thick stack of service records, as well as books and manuals (including the stamped service booklet). Whether you're in the market as a seasoned Porsche collector or just as a weekend enthusiast, this exceptional 3.2L G50 transmission example is absolutely worthy of your consideration.

Delivered new to its first owner by the Porsche dealership in Grand Junction, CO, the car remained with him for 16 years and 41k miles, until 2004, when he traded it in to Tru-Speed Motorcars, a well known air-cooled Porsche specialist in Orange County, CA. A few weeks later the car was sold to its second owner, who would put very few miles on it during his five year of ownership before trading it in on a new 911 at his local San Francisco area Porsche Dealership in 2009. At that point it was promptly sold to the third owner from Los Gatos, CA, and we acquired the car from him earlier this year. The stamped service booklet and a stack of service receipts document the original 54k miles and consistent and correct maintenance at the dealership and qualified independent Porsche specialists.

The car's finish is exemplary, consistently deep and lustrous and marred only by the most negligible of imperfections (a few professionally touched-up rock chips and the like), none of which detract from the car's considerable appeal. There's no evidence of accident repairs and we believe that car wears its original finish, bolstered by the fact that all of the documentable panels (doors, hood, bonnet) retain their original chassis no. stickers. The body is entirely straight and free of dents, with factory consistent panel fits and gaps throughout. All of the glass and rubber is in excellent condition, the targa top shows virtually no wear whatsoever, and neither do any of the color-matched Fuchs wheels, which are wrapped in hardly used Michelin tires. The car's undercarriage is completely rust-free, original and untouched, showing only road dust consistent with 54k miles of well-cared-for use. Lastly, the Targa top is in gorgeous condition, having been professionally reupholstered using all of the correct materials.

The car's interior is equally as clean, the special order Linen leather seats with dark red piping showing only nominal wear. The same can said of the rare and beautifully offsetting dark red carpets and linen leather interior panels, including the door pockets which retain their shape. The dash is free of cracks or warping and it houses an excellent Alpine sound system, although a Porsche dash unit does accompany the car. Everything works, including the air conditioning unit, which was upgraded and overhauled roughly 10k miles ago, allowing for the AC to blow cold – somewhat of a rarity on 80's 911s. The car is also extremely well optioned, including the following:

Code Option Description
018 Sport Steering Wheel with Elevated Hub
139 Seat Heating – Left
158 Blaupunkt Radio
220 Locking Differential
286 High Intensity Windscreen Washer
288 Headlight Washer
340 Seat Heating – Right
383 Sport Seat – Left
387 Sport Seat – Right
395 Light Metal Wheels – Forged
425 Rear Wiper
454 Automatic Speed Control
474 Sport Shock Absorbers (Bilsteins)
533 Alarm System
975 Velour Carpet in Luggage Compartment
C02 Equipped with Catalytic Converter

The car is also mechanically excellent, which isn't surprising considering the amount and quality of care and maintenance the car has always received. The bulletproof 3.2L engine fires up without any smoke or hesitation, pulling strongly and smoothly through each of the desirable G50 transmission's gears. Compression is excellent, as is oil pressure, and it's easy to understand why this era of 911s is one of the most desirable: it beautifully melds efficiency, reliability and everyday ride quality with a truly visceral, vintage driving feel that is sure to provide anyone behind the wheel a wonderfully grin-inducing experience.

If you're in the market for a late '80s G50 transmission 911, there are very few examples that can best this exceptional 911. It checks all the right boxes: excellent provenance and originality, only 54k documentable miles, rare and desirable livery, exceptional cosmetics and strong, well-maintained mechanicals. Service records, the stamped service booklet and a clean CARFAX report all confirm as much and the car comes with its original owners manual, factory toolkit, space-saver spare tire, compressor, etc. etc. With the market reflecting continued and rapid appreciation, this is arguably one of the best examples of one of Porsche's best creations. Please bid accordingly and feel free to contact us to discuss the car further.

We want this car to go to great home and would be happy to answer any questions, so please feel free to email us or call us at 805-202-4557. You can also visit us online at GoodmanReed.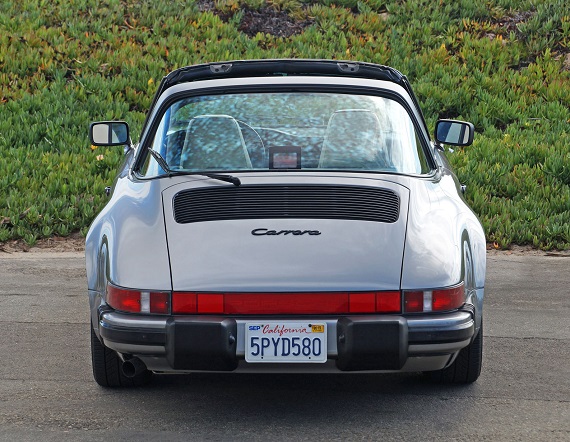 This is one of the better looking Targas I can recall coming across. There is something about this exterior color that works really well with the Targa's lines, seeming to both contrast and blend at the same time while also enhancing the overall airiness of the Targa's cabin. It's a really nice look! The interior, on the other hand, I'm not sold on. Even though this certainly is a more interesting combination I can't help but think that it would look fantastic in all black, providing both a contrast and a simplicity to complement the exterior color. Oh well. Bidding here remains fairly reasonable at $27,100, with reserve unmet, but I expect that to climb quite a bit prior to auction's end. The Targa tends to be the least valuable variant of the 911, which for buyers who enjoy the design certainly provides for additional opportunities to get into an air-cooled 911 for a little less money.
-Rob