If someone told me that I could have any car made in the last 30 years in factory fresh condition, a W124 Mercedes-Benz would be high on my list. When I was younger, my father had a 1992 400E and I remember the car fondly. Not only was it built like a bank vault, but this was the first year for the 4.2 liter V8. The car was quite the Q-ship and spanked quite a few people off the line at lights. While it wasn't the bahn stormer 500E/E500, the 400E proved to be a very capable cruiser. I might have made a few modifications, however, and those would have included wider tires to help put the power down a bit better along with uprated brakes.
Another W124 favorite of mine was the coupe. Sold in small numbers from 1988 through 1995, these were offered in the US solely with inline six cylinder power. With Mercedes' classic pillarless coupe design, these were a go to car for those who wanted personal luxury that was a bit more subdued than what BMW or Porsche had on offer at the time. This E320 Coupe for sale in Massachusetts has a tick over 18,000 miles on the clock and does its best to blend in with the Smoke Silver paintwork.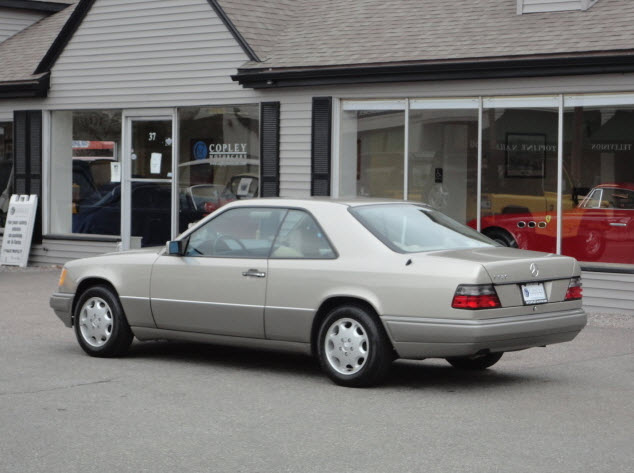 1994 Mercedes Benz 124 chassis E320 coupe, 702 Smoke Silver with cream beige leather upholstery, only 18,500 miles, 3.2 litre 217hp in-line 6 cylinder engine, automatic transmission, anti-lock brakes, climate control, "all" power convenience options, factory sunroof, optional ASR traction control, heated front seats, original Becker radio, original owner's manuals and spare keys, one of 825 E320 coupes imported in 1994. Nationwide and international delivery arranged from our suburban Boston showroom. We reserve the right to end the auction early if the reserve has not been met.
This car is being offered by a prominent classic car dealer outside of Boston that I am familiar with. It has been for sale for a few months and the price was recently been dropped by over $6,000. In fact, they have two other low mileage W124s for sale, a 1995 E420 and a 1995 E320 estate. Both were reduced in price as well. While all three of these W124s are fantastic machines, I probably wouldn't spend over $15,000 for any of them, even if they are as close to new as you can get. Chalk it up to market reality and the fact that I don't have money to burn.
-Paul