Volkswagen specials are nothing new; cheap, reliable and easy to obtain parts, the basic construction of the original Beetle has been the basis for numerous custom hot rods and replicas. One of the more interesting, though, didn't come from Germany at all. Built from the remnants of the DKW-Vemag custom business in Brazil of making modified DKWs, Puma was launched in 1967 now with Volkswagen underpinnings instead of the now Volkswagen subsidiary DKW. The look of the new coupe – dubbed the 1600 GTE – was reportedly based upon the Lamborghini Miura, though hints of other Italian exotics certainly show through. Still, as with most of these customs, finding a nice one you'd actually drive it pretty unlikely. But the seller of this custom custom went to great lengths to mimic Ferrari inspiration, and I have to say the results are impressive:
Year: 1967
Model: Puma GTE
Engine: 2.2 liter flat-4
Transmission: 5-speed manual
Mileage: "5" mi
Price: Reserve Auction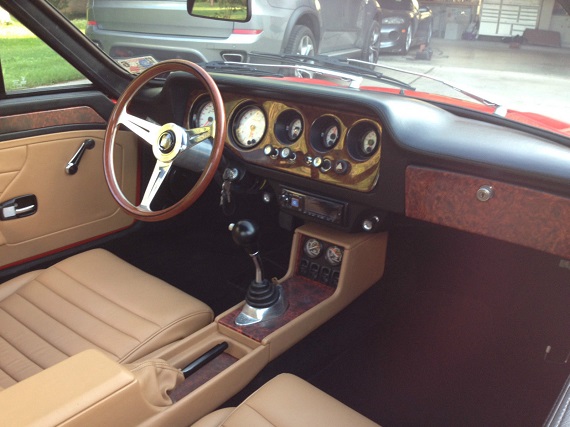 Featured is a 1967 Puma GTE that has just been completely restored. It started off as a low-mileage example with a rust-free pan which was then coated in POR-15 to ensure years of worry-free maintenance. The body was meticulously honed and repainted in PPG Ferrari Corsa Rosa Red & Nero black paint and hand polished to a mirror finish.

All of the electrics were by replaced by a modern Painless Wiring harness which feature modern fuses and expandable ports. The interior and engine bay were coated in Lizard Skin sound deadening & heat shield to reduce engine and road noise/heat. The interior features Porsche 356 reproduction seat frames, a one-off center console, Alpine head unit featuring Bluetooth and USA capabilities, 8" sub, mids & highs. The Door panels, carpet and rear component panels were hand-built by Sculpt Garage and emulate a vintage Italian flare which compliments the body lines of this car very well.

The stock wheels were replaced with 15" Dayton Triple Cross Wire Wheel (spline mounted, not lug nuts) and mounted with Toyo Proxy 888 tires (including spare). The torsion bar suspension was replaced with an Airkewld suspension featuring two tanks, pump, and cockpit controls for on-the-road adjustment as needed. A 2270cc Type IV (185 hp), built by by Jake Raby (Massive Type IV) was mated to a 5-speed, Custom transaxle to provide this light-weight racer some thoroughbred performance. Also featured are custom engine tins & and auxiliary oil cooler to ensure that this powerful motor will run cool on the hottest of summer days.

A A-1 Sidewinder stainless exhaust with purpose-built exhaust tips were fabricated to make sure that the engine did not have any restrictions on breathing. To feedback information to the driver, Speedhut Revolution Gauges including a GPS speedometer, fuel gauge, tach, oil pressure, oil temp and amp meter were installed.

We also ceramic coated the Gas tank and retro-fitted it with a larger fuel supply line to feed the new electric fuel pump. The fuel delivery system includes two fuel filters, fuel pressure gauge and braided steel fuel lines for both reliability and presentation.

All rubber components and bushings were replaced with new units for years of worry-free driving. No expenses were spared on this and and it would take every penny of $90,000 to reproduce. The car currently has less and 10 miles on it since restoration. Additionally, there are loads of spare that come with the car, including many hard-to-find items specific to the Puma. Interestingly enough, it is easy to maintain since the mechanicals of this car are readily available here in the States. For more information, visit w-w-w[dot]pumagte[dot]c-o-m or send me a question. I will more than happy to answer any questions.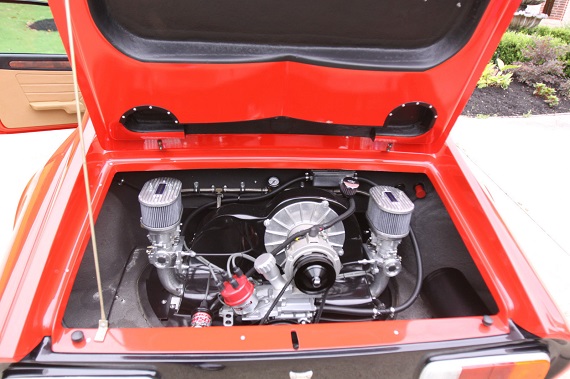 Fully updated and uprated, this Puma is probably the best example I've ever seen, and certainly is the best looking. The Dayton wire wheels, while perhaps unusual, manage to channel some early Ferrari designs pretty well and seem to integrate into the design better than expected. Body fit and finish appear to be far above average, as does the interior and engine bay. With sorted electronics, and updated 5-speed transmission and a reported 185 horsepower on tap, this light coupe should be the spiritual match for the Ferrari Dino which the design is reminiscent of. Despite that, the price – even at the quoted $90,000 invested – is substantially below the price of a decent market Dino. For someone looking for a bit of Italian design with more affordable running gear, this Puma is a neat offering on the market and could be a real steal if the reserve isn't too high. While typically Volkswagen-based customs look like a 5 year old styled (and built) them, this is one serious exception to the rule.
-Carter