I know when designers sit down with engineers and discuss (or fight) over a new model and how it will work, they really want to end up with the best possible product. Sometimes it ends poorly, sometimes it's just okay, and sometimes they hit a home run. With the Mercedes-Benz Pagoda, these cheeky German knew they hit it out of the park. Actually maybe it was a "Tor!" since Germans don't really play baseball. Either way, over 50 years later these things still turns heads. I know I badly desire one, and examples like today's might just keep that dream alive.
This 1968 up for sale in California is finished in a lovely shade of blue over a tan interior. The condition seems about average, but the price seems awfully reasonable given the top of the food range 280 can bring six-figures for the really nice ones. I think I know why.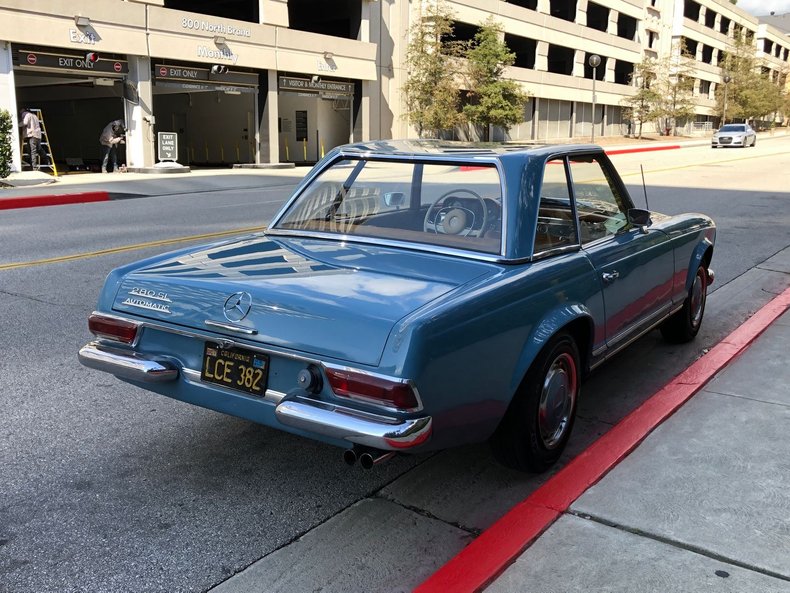 Year: 1968
Model: 280SL
VIN: 113044120xxxxx
Engine: 2.8 liter inline-6
Transmission: 4-speed automatic
Mileage: 52,000 mi
Location: Glendale, California
Price: $47,999 Buy It Now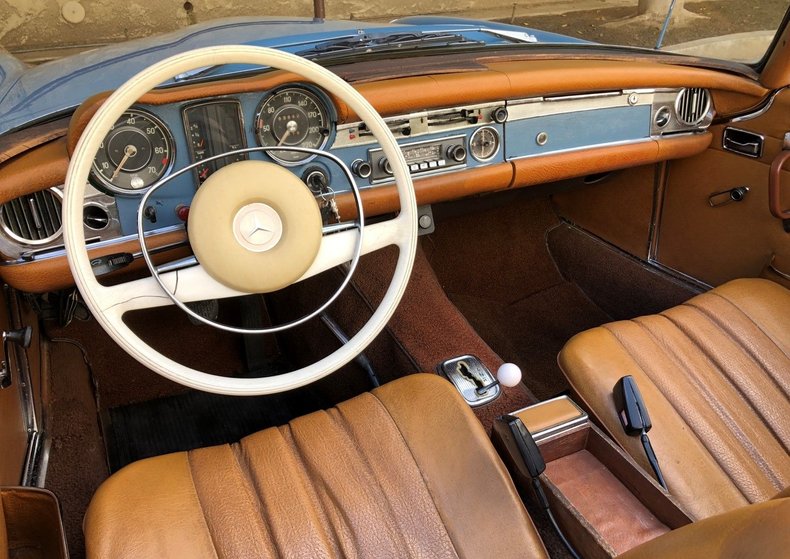 I am a private collector and one of the largest classic car wholesalers in the country with an endless passion for classic cars and trucks. Some of our vehicles located in California have been rented out to movies, commercials, photoshoots and parties. We carry a large selection of makes and models that includes everything from rare European and Japanese classics all the way American Classics, Mopars and Pickup Trucks.

Are you a classic car connoisseur looking for classic/vintage vehicles without having to pay luxury prices? If so, you are in the right place! I know that magic feeling when the right quality meets the right price.

View our collection where you will find vehicles starting from projects to fully restored concours condition cars and trucks.

We update our collection very often and right now we are liquidating some of our collection with the lowest prices out there to make room for new arrivals. We sell nationwide and worldwide and have vehicles all over the country that are 100% owned by us with clean titles in hand.
We sell worldwide and can help with nationwide and international shipping!
CALL OR TEXT 747 600-2212 TOM

1968 MERCEDES-BENZ 280SL

The Mercedes-Benz SL-Class is a grand touring car manufactured by Mercedes since 1954. The designation SL derives from the German Sportlich-Leicht, (English: Sport Lightweight). The original idea was suggested by American importer Max Hoffman, who perceived a market for a toned-down Gran Prix car tailored to affluent performance enthusiasts in the booming post-war American market, which remains the primary market for the vehicles.
W113 (19631971)
The W 113 SL was developed under the auspices of Mercedes-Benz Technical Director Fritz Nallinger, Chief Engineer Rudolf Uhlenhaut and Head of Styling Friedrich Geiger. The lead designers were Paul Bracq and Bla Barnyi, who created its patented, slightly concave hardtop, which inspired the "Pagoda" nickname.
All models were equipped with an inline-six cylinder engine with multi-port fuel injection. The bonnet, trunk lid, door skins and tonneau cover were made of aluminum to reduce weight. The comparatively short and wide chassis, combined with an excellent suspension, powerful brakes and radial tires gave the W 113 superb handling for its time. The styling of the front, with its characteristic upright Bosch "fishbowl" headlights and simple chrome grille, dominated by the large three-pointed star in the nose panel, paid homage to the 300 SL roadster.
280 SL (19671971)
The 280 SL was introduced in December 1967 and continued in production through 23 February 1971, when the W 113 was replaced by its successor, the entirely new and substantially heavier R107 350 SL. Over the years, the W 113 evolved from a sports car into a comfortable grand tourer, and US models were by then usually equipped with the 4-speed automatic transmission and air conditioning. Manual transmission models came with the standard 4-speed or the optional ZF 5-speed, which was ordered only 882 times and thus is a highly sought-after original option today. In Europe, manual transmissions without air conditioning were still the predominant choice. Of the 23,885 280 SLs produced, more than half were sold in the US.

1968 MERCEDES-BENZ 280SL

CLEAN AND CLEAR TITLE IN HAND
THIS MERCEDES-BENZ 280SL HAS 83,842 KM/ 52,000 MILES
THIS IS A HIGHLY COLLECTIBLE BENZ THAT HAS BEEN WITH THE SAME OWNER FOR MANY YEARS
NICE COLOR COMBINATION OF HORIZON BLUE WITH TAN INTERIOR
FACTORY 6 CYL. ENGINE WITH AUTOMATIC TRANSMISSION
POWER FRONT DISC BRAKES
POWER STEERING
SOLID BODY AND UNDERCARRIAGE
GREAT DRIVER QUALITY PAINT, CHROME, INTERIOR
GAUGES, RADIO, WIPERS, HEATER ALL WORK
WELL MAINTAINED, GARAGE KEPT

THIS 1968 MERCEDES-BENZ 280SL RUNS, DRIVES GREAT AND SHIFTS SMOOTHLY THROUGH ALL THE GEARS
THIS IS YOUR CHANCE TO OWN THIS GREAT CLASSIC!

Most classic cars we consider as projects because of the age and wear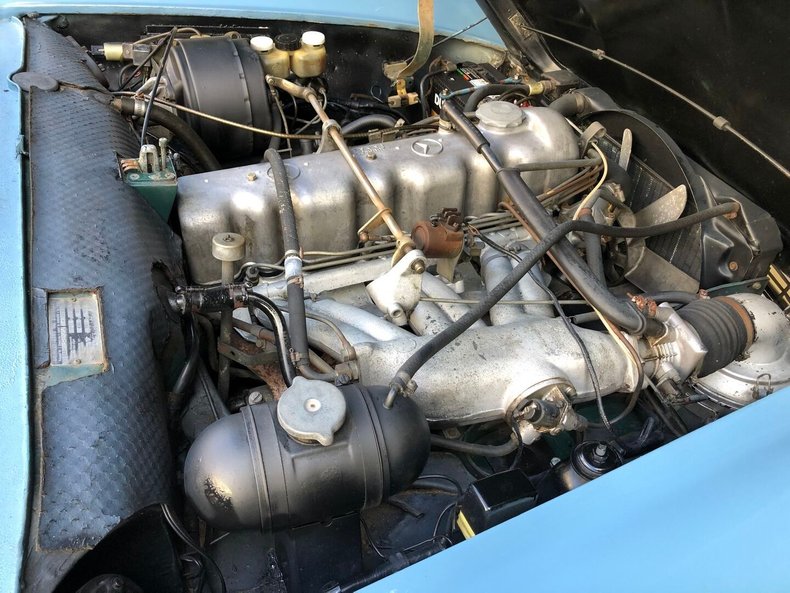 This 1968 is one of the very rare California Coupe examples. I went in depth about them last year, and rarely ever see them pop up for sale. The interesting thing about these in addition to fact that the soft top is no where to be found, is that you simply can't just add a top either. The body is lacking the necessary mounts to bolt-in a top mechanism if you somehow were crazy enough to try to do this. So your options are the hard top, or a tonneau cover. Personally for me, I think that is a deal breaker seeing as the weather in my region can turn in an instant, as well as I don't trust people not to mess with my car if I leave the top down while parked. Apparently the market also agrees.
This example at $48,000 is a good price for a 280SL. There is some agreement that the deduction for the California Coupes is somewhere between 10-25%, which is a giant hit when you are talking about Pagoda prices. This specific example isn't perfect at all, and probably could use some help on the interior. Interesting to note that the speedo is KM/H while the headlights are US-spec. I think closer to $40,000 is a better number here, and that would make it very attractive to a lot of buyers.
– Andrew