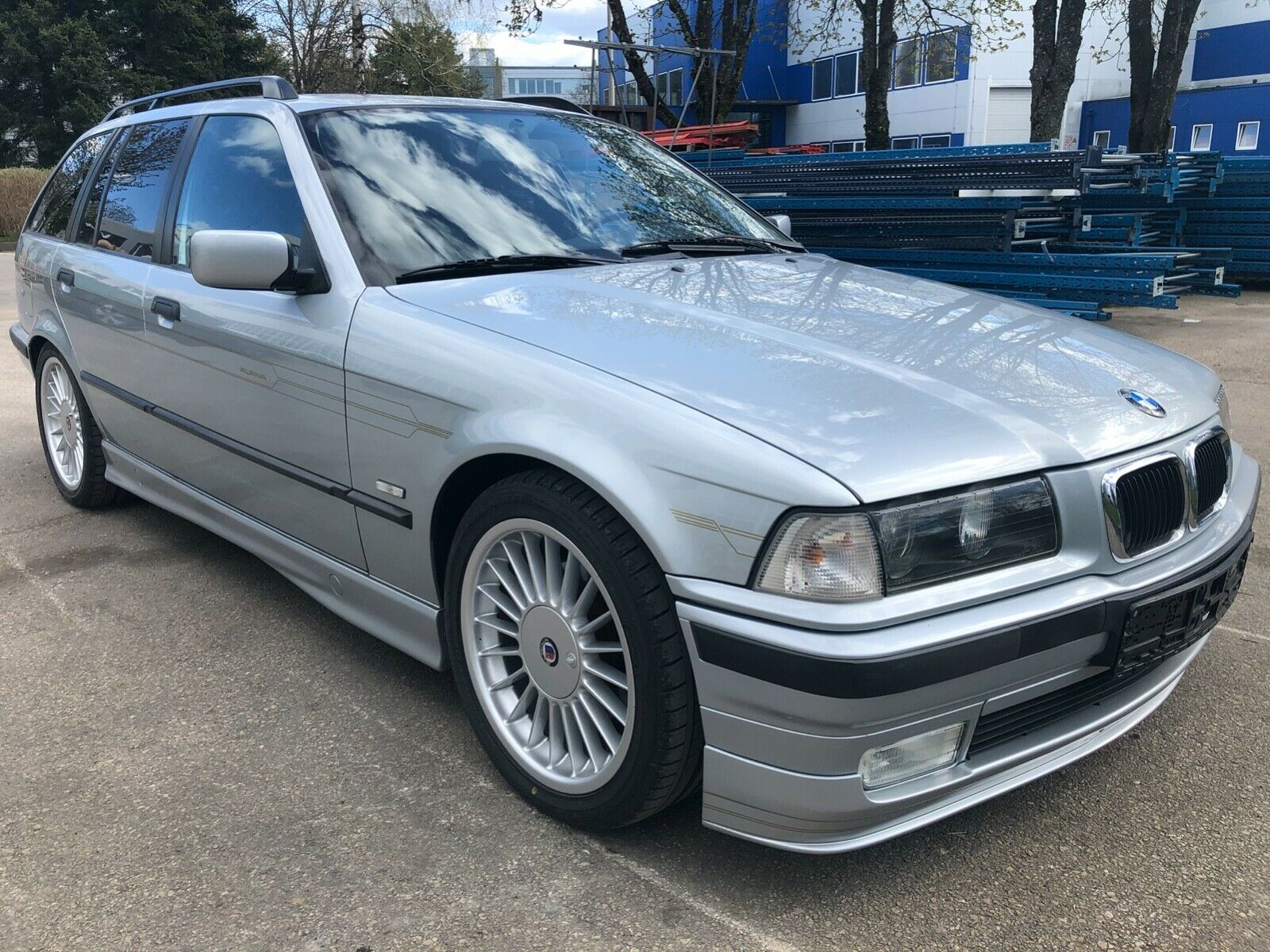 While some other aftermarket tuners such as Ruf and Renntech offer turned up versions of the already potent cars, Alpina operates slightly differently – filling in the voids of models not offered by the manufacturer. There are plenty of examples of this, and if often seems to be misunderstood; Jeremy Clarkson's review of the Alpina Roadster is probably the most notable case. A slower, softer, automatic version of the hardcore roadster certainly doesn't make a lot of sense at first glance. But what Alpina does is give enthusiasts the opportunity to enjoy the performance that BMW offered in a slightly different package that sometimes outperforms the original platform car. One of the notable missing gaps in the BMW lineup in the mid 90s was a faster version of the E36 Touring; building off the earlier B6 – effectively, Alpina's 4-door M3 challenger built between 1992 and 1993 with a bespoke engine and typical Alpina upgrades, the company later launched the Japanese-only market B6 2.8 Touring. Produced between 1996 and 1998, only 136 of these small wagons were produced, again utilizing the 240 horsepower bespoke Alpina motor, special wheels and interiors, Alpina's own body kit, exhaust and suspension. They were available in 3 colors only; red, green, and silver: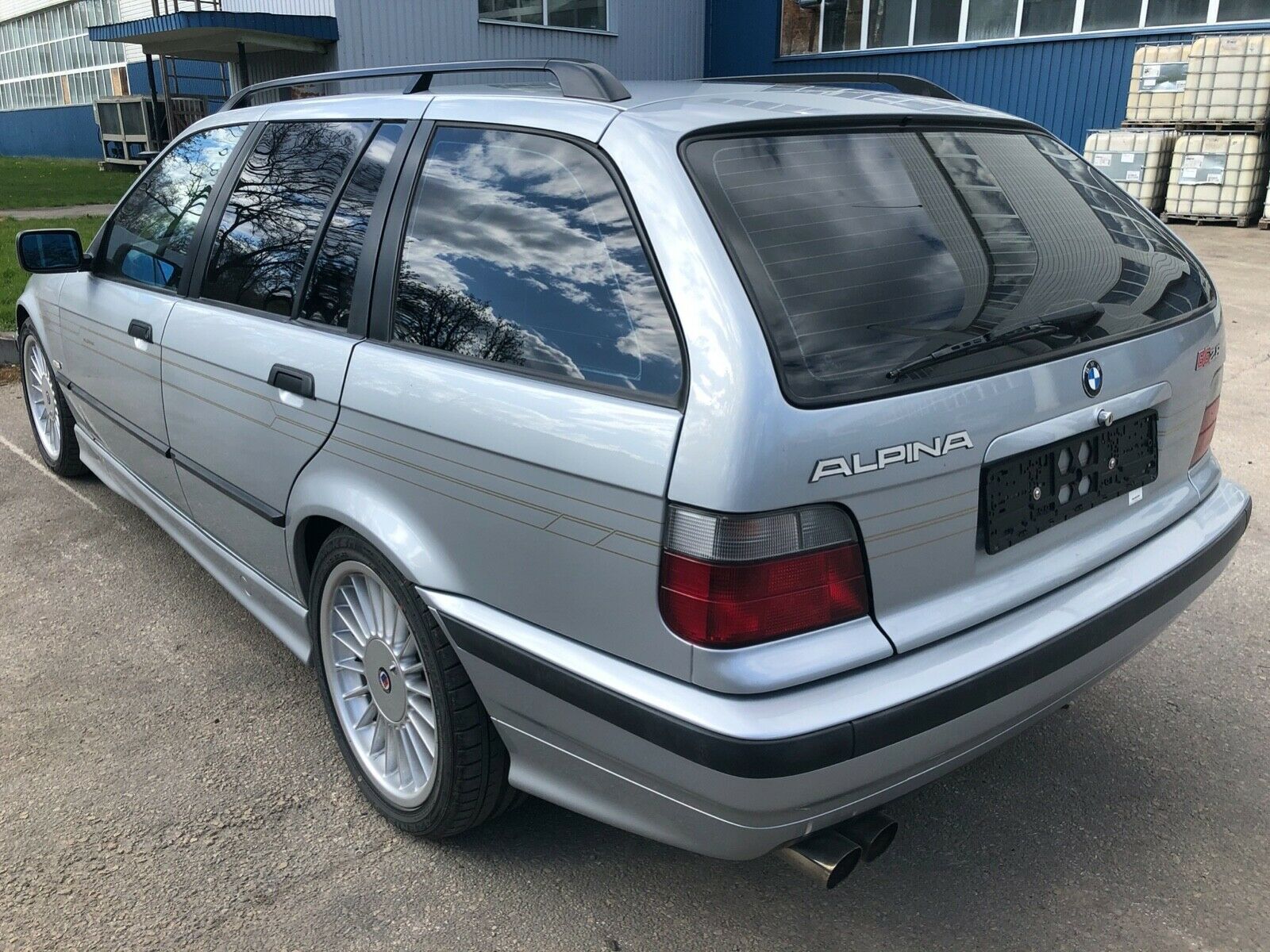 Year: 1996
Model: B6 2.8 Touring
VIN: WAPB628T37CE42045
Engine: 2.8 liter inline-6
Transmission: 5-speed automatic
Mileage: 70,000 mi
Location: Riga, Latvia
Price: Reserve Auction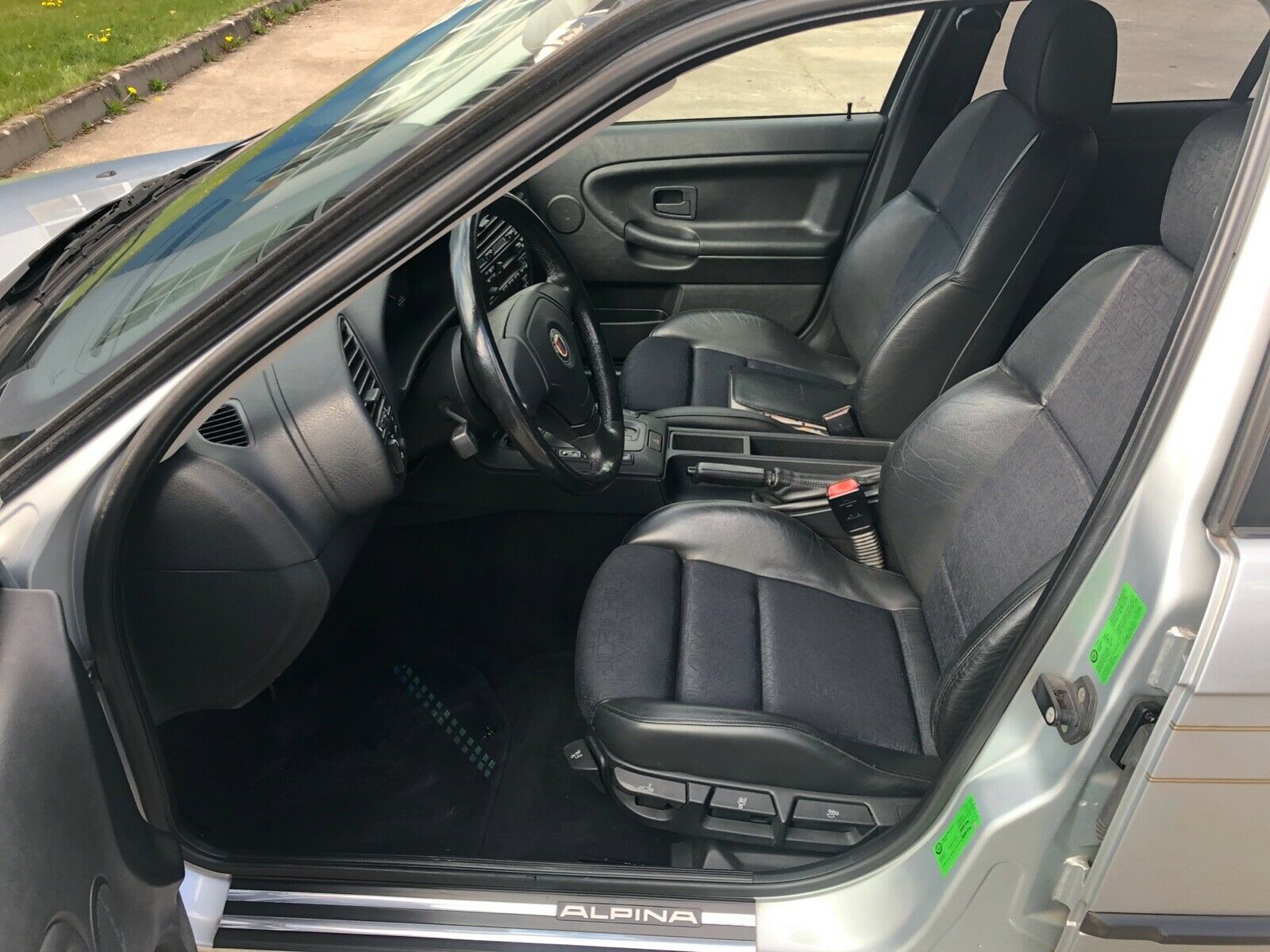 ALPINA B6 TOURING
VERY RARE 1 OF 136 EVER MADE
NUMBER 45!
1997 YEAR FROM NEW
70000 GENUINE MILES (113000KM)
2.8L PETROL ENGINE
228HP
AUTOMATIC GEARBOX
CLIMATE CONTROL
RADIO BMW REVERSE
ELECTRIC ADJUSTIBLE REAR VIEW MIRRORS
18 BUTTON OBC
ELECTRIC SUNROOF
ELECTRIC WINDOWS
ORIGINAL ALPINA R17 WHEELS
FOG LIGHTS
AND OTHER ALPINA OPTIONAL EQUIPMENT THAT CAN BE SEEN ON THE PHOTOS

IN EXCELLENT CONDITION (NOT BEEN USED IN WINTER TIME)!
NO RUST/DENTS OR SCRATCHES
ALL GABS AROUND EXCELLENT
ACCIDENT FREE CAR
UNDERNEATH IMMACULATE WITHOUT ANY SINGLE SURFACE RUST AT ALL
BOOT AREA LOOKS AS NEW
ENGINE BAY IMMACULATE
INTERIOR MINT WITH NO RIPS OR ANY SIGN OF DAMAGE
ENGINE WORK WITHOUT ANY RATTLES OR NOISES
AUTOMATIC GEARBOX SHIFT SMOOTHLY

CAR START AND DRIVE AS IT SHOULD LIKE HALF MILES

BEFORE BIDDING PLEASE NOTE THE CAR LOCATED IN LATVIA (EUROPEAN UNION)
CAN SHIPPED WORLDWIDE NO PROBLEM (ANY COUNTRIES)
CAN MEET POTENTIAL BUYER AT AIRPORT

BANK TRANSFER OR CASH ON COLLECTION

ABOUT ALPINA B6 2.8L TOURING MODEL:

THE ALPINA B6 TOURING LIMITED EDITION MODEL WAS PRODUCED FROM 1996 TILL 1998 ONLY TO JAPAN MARKET. THE PURPOSE FOR B6 2.8L TOURING WAS TO TAKE ADVANTAGE OF MARKET OPPORTUNITY WHEN BMW JAPAN DECIDED TO NOT IMPORT THE BMW 328I TOURING TO JAPAN. BMW NEVER PRODUCED AN M3 WAGON FOR SERIES PRODUCTION, BUT ALPINA TOOK TO TASK TO TRY AND FILL THE VOID IN THE 1990S. THIS WAS AN INTERESTING ALPINA, AS THE ENGINE CAPACITY WAS NOT INCREASED. RATHER, CUSTOM HEADS, CAMS AND PISTONS WERE ADDED ALONG WITH A PERFORMANCE EXHAUST SYSTEM, BRINGING POWER OUTPUT TO 241 HP.
IN TOTAL 136 EXAMPLES WHERE MADE. AVAILABLE COLORS FOR THE B6 2.8L TOURING WAS LIMITED TO SILVER, GREEN AND RED.

THIS CAR IS EXACTLY NUMBER 45.

ALPINA'S STORY BEGAN IN 1962 WHEN BURKARD BOVENSIEPEN DEVELOPED A WEBER DUAL CARBURETOR FOR THE BMW 1500. THIS CARBURETOR WAS WELL RECEIVED BY THE AUTOMOTIVE PRESS, AS WELL AS BMW'S OWN SALES BOSS Paul G. HAHNEMANN. IN 1964, BMW CERTIFIED THE QUALITY OF HIS ALPINA PRODUCT BY AWARDING BMW VEHICLES FITTED WITH THE ALPINA SYSTEM THE FULL FACTORY GUARANTEE.
ALPINA BURKARD BOVENSIEPEN KG WAS ESTABLISHED ON 1 OF JANUARY, 1965 IN KAUFBEUREN, BAVARIA. THE COMPANY HAD EIGHT EMPLOYERS. IN ITS FIRST YEARS, ALPINA ESTABLISHED ITS CORE COMPETENCY TUNING CARBURETORS AND CRANKSHAFTS TO EXTRACT MORE POWER FROM BMW ENGINES, ELEMENTS THAT EVENTUALLY DEFINED THE COMPANY'S LOGO., WHICH CAME INTO BEING IN 1967.
ALTHOUGH ALPINA STARTED BY PRODUCING TYPEWRITERS, THE ORIGINAL ALPINA CEASED TO EXIST AT THE END OF THE 1960S IN THEIR ATTEMPT TO MOVE INTO THE TEXTILE INDUSTRY. IN 1965, BURKARD ESTABLISHED A BMW TUNING BUSINESS, FOLLOWING HIS SUCCES WITH INVESTMENTS IN THE STOCK MARKET. HE STARTED THE TUNING BUSINESS IN AN OUTBUILDING OF THE ORIGINAL ALPINA TYPEWRITER FACTORY. THE COMPANY WORKED ON CARBURETORS AND REVISED CYLINDER HEADS.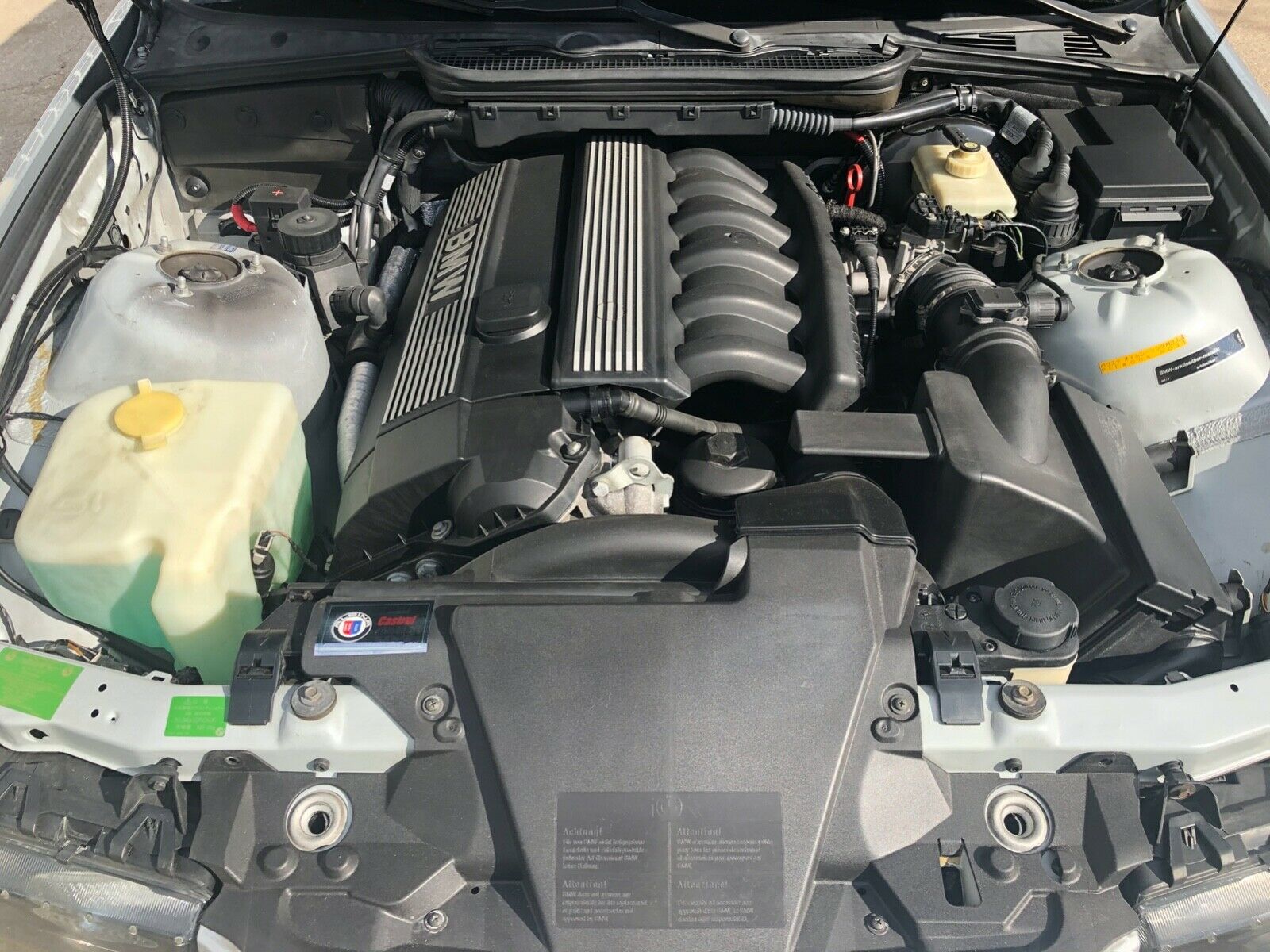 Number 45 appears in the Archives exactly as shown here; silver with gold decore and a anthracite interior. Condition? Outside of tinted windows, this one appears to be fully original and in great shape. What's going to hold it back should be obvious; the automatic-only configuration, and the location in Latvia. Yet this is not an easily repeatable package, and if you could get it for a reasonable asking price, it might be worth the effort of importation. Plus, if this one isn't quite your speed, the same seller has two other oddball Alpinas – an E46-based 1999 B3 3.3 and a very rare E34 B10 Allrad on auction. All are pretty cool and funky alternatives to the tried and true M camp!
-Carter