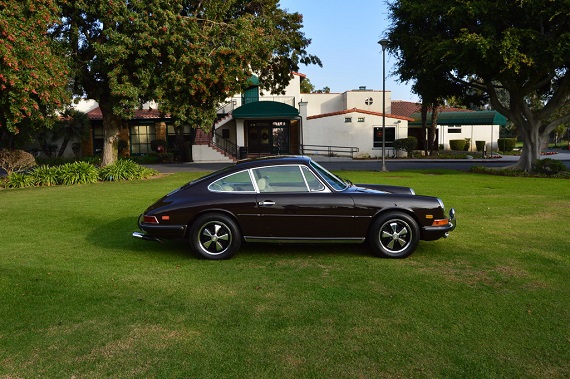 A long-hood 911 up for a no-reserve auction almost always manages to attract my curiosity. I know there will be problems – either basic cosmetic and mechanical problems or problems with originality (or all of the above!) – but why let that deter me? In the case of the 911 here my interest is increased by it being the one-year-only L, not necessarily because the L was a particularly special model, but simply because we don't see them often and that makes them more interesting. Prices for the L typically hover between those of the T and E and I'll be curious where bidding takes this one. Let's start with what we have and then get to the issues below: A Coffee Brown 1968 Porsche 911L Coupe with what looks like a cream-colored interior and a reported 133K miles on it. I suppose we could say that these two colors were destined to go together.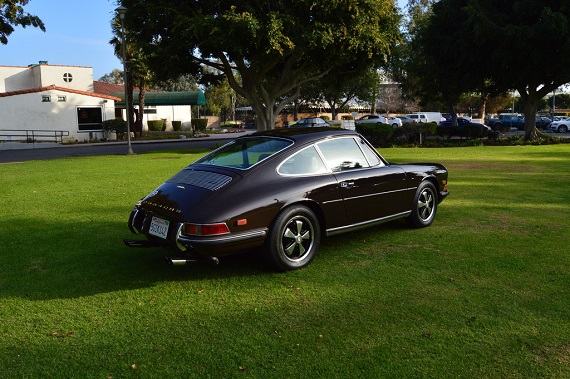 Year: 1968
Model: 911L
Engine: 2.0 liter flat-6
Transmission: 5-speed manual
Mileage: 133,000 mi
Price: Auction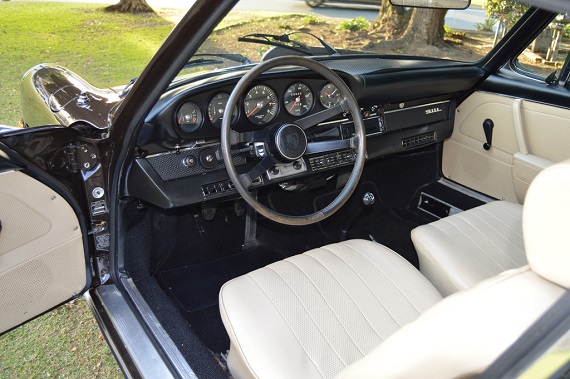 Up for a very rare 5 day no reserve auction sold to the highest bidder is this very rare 1968 Porsche 911L let me start off by saying how fun she is to drive for those great long distant drives our when u get the urge to go for a short cruise an when owning a Porsche especially one such as this it will become a normal routine crowds always surrounding her yes she gets tons of looks an with its awesome immense power coming out of its factory original 2.0L an beautiful sounding exhaust from those high revs and its gorgeous Porsche 911 interior décor an gorgeous body lines its no wonder they became so sought after

Being this is a 911L (luxury) made for a one year only in 1968 made the 911L the highest model of its year an Couse of that she falls into a very rare category with only 449 U.S models ever made an being an original 5-speed an factory sunroof car with a/c also makes it the only 911L for sale with a factory sunroof anywhere in the country so here's your chance to own a very beautiful peace of Porsche 911 history

the history on this 1968 911L was the first owner was a military officer purchased it new in the year of 1968 took delivery of her in western Germany were it spent a year of her life from there was shipped over seas to the U.S in 1969 to where she spent most of her life in southern el paso texas the owner really enjoyed her having raced her in a few circuit races over the years an loved an cared for the car very so always keeping her in garage an storage as the owner got old decided was time to sell her an bring out of storage in the year of 2004 a friend of the family purchased the vehicle an shipped her to sunny northern California were he to enjoyed the car driving her up an down the coast in beautiful santa maria CA which he owned from 2004 until 2016 when he sold it to a friend of the family who lived right up the coast in san luis Obispo CA so since new an being sold to friends of the family since then she is being sold to the public for the first time out of the family since 1968 now for details on the old girl

Body&Paint

the body is in great shape for its age with no body our structure damage of any kind all lines meet as they should an is very straight an has orig sheet metal nothing replaced does have a couple of dings very small an minor you cant even see in pictures an has a rust free body an floor pans now for the paint this 911L was born in special ordered "Bahama yellow" (6805) but somewhere in its life was painted once in period correct special ordered "coffee brown" (6837) paint is in great shape for its age has great shine all around an was a well done paint job but now is showing its age an has a few chips shown in pictures below

Interior
The interior is in great shape no rips our tears no stains sun fade our odors of any kind chairs an carpet were redone but leather raped stearing wheel dash head liner an door panels are orig an stile in good shape for age how ever ther is a few cracks in dash as shown in pictures below all tachs an gagues work mileage odometer stop working recently so not very far from mileage stated on cluster now since being barley driven an can prove it an clock does not function as well however the sunroof functions great as it should

Engine/transmission
the engine in this 911L is in great running order has tons of power as it should an is stile very healthy most important of all its matching# (3280729) 901/14 an the transmission is the orig dogleg (901) 5-speed the trans is great shifting in to all gears with ease as it should an clutch is great as well

Records/manuals exc.
the911 comes with its factory 911L owners manual an spare tire does come with a small service history such as some older registration from 2nd owner an a single receipt from 2004 unfortunately over the years they were lost as well as the tool kit an jack

Miscellaneous
the brakes on this 911L share the same as the S meaning disk brakes an stops well an tires are good as well so yes brakes an tires are great an suspension is great as well not bouncy an lose but tight taking corners with ease an bumps smoothly do to its new koni shocks seen in pics below an having S suspension makes it a great all around grand tourer also the 911 has a aftermarket radio but do have the orig blaupunk to go along with also for the air conditioning the fan an motor work however the compressor was taken out years ago an I do not have also the head lights are newer H4 Porsche head lights but have the originals to go along with the sale
ladys and gentlemen here is your chance to own a very beautiful very rare drive quality Porsche 911L sunroof coupe at an interesting no reserve also please bid to own not just to win having funds ready to do so want this to be a fare auction for everyone happy bidding:) if u have any questions feel free to call any time at (424)229-4921 -vince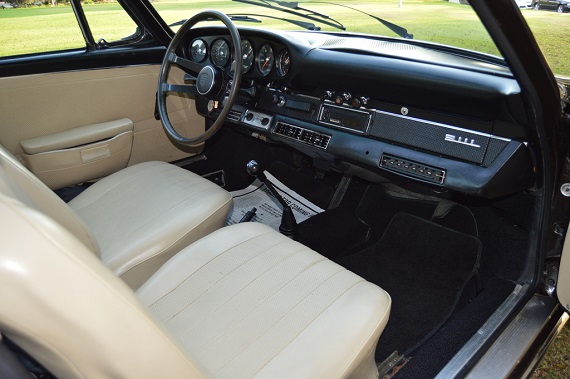 One of the first problems we notice from the pictures is that this 911 is in need of a respray. The pictures show us a number of nicks and chips needing to be addressed. I suppose thankfully another issue with this car is that its current shade of Coffee Brown for the exterior is not its original color. We're told it was Bahama Yellow – a great shade in its own right – so perhaps the new owner could take the opportunity to return it to its true exterior color. When we look at the interior things look a little better, at least with regard to the seats. The dash and doors look to need some attention. We know this isn't the original seating material, but what is less clear is whether this is the original interior color. That will be a useful piece of information, but overall the seats look in nice shape and the interior looks quite functional. While both the exterior and interior could use some work, the total package still looks in usable condition if everything is as mechanically sound as described and in that regard it could make a fine driver if a buyer doesn't want to invest in a restoration immediately. As for the bidding, at $60,054 it's already around where I'd expect things to end given the necessary work so I'll be curious to see if this is as high as we go. It's a decent looking example of a relatively rare 911 so perhaps it'll drift up a little further. If it gets restored to Bahama Yellow, I'd love to see it!
-Rob