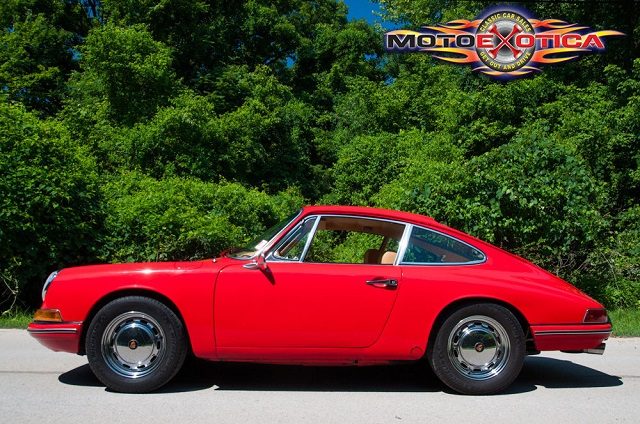 I do miss the days when I could come across a Porsche 912 and feel confident its selling price would be reasonable. We seem to have long passed those days as price tags above $50K are very common with some even approaching $100K. Those examples are few and far between, but, of course, it never stops other sellers from attaching similar figures to their cars hoping to capitalize on a few big sales.
In theory, this 912 should be pretty reasonable. It isn't original or numbers matching. Bidding even is quite reasonable and we could hope that with some time that bidding would be taken into account and the asking price will come down. For that we must wait. Either way, here we have a very pretty 1968 Porsche 912 with a Polo Red exterior over a Tan interior and a reported 58,628 miles on it.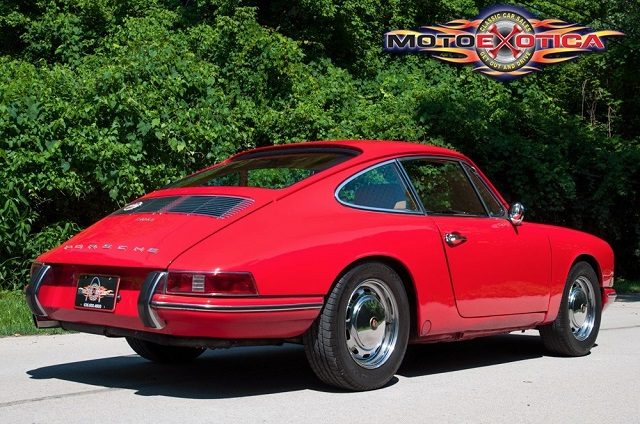 Year: 1968
Model: 912
Engine: 1.6 liter flat-4
Transmission: 5-speed manual
Mileage: 58,628 mi
Price: Reserve Auction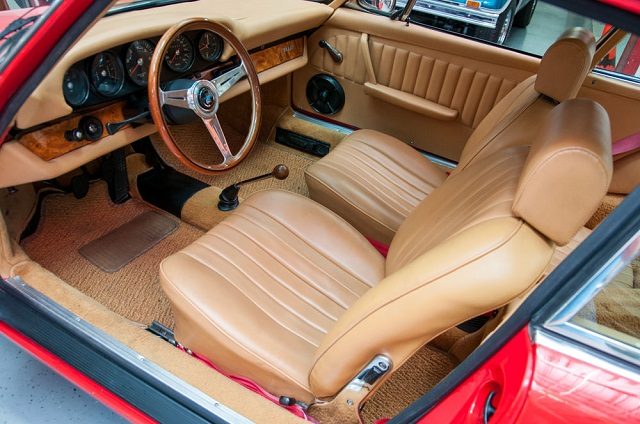 1968 Porsche 912

Karmann bodied 912 with appreciating value
One of only 7,458 912 models sold in the United States in 1968
Polo Red exterior with tan interior
1586cc flat four-cylinder engine from a '66 Porsche
Dual DeLorto carburators
Five-speed manual transmission period correct for 1968
Koni Shocks, with Weltmiester Adjustable Spring Plates
Nardi steering wheel with engraved signature and Bird's Eye Maple dash trim insert
VDO gauges, Hella lights and dual Durant sideview mirrors
Optional 15-inch chrome wheels
Documentation includes original owner's manual and some service records
MotoeXotica Classic Cars is proud to offer this 1968 Porsche 912 for your examination. This is a Porsche you can take out and drive, either as an everyday commuter or on weekend club runs. This 912 is a California car and currently on a California title from San Diego.

Originally delivered to Porsche Cars Northeast in Bedford, Massachusetts on December 18, 1967. This 912 is finished Polo Red with a tan interior. Both the engine and transmission have been changed, with the transmission slightly newer, but still correct for the year. The engine is from a 1966 vehicle but appears to have been rebuilt as it runs extremely well.

Structurally and mechanically the vehicle is very sound, with many newer parts – Koni shock absorbers, Weltmeister adjustable spring plates and bushings, brake lines, rebuilt calipers, brake rotors, master cylinder, shift couplers, transmission linkage, tie-rods, DeLorto carburetors and a 050 Bosch distributor.

The car's paint and trim are in overall good order, presenting as a nice driver quality 912. The windows are clear, intact and haze-free. The car's Hella lights are in similar very good order, intact and crack-free. The car rolls on good-looking Michelin radials, 195/65R15, surrounding the original and optional, 15-inch chrome wheels that sparkle. Its spare tire is in place and looks to be in good order and the front and rear bumpers are in great shape, too.

Inside, the tan interior is in overall very good shape, from the reupholstered front bucket seats, to the matching carpet and headliner. Facing the driver is a Nardi wood steering wheel with engraved signature and the instrument panel has a Bird's Eye Maple trim insert to complement its VDO gauges. The inner door panels and shift lever, topped by a complementing wooden knob, are in very good order. A whimsical touch, the car's seat belts are red, echoing the exterior. Completing the interior is a Clarion AM/FM stereo with CD player.

The Porsche 912 was manufactured between 1965 and 1969 as its entry-level model. The 912 is a nimble-handling compact performance four-seat vehicle, capable of up to 30 miles per gallon fuel. This is possible because of a high-efficiency engine, low weight, and low drag. A variant of the Type 911, one of the most famous and successful sports cars of all time, the Type 912 initially outsold the 911, boosting the manufacturer's total production until success of the six-cylinder 911 was assured. As production of the 356 model concluded on April 5, 1965, Porsche officially began production of the 912 coupe. Overall, Porsche produced nearly 30,000 912 coupes. This is one of 7,458 912s sold in the United States in 1968.

In 1968, the United States Department of Transportation (D.O.T.) imposed mandates that would significantly change the Porsche 912. No longer permitted were glass lenses that had enclosed the headlights, and in their place were large chrome bezels that housed the lenses directly. Windshields were made of composite glass for increased strength. Instead of silver, windshield wipers were painted matte black to reduce unwanted reflections. And to increase wanted reflections, Durant side mirrors were enlarged considerably. Door buttons were more recessed. For U.S. cars, colored reflectors were also fitted to the sides of the car. Inside the car, the 1968-only the rear-view mirror was attached to a spring-loaded release attachment located on metal window frame, between the sun visors instead of the chrome plated metal type bolted to the roof of the car. Easier to read white lettering replaced the green Porsche had historically used on all its gauges. All interior fittings, from window cranks to ashtray pull, were now encased in soft rubber plastic, which was deemed to be less damaging to occupants in the unfortunate instance of a collision. In addition to safety concerns, the U.S. D.O.T. also imposed environmental regulations for 1968, which Porsche was able to comply with by introducing a vacuum advance 050 Bosch distributor, split-shaft Solex carburetors and an air pump that pushed more air through the tail pipe thus lowering emissions but only as assessed expressed in terms of parts per million, and not overall.

For 1968, 912 door panels were a unique one-year only design and doorframes in were now aluminum instead of chrome-plated brass. For added stability, wheel width was increased from 4.5 to five inches. For more reliable braking, a dual circuit master cylinder was introduced. A larger 420-watt generator charged the battery faster.

Looking for a German sports car you can drive regularly versus one with a "look but don't touch" vibe and that will still appreciate in value? Then visit MotoeXotica Classic Cars to check out this late 60s Porsche 912 before someone else takes it home.

This car is currently located at our facility in St. Louis, Missouri. Current mileage on the odometer shows 58,628 miles. It is sold as is, where is, on a clean and clear, exempt mileage California title. GET OUT AND DRIVE!!!

VIN: 12802427
EIN: 747006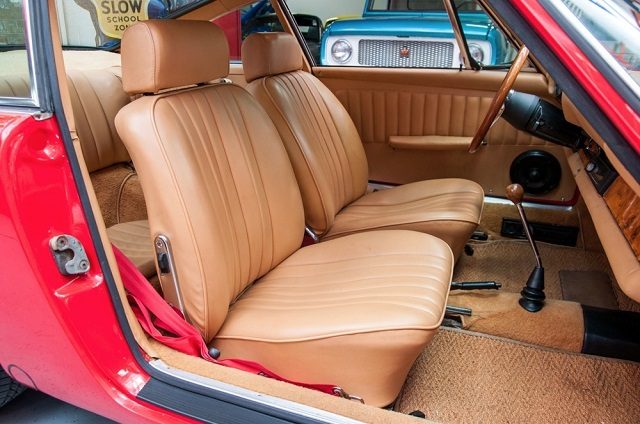 The big points we need to take into account with this 912 is that neither its engine nor its transmission are original to the car. The engine is an earlier unit from 1966. The seller says it appears to have been rebuilt, but it's clear that this seller did not install the engine and may not know much about who did and when. The transmission is said to be period correct and slightly newer. Again, there's little information. A PPI should tell us if each unit is in proper working condition and well maintained. Obviously, being non-numbers matching is not ideal, but if your goal were to get a driveable 912 for lower cost, then this would less of an issue.
The interior, which looks quite nice though obviously refurbished, also has some non-original additions. These would be my biggest quibble, though I will admit the wood additions fit the general character of the car. I just think the wood is all wrong. Why not attempt to replicate the look of the wood dash in a '65 or '66 911? Those are beautiful and possess wonderful vintage character. This wood looks too modern. Some may enjoy it though for that extra dash of modern luxury.
As I said above, this 912 should come in at a reasonable cost due to all of these issues. And it is a really nice looking example both inside and out. Bidding is following suit sitting at only $17,300. That in itself would be a very attractive price if everything is in good mechanical condition. Alas, the seller's asking price is a good bit higher. Something will have to give and we'll have to see if bidding eventually comes up to the seller's ask. I don't expect it to so with patience a buyer may still get a pretty nice price in the end.
-Rob