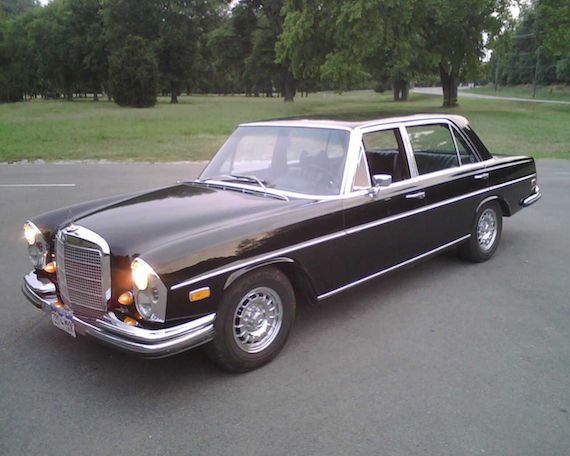 Zero to 60mph in 6.3 seconds. The standing quarter mile in 14.6 seconds. Top speed of 142 mph. You'd be right in thinking that I could be describing a luxury car from the present day, but Mercedes-Benz achieved this performance at the end of the 1960s with this car: the 300SEL 6.3. Slotting the M100 V8 from the recently introduced 600 Grösser limousine under the hood of the W109 S-Class created one beast of a sedan, one that could go head to head with muscle cars of the day yet still carry a few well-heeled passengers to the opera after it was done handling its business at a drag strip or stoplight. This 1969 300SEL 6.3 for sale in Michigan was sold through the European Delivery program and is currently on it's fifth owner, having had a partial restoration back in the 1990s.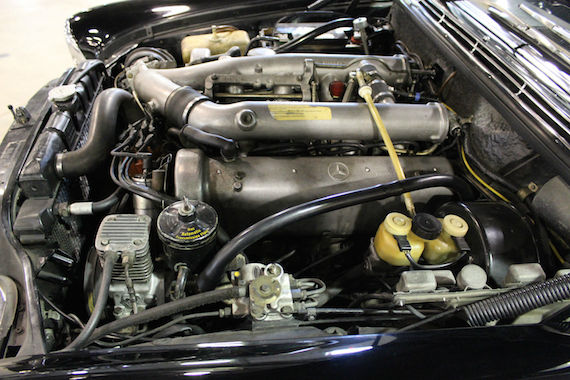 Year: 1969
Model: 300SEL 6.3
Engine: 6.3 liter V8
Transmission: 4-speed automatic
Mileage: 130,000 mi
Price: $30,000 Buy It Now
The legendary 6.3 was Mercedes-Benz's version of the muscle car— take the massive 6.3 liter V8 from the 600 and shove it into the vastly smaller and lighter W109 body. The result was the first super sedan, capable of cruising at 125 mph all day long with five passengers. This example is a well-maintained and regularly used car in the rare combination of black with a black leather interior. All of the frequent trouble spots with these complex cars have been addressed including a freshly rebuilt Bosch mechanical fuel injection pump and well-sorted, fully functional air suspension. The body is straight and rust-free and the interior including wood and leather is driver quality and not in need of any immediate attention. 6.3s rarely come on the market and when they do, they're either $75,000 trailer queens or $6,000 rats. This is a fully sorted attractive driver priced at just $32,000. Details are:

All of the history of the car is known: I am the fifth owner of this car.

Owner 1: This particular car was purchased through the European Delivery program, and the original owners traveled to the factory and picked it up personally. The owners traveled around Europe for several months in the car before bringing it back to the US with them in the hold of the SS France, a luxury cruise liner. This car still has the original windshield with a stamp dated 1969 from Italy. They lived in Southern California, and the car stayed with them until 1992. At this point the original owner passed away, and the car was given to his daughter. She moved to Loveland, Colorado about a year later and took the car with her. Not knowing what to do with it, she sold it to owner 2, a car collector with an extensive collection of European machinery.

Owner 2: He gave it a good partial restoration and sold it to his good friend Brad.

Owner 3 (Brad): Brad purchased the car in Denver around 2004 and took it to Tennessee when he moved there. I personally know Brad. He is my friend and work colleague. Brad keeps meticulous care of his cars. Much of the description and pictures of this car are from Brad.

Owner 4 (Jeff): Brad sold this car to Jeff who lives in Georgia. Jeff had the car for about a year before he sold it to me. He did not drive the car much at all.

Owner 5 (me)

Body & Paint:

The car was repainted the original Daimler-Benz Schwarz (Black) around 1993. It was a good quality paint job that is now showing some age with the usual touched up chips in the front from normal driving. The chrome on the car is in good original condition, not perfect but not pitted either. It's certainly in very nice shape. Underneath the car is absolutely no sign of rust. The only corrosion in the entire vehicle is in a very small localized area around the rubber drain nipple under the spare tire. The original trunk mat is present and in great shape.

Interior:

Black leather interior was also correctly redone around 1993. It's flawless, with no rips or wear and tear. Still smells fantastic. Seats are comfortable and supportive. Wood is in great shape, I have seen shinier wood in photos, but this is original and completely presentable. Headliner is sag free, all interior lights work as designed. Carpets and floor mats are original and in great shape. The steering wheel is in great shape, with no cracks in the center pad or rim. The dash has a small stress crack at the corner of the radio speaker grill, but it's hardly noticeable. Original Becker works great, and plays through the center speaker in the dash. Power windows go up and down, power locks work, including locking the trunk and gas filler door automatically. All four windows were recently serviced and all are functional. The front passenger side window works but needs a new motor.

Air Suspension:

Works perfectly- up, down, or locked. All airbags have been replaced as needed. Air valves in great shape, as is air tank in nose of car. Tank is regularly bled of air and any condensation, and alcohol is kept topped off in the proper container to keep the system dry. The car will sit for a couple of weeks without any noticeable drop in the suspension, but I try to drive it a couple of times a month to keep things lubricated. The air pump is fine.

Engine & Transmission:

This is a powerful motor by any standards, but at 6.3 liters you are getting something truly exceptional here. Bosch mechanical fuel injection pump recently rebuilt to the tune of $5,000. New rubber seals between intake runners and thermostat housing. Recently tuned with new ignition points in dual point distributor, new coil, plug wires, and spark plugs. Basically, everything this car has needed, it has received. Transmission shifts smoothly but firmly. (Under anything over half throttle, you will chirp the tires on the upshifts!) This is an early car, with the higher 9:1 compression. No emission controls that robbed the later ones of some power. Limited slip differential is fine. Engine compartment is tidy and original. Exhaust has the proper crossover between the pipes and still uses the stock Mercedes twin inlet/twin outlet muffler at the rear. Sounds great!

Windows:

All automatic windows are operational and motors were fixed in 2012. The passenger side window works but needs a new motor.

Brakes:

No problems with brakes. Front pads are only down about 25% from new, rears have negligible wear. New rubber hoses to the calipers. Stock factory vented disc brakes at all four corners. Rear brakes were serviced in November 2011.

Wheels & Tires:

Currently on the car is a set of 6 x 14 chrome Bundt alloys and Kumho Solus 215/70R14 tires.

Air Conditioning & Heating:

You will need to recharge the air conditioning and replace the hose that runs to the receiver/dryer. Even when fully charged, the A/C is not exactly overwhelming, but I don't think these cars are known for that. The fans work fine, and the sliders in the dash move from side to side and move the flappers from defrost to heating no problem. The heater does not seem to blow as hot as you'd think it would, but it doesn't seem to be clogged, either. (I tested this by blowing through it when I had the injection pump out.) I think there is an adjustment it needs in the flapper seal to keep the ambient air out, as it heats the cabin just fine when sitting in place, but becomes cooler when you increase your speed. I rarely drive the car in any temperature extremes, but this is my experience with it when I do.

Performance:

After two hours or two weeks, the engine will crank, fire, and settle to a perfect idle. Oil pressure goes up immediately to the peg over 45 pounds and stays there. Let it warm up for a minute and then drive off. That's it- it's wonderful. Car will pull smoothly and powerfully all the way to redline if you are so inclined. If you "give it the beans" from a dead stop the car will downshift immediately into 1st gear (normally starts in 2nd) and leave two black stripes all the way through 2nd. I replaced the battery in November 2011 and the alternator in 2013.

Summary:

I've tried to list most everything I can think of. Any questions, certainly ask them. I am happy to have your mechanic come to my house and inspect it. I will help you with getting the car available for your shipper to pick up in a timely manner. If you're looking for a good looking 6.3 that has had a lot of money spent on the mechanicals, this is a good one to consider! It's a very solid car I would not hesitate to drive anywhere in the country.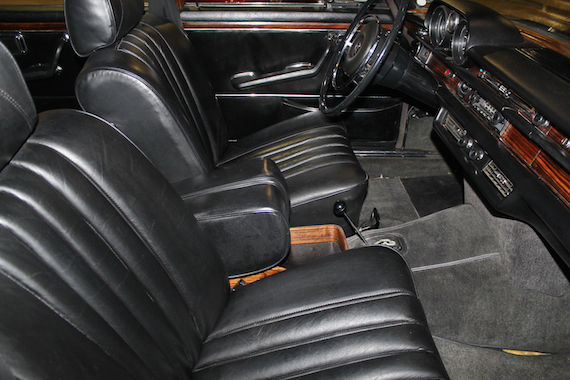 A good 6.3 these days can run you north of $50,000, so this one at $30,000 presents an attractive opportunity to get into one of these legendary sedans and enjoy a bit of appreciation. There's a few issues that need to be addressed, but the major points have been sorted and the history of the vehicle is well documented. If you've been seeking a classic car that doesn't yield much in light of modern day performance, a 6.3 is a car that should be on your short list.
-Paul