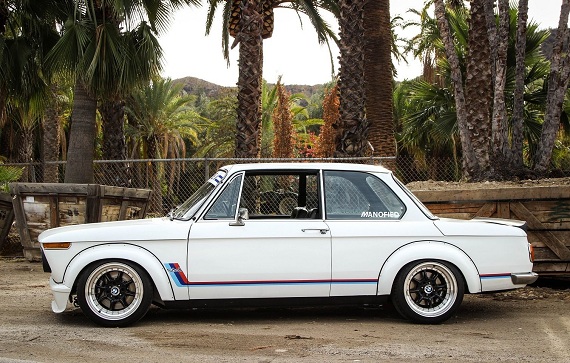 It's been a few months since I last looked at a 2002 Turbo replica. Like the 924 Carrera GT, the 911 RS and Audi RS2, the 2002 Turbo is one of those rare and expensive car models that spawns a fair amount of recreations. The nice thing about replicas, though, is that you really don't need to worry about damaging the value of one of the original and expensive models; for enthusiasts looking to buy into that market, you can also usually purchase one of these tributes at a fraction of the price of the original. While the last model I looked at was a pretty true to original replica, today's example has gone mild to wild with a M20 swap and a turbo thrown in just for fun: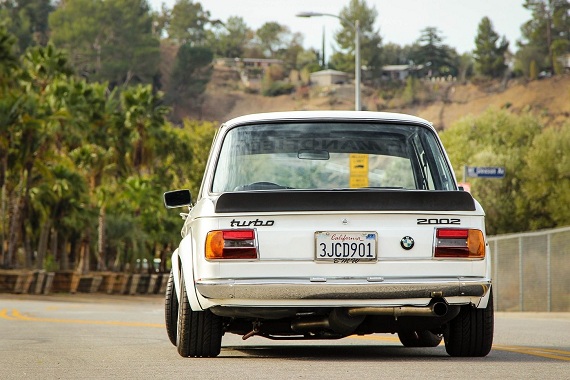 Year: 1974
Model: 2002 "Turbo"
Engine: 2.7 liter turbocharged inline-6
Transmission: 5-speed manual
Mileage: "1,500" mi
Price: $42,500 Buy It Now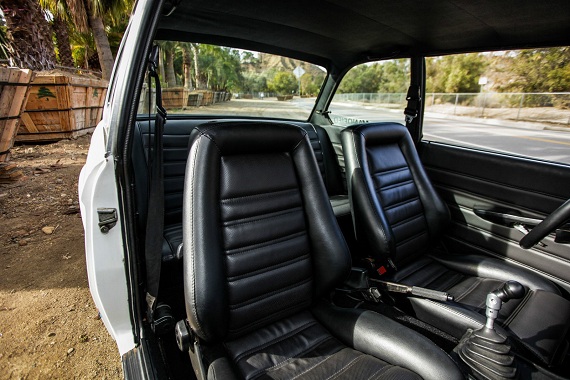 1974 BMW 2002 M20 SWAP TURBO-6

ASSEMBLED AND TUNNED SERIAL NO: 011 BY MANOFIED RACING LLC.

ENGINE:

-M20 SWAP, 2.7 BLUE PRINTED AND BALLANCED.

FULLY PREPED TURBO HEAD.

TURBO HEAD GASKET.

ARP HEAD BOLTS.

MATCH PORTED INTAKE.

COMP TURBO CUSTOM BUILT.

DRIVETRAIN:

5-SPEED DOG LEG TRANSMISSION.

ALUMINUM FLY WHEEL.

E30 M3 OEM CLUTCH KIT.

343 DIFFERENTIAL.

COOLING SYSTEM:

ALUMINUM RADIATOR " 26 1/2 X 18 ".

SILICON RUBBER HOSE KIT.

14IN. ELECTRIC FAN.

EXHAUST:

MANOFIED MANDREL BENT 2 1/2IN. STAINELESS STEEL PIPING WITH MAGNAFLOW MUFLER.

SUSPENSSION:

MANOFIED CORSA ADJUSTABLE CAMBER AND FIXED CASTER PLATES ( FRONT ).

MANOFIED CUSTOM BUILT FRONT COIL OVERS.

BILSTEIN SPORT SHOCKE/SPRING FOR REAR.

ADJUSTABLE REAR TOE KIT.

ADJUSTABLE REAR CAMBER KIT.

ALL URETHANE BUSHINGS.

22mm. FRONT AND 22mm. REAR SWAY BARS.

BRAKES:

WILWOOD 4-PISTON CALIPER FRONT.

WILWOOD CALIPER REAR.

11in. FRONT ROTOR.

10in. REAR ROTOR.

WILWOOD BRAKE MASTER CYLINDER.

WILWOOD ADJUSTABLE PROPORTIONAL VALVE.

STEEL BRAIDED BRAKE LINES.

EXTERIOR:

OEM TURBO FLARES.

OEM FRONT TURBO SPOILER.

OEM TURBO TRUNK LID.

REAR EURO BUMPER.

OEM FACTORY MATCHED CHAMONIX PAINT.

INTERIOR:

RECARO FRONT SEATS 320IS.

FACTORY REAR SEAT.

CORSA ALUMINUM CENTER CONSOLE.

CORSA ADJUSTABLE SHIFTER.

VDO GAGES.

EURO CLUSTER IN KM.

WHEELS:

XXR 002 16X8 ET. 0 SQUARE SETUP.

205/40/16 TIRES STANCED.

FOR MORE INFORMATION PLEASE CONTACT US VIA EMAIL

OR MANOFIED WEB-SITE.
This is a pretty interesting car to me; it's a little extreme for a road car but not built enough to be a true track-dog. It's stuck in the middle as a show car or occasional driver; but it certainly looks quite nice and photographs well. The build sheet is pretty impressive, and overall – though it's a little too close to the border to Stanceville – I think it looks pretty neat. I'd personally change the wheels up to something a little more classic – perhaps some gold BBSs, for example, and de-graphic it to have a sleeper, fun ride to shows. However, while I'm sure it cost all of the asking price to build this car, I can't imagine paying over $40,000 for a 2002 at this time – especially one that wasn't a clean, original car. At $20,000, it's a lot of fun for the money; at double that amount, there's a list of cars I'd rather own first.
-Carter