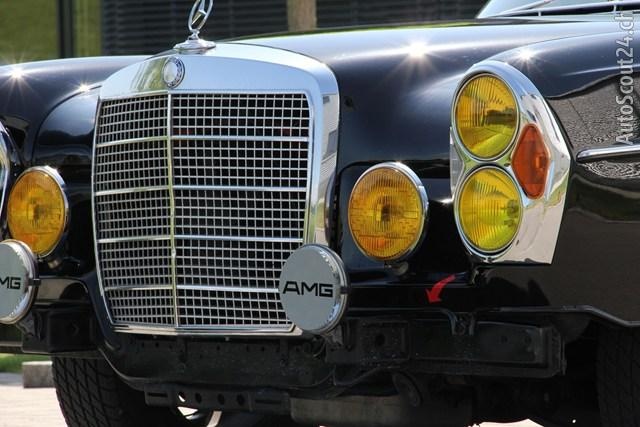 When you hear 300SEL 6.3 racecar or race car replica, thoughts must go to the famous, but unfortunately named, Red Sow 300SEL 6.3. That is the car responsible for bringing AMG onto the map with a 2nd place finish at the 24 hours of Spa in 1971. It featured a special 6.8 liter engine and presumably they finished 2nd in the race not only by being fast, but by scaring the other competitors with the outrageous, loud, four door sedan. That car retired from racing and was sold as a test mule for jet engine landing gear.
There have been several replica versions of the Red Pig racers of various levels of authenticity, videos below. (Also any of you Benz fans catch the wheels on the 300SL Gullwing in the last video?)
I've seen some with standard 6.3 engines, others with bored out engines to mimic the custom cast 6.8 AMG engines, some with auto transmissions and others with a manual. An "original" was for sale earlier this summer for 200,000 Euros, as seen in the image below. The car I'm posting takes a more subtle approach in paying homage to these great cars.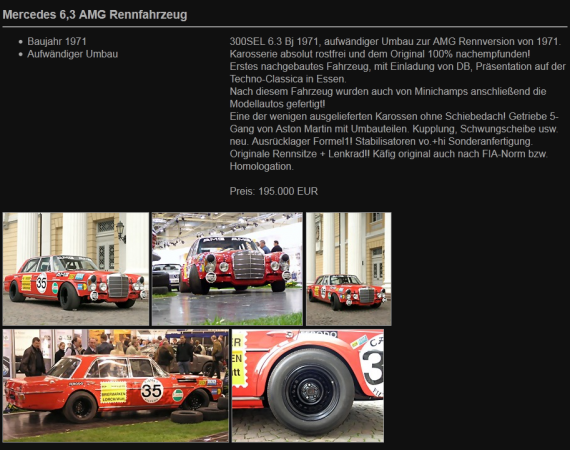 Year: 1970
Model: Mercedes 300SEL 6.3
Engine: 6.3 liter V8
Transmission: 4-speed automatic
Mileage: 41,800 mi
Price: ASK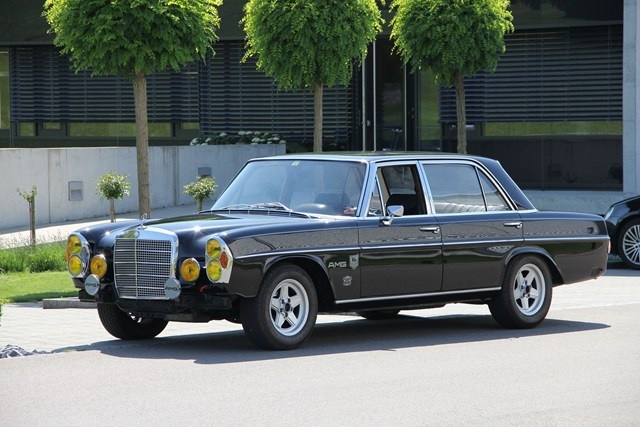 This 300 SE is a French delivery car, sold by the french importer Royal Elysée. It is confirmed by the Service booklet. It has been restored in the last two years but the brakes have been totally redone recently.A set of original AMG 15′ rims and new Pirellis have been fitted. The paint is extremely deep and all the body seals have replaced. A high performance electronic ignition system has been added too give better performance. It is not equiped withe heavy electric sunroof neither with the air coditioning system which is a good thing for those who would like to comlete the light race preparation. (A 6.3 liter AMG finisged 2nd at the 24 h of Spa Francorchamps). Matching Numbers. Best available.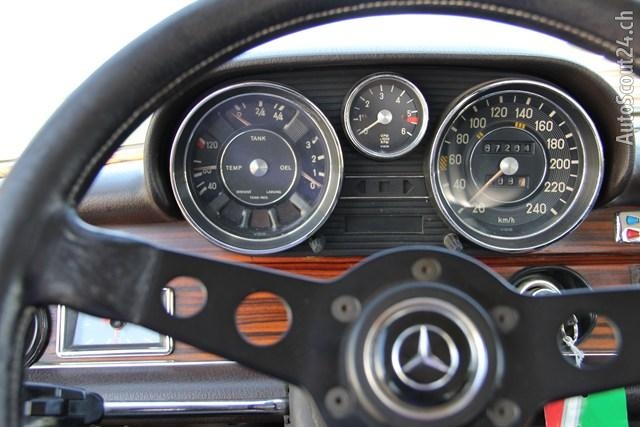 This black iteration is an original French delivery 6.3. It features the French yellow headlights and a set of proper AMG rims. To also set off the look the car has had its bumpers removed. It isn't particularly clear what else has been done to the car in terms of race prep, though the car does have a modern high performance electronic ignition setup, a popular modification for these cars. I wish there was a bit more description as to the restoration work performed and some interior photographs.
With only 41,800 miles covered this is a low mile 6.3 and it strikes me as a bit odd that it has been given this slight race treatment. Not knowing the history of the car I would have thought a low mileage example like this would bring a higher price if kept more original. The seller lists the car as numbers matching so doing things like losing the bumpers and adding the AMG wheels and stickers probably has the originality police up twitching a bit. A higher mile non-numbers matching car would seem a better candidate to start a race replica on.
So this car sits in an odd area. Not really a proper racer, too nice to really want to race and does not appear to be properly setup for that, but it also doesn't fit the look of a pristine original 6.3 street car either. Unless it gets made a little more racier people might look at this and think it was a restoration in progress and that you have the bumpers at the shop getting re-chromed or something. At least the weight lost will motivate the powerful, torque monster, to even swifter starts.
Don't get me wrong, I love the idea of a 6.3 race car. The 300SEL 6.3 is absolutely the #1 car on my list for what I'd like to build up and take vintage racing. Contact me if you are currently or are planning on racing one in SVRA, HSR or SCCA, I'd love to meet up. This is an interesting car with its look which will appeal to some and confuse others. No price is given, but it is probably quite high. What do people think about this one?
~Evan