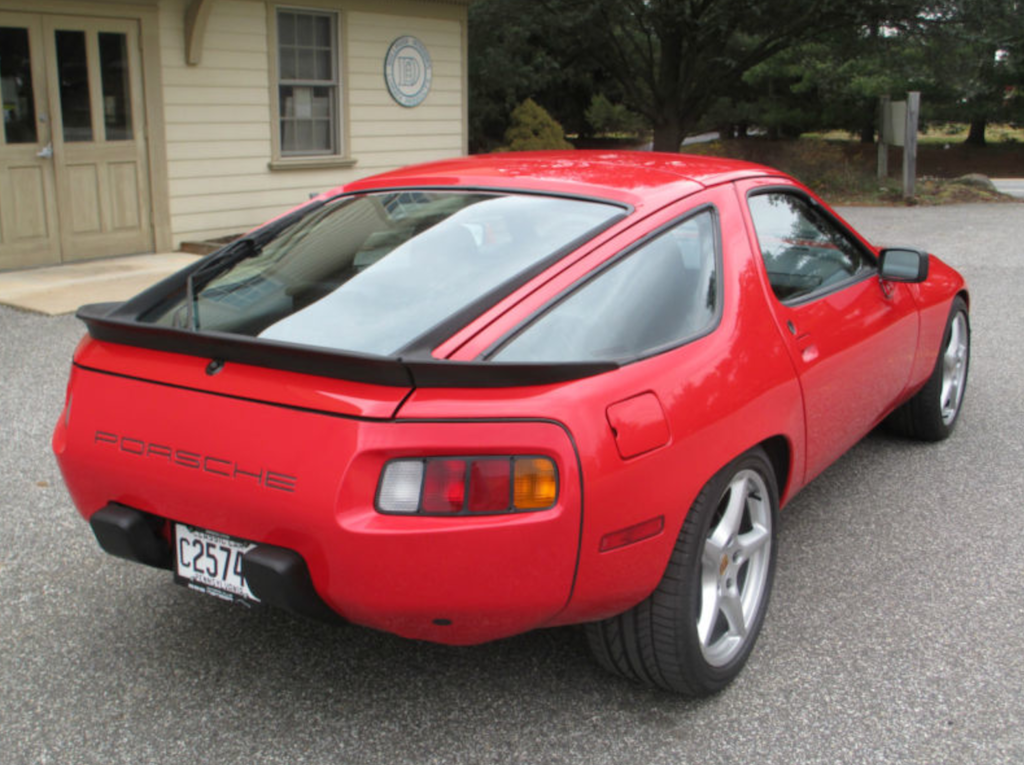 The 1985 Porsche 928S we featured back in April failed to meet its reserve on its initial listing and has been relisted. This Reserve Auction originally was listed with a Buy It Now price of $23,500 and the relisting shows a reduced Buy It Now price of $18,500. For reference, this 928 was listed about a month ago and sold for $17,680. That car was slightly higher mileage than this one, so the new price listed here seems more inline with the current 928 market.
The below post originally appeared on our site April 5, 2013:
It's rather amazing that 36 years after its introduction, the Porsche 928 still looks fresh. In 1977, it must have appeared to have arrived from another planet. Integrated bumpers, a streamlined shape and potent V8 power were meant to take over where the 911 was about to leave off. Funny then, that the 911 has carried on almost twenty years after the last 928 rolled off the line. These grand tourers are beginning to creep up in value, but are still lagging a bit behind most 911s. Buy a really cheap one, though, and it could put you in the poor house. This 928S for sale near Philadelphia is a low mileage minter with the desirable 5-speed manual gearbox.
Year: 1985
Model: 928S
Engine: 5.0 liter V8
Transmission: 5-speed manual
Mileage: 25,300
Price: $23,500 Buy It Now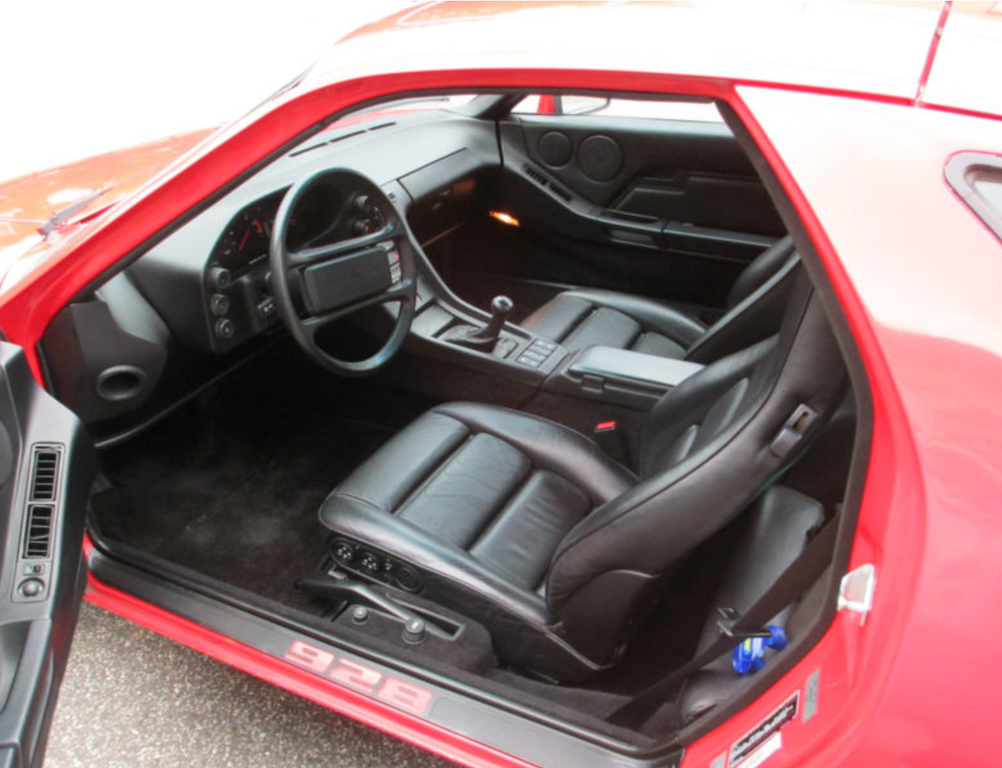 You are bidding on a 2 owner 1985 Porsche 928S. This is a RARE 5-speed manual transmission,less than 500 units built this model year. Automatics dominated 1985 sales and are more available and much cheaper. Vehicle has 25,300 original miles. (This will change as I drive it when weather permits). Car comes with original purchase and service records, all owner's manuals and key set and documentation service in the DC area. This is not the six thousand dollar 928 you hear about. (The wheels and tires alone would cost almost that much)!

Now what you SHOULD worry about……..in the last 2 months….NEW timing belt with NEW Pork tensioner system, NEW water pump. NEW rear coupler bushings (PIA to replace) flushed radiator and changed oil and filter. All other fluids clean and full (brakes, transaxle). Front and rear wheel bearings checked and adjusted as necessary. Breaks are great. ALL electronics and on board computers are working as they should. The back of my fuse/relay panel is all properly connected grey wires. The #42 fuse for the fuel pump is segregated. In other words the electronics are as they should be with NO jumpers or other homemade electronic configurations!!!

Front tires (Bridgestone Potenza) almost new 235s and the rear tires 285s are new. The wheels "real" Porsche Carrera III, 18". The rear wheels were professionally refinished and LOOK NEW. The front wheels look great with a just a "smudge" on a spoke on the right front. If wheels and tires make a car…..consider this "made." As you can see in the pictures the car really sits nice. I think the wheel/ tire combination is perfect. I have the stock wheels and almost new tires to go with the car at my asking price. I have a NEW Lizard short shifter ready to be installed. I will include with asking price.

What else….you can do a lot to a six thousand dollar 928 but it will cost you another 20 to make it as nice as this one. BODY/PAINT/INTERIOR all near period perfect. New Lloyd's floor mats. It was cleaned up of any imperfections, scratches ,door dings, etc. before I bought it. The paint on this car looks great. Porsche Guards Red. A few repaired stone chips and 1 small size ding on exhaust cut out. (I don't notice it) NO evidence of it ever being in an accident. Other than that I can honestly say this is a well cared for 25,000 mile interior. Interior is a 9 out of 10? OK so what are the cons? A few drips of oil from rear cam covers. Not enough to worry about. Nine dollar part and labor (I'm guessing 2-3hrs).

The rear hatch sounds like it's working but isn't. The professional 928 mechanic I use thinks we can adjust it. That being said…this car has been gone over and repaired by a "well known" 928 expert in the Mid Atlantic/North East region. He's a good guy and if you're really in the game I think we can get him to speak with you. The service manuals are a 9 set binder. I have a condensed version that is one manual but I have the 6 CD Jim Morehouse manual. Please call with any questions. With the above exceptions, EVERYTHING WORKS! This is a great ride. 610-368-3673. Good luck bidding. I may end auction early for a local sale or trade.
The last 928 we featured was a 1983 model and was listed at $22,500. It had similar mileage but didn't have the later 5.0 liter engine that this car does. It seems that extremely low mileage 928s from the mid 1980s are reaching into the low $20,000 range, but if you look hard enough, there are still examples out there that can be had in the $15,000 to $18,000 range. The 5-speeds seem to bring a little bit more cash, since they are more rare and tend to be favored by more hardcore enthusiasts. Reach any lower than $15,000, though, and it could be a gamble.
-Paul