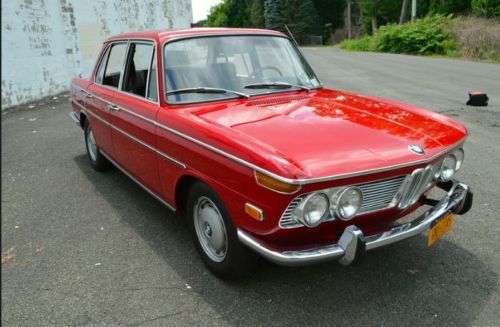 If the 2002 has developed a following far outside of the cult-status of many of the other BMW models, it's sister is still relatively forgotten. Add two doors to the 2002 and you got the BMW 2000; with slight styling changes to the front and rear in addition to the 4 doors, these often-overlooked sedans are nonetheless equally stylish and neat to see. However, because they're not in the limelight, a clean 2000 sedan will set you back significantly less than the nearly identical 2002; mid-range values on good examples of a 1970, like this one, are around $12,000 while the 2002 pushes closer to $18,000 or more. For my money, I actually prefer the look of the 4-door like this Granada Red survivor example: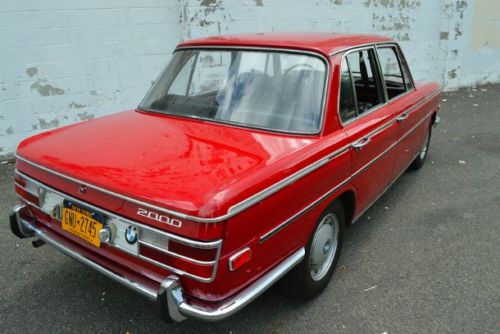 Year: 1970
Model: 2000
Engine: 2.0 liter inline-4
Transmission: 4-speed manual
Mileage: 78,757 mi
Price: Reserve Auction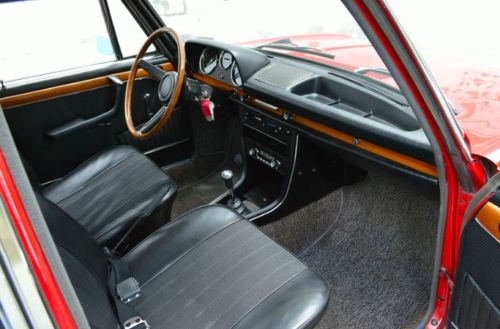 From my mechanic who restores and maintains classics:
This "New Class" BMW is an important model in BMW history, with more presence and styling than their successor the 2002. This particular example looks great in Granada red over black interior. Highly documented with just 79,000 miles, this car has not been fully restored and is very well preserved.
The engine has just received a top end overhaul with reconditioned cylinder head, valve adjustment, all new gaskets, ignition components and a tune-up. This car runs, drives and stops as it should and all systems are functional.
Originally an automatic, the 4-speed manual transmission conversion was completed by a BMW specialist.
The red paint looks even better in person than in these pictures. Straight rust free body panels are a welcome sight on a vintage BMW. All the hard to find chrome and trim is in excellent condition with minor exception.
Interior is original and in good condition. The dash is free of cracks and all interior wood is intact with nice finish. Headliner, door panels and seat covers are all in very good shape.

My words:
I am only the 3rd owner since new, full mechanical documentation goes with the car from the day it was born along with the owner's manual and spare. This car was not exported to the US market (2000's are very rate in the US, Ebay made me put it in the 2002 category). The original owner was a doctor and his wife in the Midwest who bought it from BMW and kept meticulous care of it. He brought it in to the country and added the side turn signal lights and the lower strip of chrome with rubber bumper to make it US road safe. But you would not be able to tell these 2 things did not start life with the car. Everything else on the car is original and in Excellent condition. I have every maintenance record from the day the car was born, including the little amount of work I have put into it. There is no rust. All original interior including seats, upholstery, wood, headliner and carpets. There are a few nicks and bumps from 44 years of use on the interior, but the photos will show you the overall condition is phenominal. It has special order period shoulder seat belts in the front, lap belts in the back.
The exterior was re-painted with the correct color at some point before I bought it. The paint is in exceptional shape other than the 2 front doors, they could both use a re-spray as they have been used the most, as you can imagine (though some people may say it's not needed), and a small amount of overspray under the rear bumper which is only noticeable if you get down on your knees and look at it. I have the original automatic transmission to sell with the car. It gets excellent gas mileage and a lot of attention on the road. A true pleasure to drive. This is one of just a handful of Neue Klasse cars on the east coast. Never get lost in the sea of 2002's again!
I am beginning a car collection and have decided to focus on Mercedes for now and have my sights on a few cars I'd like to purchase, hence the sale of this one.

On Sep-29-14 at 10:53:33 PDT, seller added the following information:

Revision to Description, 9/29/14:

This car is much more rare than the 2002 model in the US. It was imported to the US by Hoffman Motors in limited numbers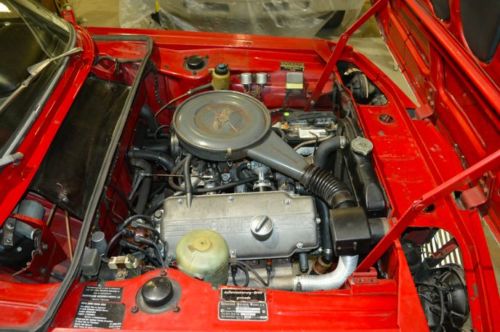 This car looks really honestly and well presented, with records and maintenance covered by owners who were clearly enthusiasts. Getting into a 2000 instead of a 2002 will move you from the bandwagon to the cult-secret, but you'll enjoy the same ownership experience and driving experience of the 2002. At a show, the mega-clean 2002s may draw a crowd, but you'll get your fair share of people that are interested in just what this small 4-door is – that's how rare they are to see today. If this car could be had for around $12,000 – $14,000, I think it would make an excellent occasional car that is very unique!
-Carter